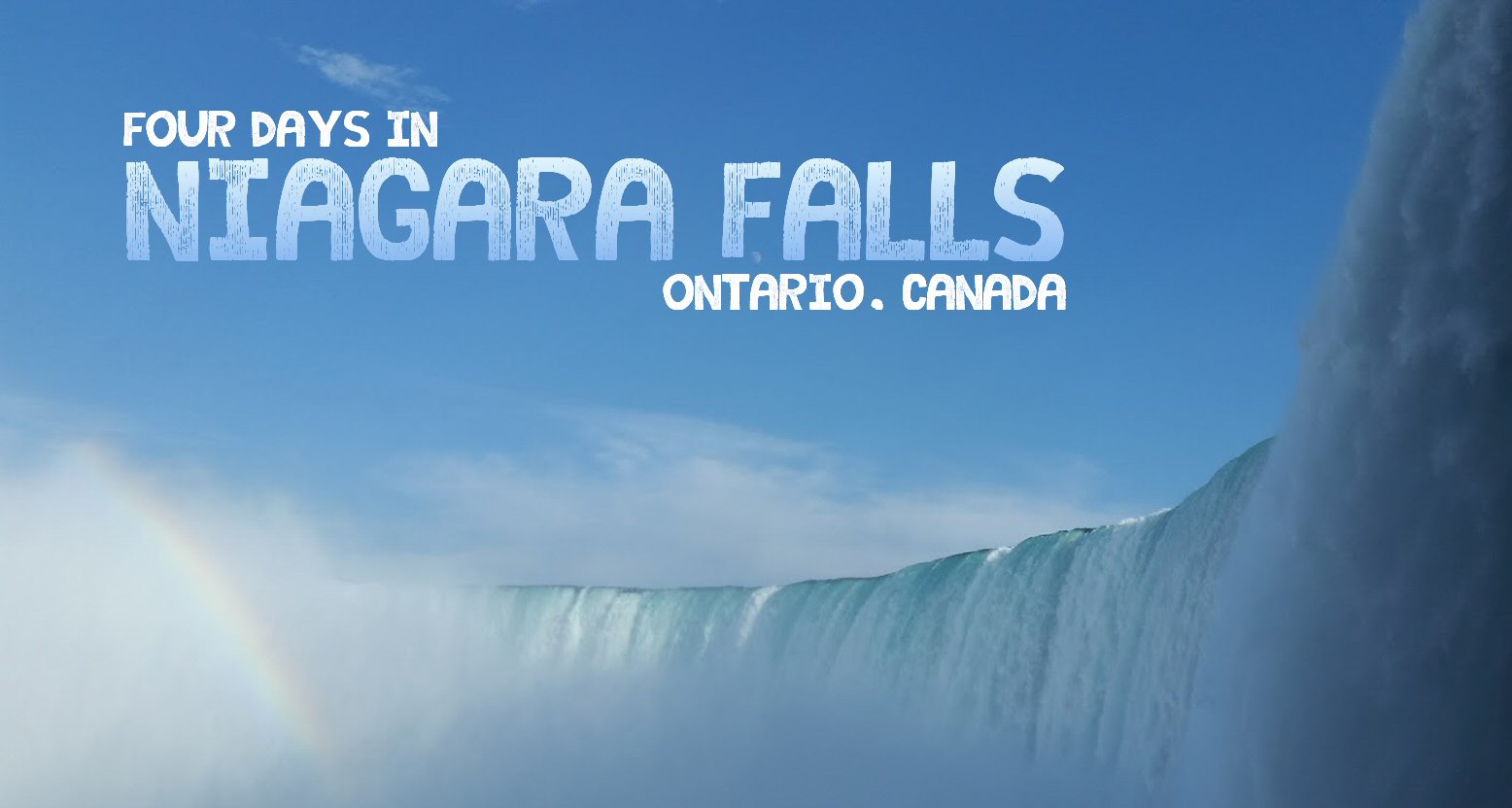 The whole family really enjoyed this quick four-day trip to Niagara Falls. We planned the whole trip less than a month before we traveled – mostly because our fresh new passports were burning holes in our pockets! And also, planning for this trip essentially means booking a place to stay, which makes it easy. Everything else is walk-in accessible.
Since we stopped at Niagara on our 2012 Northeast Trip, we knew a few things we wanted to do again, and a few things we wanted to try for the first time. Once again, Niagara did not disappoint. The whole family had a blast!
Trip Contents
Like all of our Big Family Trip recaps, we've written this article so you can read straight through or jump to the section most helpful to you. If this is your first trip to Niagara Falls, we recommend reading the Geography and Itinerary sections to get ideas for your own trip!
Why Niagara Falls?
In a nutshell, because of its amazing views and unique geological features. There's a raw appeal to witnessing the force of millions of gallons of water spilling over the crest and crashing into the river below. And since the geology is a strong draw for tourists, there's plenty of other attractions to see and do while you're in Niagara.
Also for our family especially, because we stopped at Niagara with B and J on our Northeast Trip in 2012, and we wanted to give L, E, and H the same experience.
The Geography (And Why You Should Stay in Canada!)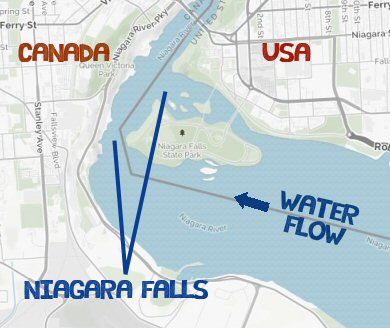 Niagara Falls is located in the middle of the Niagara River connecting Lake Eerie and Lake Ontario. It is the world's fifth largest waterfall by flow-rate and towers over 150 meters high. It is, in a word, spectacular.
Split into segments by Luna Island and Goat Island (both a part of New York State), Niagara Falls is divided into three separate waterfalls, each with their own name: American Falls and Bridal Veil Falls on the American side, and Horseshoe Falls on the Canadian side. Horseshoe Falls is by far the most impressive of the three, though because of the amazing amount of mist it generates, is not as easy to photograph well.
Because of the way the river turns at the falls, the Canadians have lucked out with the best view of all three waterfalls. And so, if you're planning to travel to Niagara, we highly recommend staying on the Canada side if you can (passports are required for American travelers) and at least visiting the Canada side if you can't stay there. Here's a view from the 14th floor of the Sheraton Hotel in Canada. It's grand, even though the overcast day was not fully cooperating with us.
How We Traveled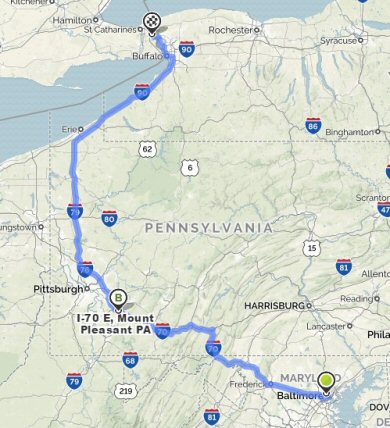 For this trip, we drove Kronk (our 12-passenger van), from Baltimore directly to Niagara Falls. The trip took us about 8.5 hours to cover the almost 400 miles with just the usual food and bathroom stops.
The trip back, however, came in closer to 12 hours. We took a brief detour to show the kids Lake Eerie, and then hit some very bad storms and a fair amount of road construction that left us in miles-long backups. Google maps says you should be able to do the trip in 6.5 hours from Baltimore. We think that's pretty optimistic with five kids.
Even still, since there were eight of us, driving was the way to go. Flights would have easily been over $1,200, and gas only ran us about $150 for the entire trip.
Speaking of eight, we were excited that my mom decided to join us on this one! This was the first time she had been out of the country since she was a little kid. Here's the family getting ready to depart on a warm Thursday morning in August.
Where We Stayed
Since we're always sleeping at least seven people on our trips–and this time eight of us–our philosophy for booking accommodations is always function over form. We care much more about being able to sleep everyone comfortably, being located near attractions, and keeping the price down, than we do about the looks or amenities of a place.
We looked at a number of rentals on VRBO and Airbnb and eventually landed on this really great place that was just a 15-minute walk to the falls. It was situated in a location that was close enough to easily get to everything Niagara had to offer, but just far enough away that it wasn't as crowded as the extremely touristy area.
With four bedrooms and two sofas, we were able to sleep the eight of us pretty comfortably. Total cost for this place was about $850 for three nights (all-in with taxes, cleaning, etc.) and that was on the cheaper end of what we were seeing. I can't remember if we negotiated that price or not, but we usually try to get a little off list.
What We Packed
Not too much, actually. We brought toiletries and clothes and Kim packed snack foods and dry breakfast and lunch foods to keep in the rental, but that's about it. We also brought our usual in-van entertainment stuff (hand-held video games for the kids, some audio books for the drive, etc.)
Day-by-Day Itinerary & Attractions Worth Visiting
There is so much to do in and near Niagara Falls, there's no way we could experience everything the resort town had to offer in just four days. But, with a little bit of planning, we found that we could experience some of the best that Niagara had to offer in just a long weekend. That allowed us to avoid using a lot of precious vacation days at work.
We also felt like four days was enough for us, and that additional days might actually have had diminishing returns. Here's how the trip shaped up:
Day 1: Traveling to Niagara, Dining, & Evening Falls Stop
We left on a Thursday at 8:00 am. With just a stop for lunch, we arrived in Niagara Falls around 4:30pm. Even though Google Maps wanted to take us over the Peace Bridge into Canada, we re-routed ourselves over the Rainbow Bridge so we could all enjoy our first glimpse of the falls while we waited in immigration traffic.
The dividing line between the countries is apparently right in the middle of the bridge. We like the following picture because it begs the question: Who changes the light bulbs between the flags? Maybe we take turns!
Kim searched for some highly rated places we could grab dinner quickly, and we ended up at the Moose and Pepper Bistro. The food was good and the service pleasant, but not otherwise remarkable.
We closed out the night by parking near the Falls so the kids could see them up-close for the first time. The Canada side has about 1/2 mile of sidewalk perched above the Niagara River Canyon that you'll definitely want to reserve time to explore. During this time of year (mid-August) the edge of the falls is plagued by thousands of small moths at night. They were so overpowering we could only stay for a short time.
Day 2: Hornblower Tour, Bird Kingdom, and Journey Behind the Falls (Canada Side)
We got out of the house around 10:00 am and headed straight to the Hornblower Boat Tour. If there's one thing you do while visiting Niagara, we think it should be this. The Hornblower is an approx. 20-minute boat tour that motors past American Falls and Bridal Veil Falls and heads straight into the basin at the bottom of Horseshoe Falls where it sits for a few minutes.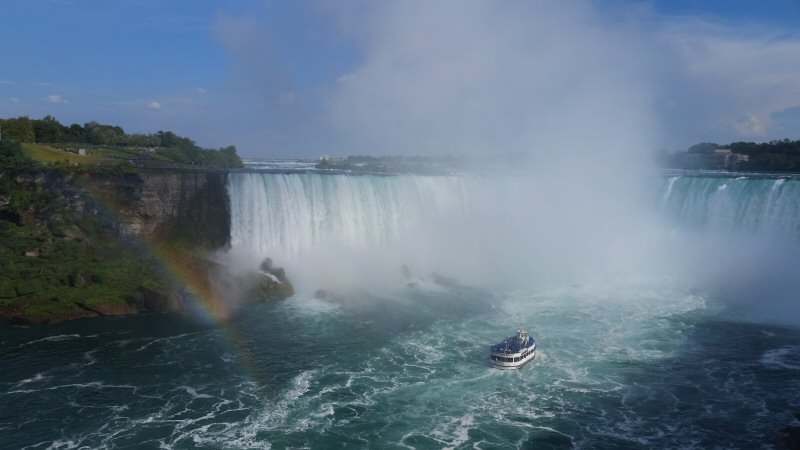 The experience is awesome, and there's no better way to see the falls up close and personal.
Note: The Hornblower and The Maid of the Mist are essentially the same attraction. It appears that the Hornblower leaves from the Canadian side and The Maid of the Mist from the American side. On our first trip, the boats on both sides were called The Maid of the Mist, so perhaps the company has split or Canada re-competed the boat tour contract.
Here's just one pic of American Falls and Bridal Veil Falls from the boat. We're working on a complete post that covers the experience.
After we finished up on the Hornblower we headed to Bird Kingdom. We visited this stop on our last trip to Niagara and absolutely loved it. Bird Kingdom is an indoor aviary for communal birds (unfortunately, no birds of prey allowed). Our son, J, especially loves all types of birds, and he really loves this place. Bird Kingdom has a bunch of exhibits (reptiles, bats, etc.) that you pass on your way to the two aviaries the building houses. We think the best part of Bird Kingdom is the Lorikeet cage. Here you can buy cups of nectar for $2 each and feed the birds right out of your hands!
See more pictures in our Bird Kingdom & Lorikeet Cage post.
After bird kingdom we headed back to the rental to grab some lunch and take a short break, and then we went back out to the Journey Behind the Falls self guided tour on the Canada side.
The Behind the Falls tour was probably our least favorite thing on this trip. The Walk Behind the Falls tour on the Canada side takes you about 1/3 of the way behind Horseshoe Falls, and also allows you to walk out at the base of the falls in an observation area. The area behind the falls are tunnels carved out of the rock with several view ports out to the falls.
The only thing you can see from these portals is rushing water, and of course they do not let you get close to the edge. As a result, the view from behind the falls is actually relatively boring. The observation deck is nice, and in fact is where we took the headline photo for this article as well as the one below, but it's no better of a view than the Hornblower provides.
We'd recommend skipping this attraction and spending your money elsewhere.
We ate dinner on Day 2 at this little place near where we stayed called Zappis. It's an Italian joint. Their pizza was good and their Sangria even better. Their outdoor dining area was a great find for dinner with the kids.
Day 3: Butterfly Conservatory, Goat Island, and The Sheraton Buffet
Before we left home to come on this trip, my aunt gave our family a collective birthday gift trip to The Niagara Butterfly Conservatory, a place she had enjoyed when she visited years ago. None of us have ever been to one of these before, and there are plenty other conservatories that aren't in resort towns, but if you like butterflies, we think this experience is worth it.
The Conservatory is located about 15 minutes from downtown Niagara Falls on a fairly large piece of property. The conservatory features thousands of individual butterflies representing dozens of different species. The whole family had a blast here.
We're working on a separate Niagara Butterfly Conservatory Experience post with the more than three dozen pics we snapped.
After the Butterfly Conservatory we didn't have any set plans, so we decided to head over to New York to spend the day in Niagara Falls State Park. Unfortunately, it being a Saturday, everyone seemed to have the same plan and traffic and parking were horrible. We ended up deciding instead to head to Goat Island, which is technically a part of NFSP but has its own access point and parking lots. Goat Island separates Horseshoe Falls from Bridal Veil Falls and offers a unique view of the crest of Horseshoe Falls, which is magnificent. Here's a few of our favorite pictures of the top of Horseshoe Falls from the observation deck on Goat Island.
We knew we wanted to eat in at least one restaurant that had a spectacular view of the falls. But with eight of us we really wanted to economize. Kim discovered that the Sheraton Fallsview Buffet offers a daily "Buy one adult meal – get a child's meal free" deal. The buffet was good (though nothing to write home about). The highlight of the evening was a small outdoor balcony that is a great spot to get amazing pictures of the falls.
Day 4: Traveling Home (w/ Impromptu Lake Eerie Stop)
On the way back to Baltimore we decided to mix it up a little bit. Interstate 90 through New York and Pennsylvania hugs the Lake Eerie coast for at least 100 miles. Since we were so close the lake, and none of our kids had ever seen or stepped foot in one of the lakes, we decided to hop in a state park and get some quick pictures. The lake was beautiful and had to be at least 85 degrees the day we visited. Unfortunately we didn't have time to swim or do much else than line up for a few pictures – but the stop was still worth it.
We made it home around 8:30pm and checked another trip off our Dream Big Travel Wish List!
Stuff We Didn't Get to Do
Niagara has a lot to do and we just couldn't get to everything. There are dozens of great restaurants (some very pricey) in the area and of course Yelp can help you find a good one. Here's some things we might consider if went back. With so many places to go, though, it's unlikely we'll revisit Niagara while the kids are young.
Walk Behind the Falls Tour on the American Falls Side. (We've heard this is better than the Canada experience.)
Visit Luna Island on the New York side (between American Falls and Bridal Veil Falls).