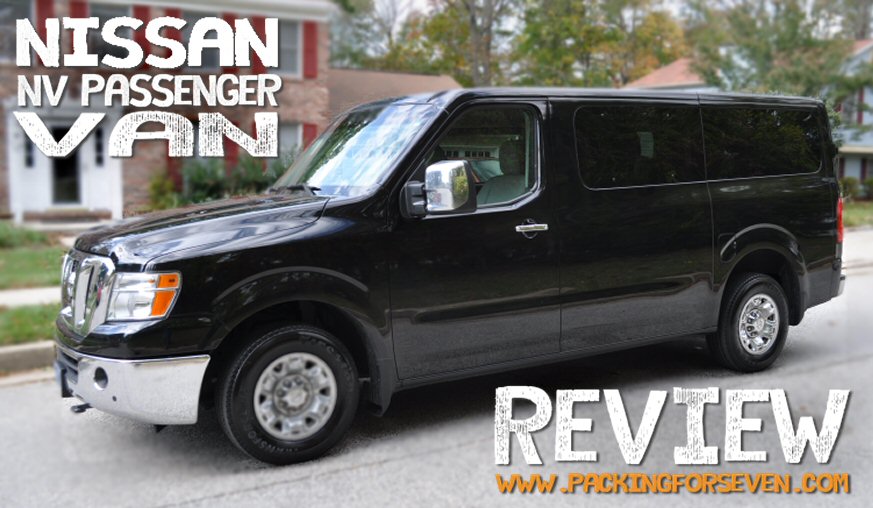 Review at a Glance
Make: Nissan
Model: NV Passenger Van 3500 SL
Model Year: 2016
Engine: V8 – 317hp; 385 ft. lbs. torque
Transmission: 5 Speed Automatic
Tow Capacity: 8,700 lbs w/ driver alone.
Seating: 12 Passengers, 384 Configurations
Name: Kronk
What We Like: Super comfortable for long road trips. Let's you take a gaggle of kids with you anywhere.
What We Don't Like: Devours gas; some squeaks; 4WD is only available aftermarket and it's pricey.
Meet Kronk, our 2015 Nissan NV 3500 12-Passenger Van. If you're a Disney fan, you may have guessed that Kronk is named after the oversized and kindhearted cartoon character of the same name whose only real flaw is being a little naive–and even that's pretty endearing.
We purchased Kronk new just over a year ago from a dealer in Frederick, Maryland. Our Dodge Caravan ("Clifford the Big Red Van") had just turned nine years old, and with our kids aged 11, 11, 11, 10, and 7 at the time, we knew we were going to want something bigger to travel in as they grew into the teen years. Since Clifford is still running, Kim typically drives him on errands around town, and we reserve Kronk for longer road trips or whenever we're hauling more than just the seven of us.
In the first year of ownership we've driven him 15,000 miles. Assuming we've averaged about 45 mph over that time, we figure we've spent a little more than 300 hours in the van and most of that time has been with at least six of the seven of us in tow.
This review is everything we love, and a few things we don't, about our favorite oversized family member!
The Exterior – Function over Form
The Nissan NV Passenger Van (official site) is built on Nissan's Titan 1-ton platform and is a direct adaptation of Nissan's heavy duty 3500 cargo vans. Nissan started making the passenger version of the 3500 in 2011 to capture market share in the full-size van category. Because it's built directly on the truck platform, you can see a truck profile in the van. In fact, if you put your finger over the top half of the rear of the van in the photo below, it actually looks like a pick-up truck.
His truck pedigree notwithstanding, Kronk is still a van, and therefore suffers from a certain level of van stigma. When we bought our Dodge Caravan in 2007, we knew we traded our coolness for parenthood. At first, Kronk seemed even less cool than driving a minivan—I mean, he's huge. That is until we realized just how great for travel he is. Seriously, there is no better way to road trip with a big family other than a full-blown RV, which just isn't in our budget. And people regularly come up to us and ask questions about the van — What is it? How much does it cost? How many people can it seat?
The answers: It's Kronk. It's way less than a comparable Suburban, and it seats all of Jesus' disciples comfortably.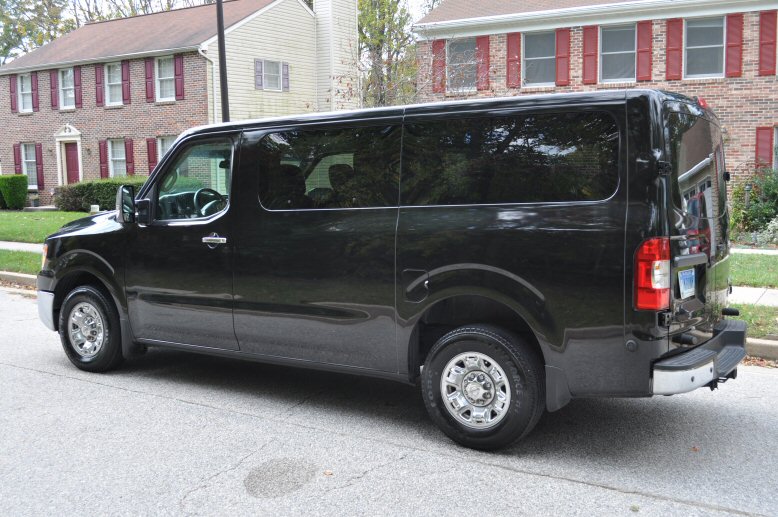 Similarly, the front of the van gives off a very "truck" vibe. Sometimes I joke with Kim that she finally has that pick-up truck she's always wanted… (She has not bought into this idea and says she will still be getting a real one when the kids are grown.)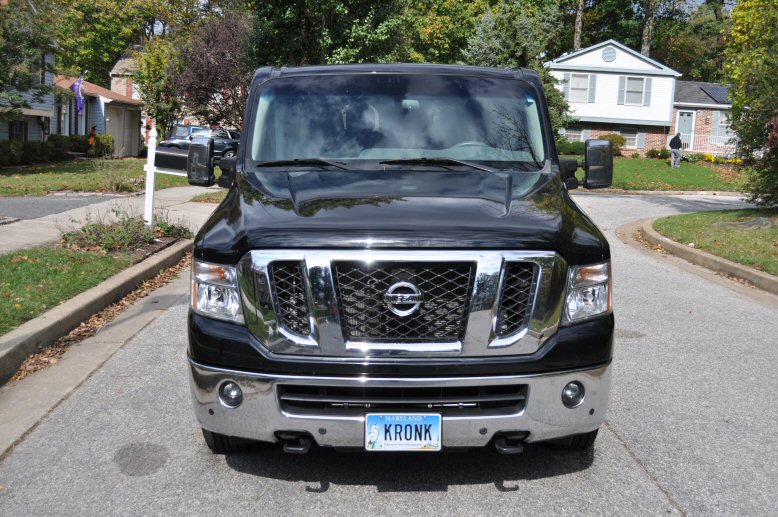 Here's another picture from the side that really belies his size. One thing we've noticed is that the tires actually *look* small on the van, even though they are fairly big ones.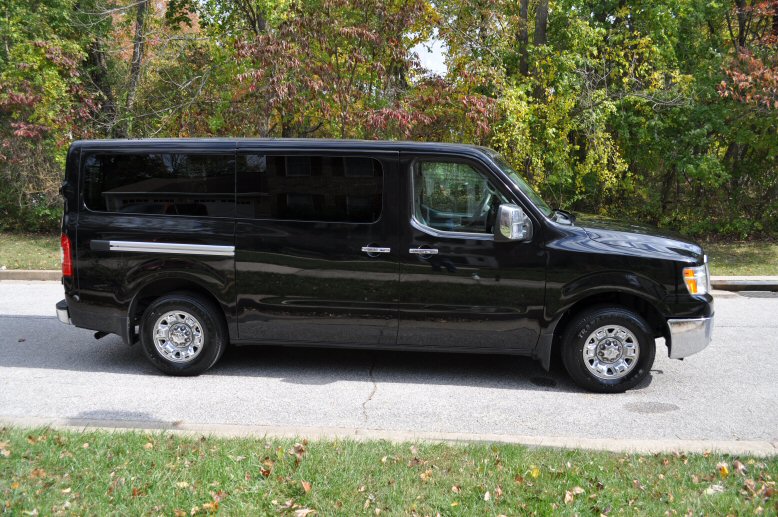 And to the back (his "good side')!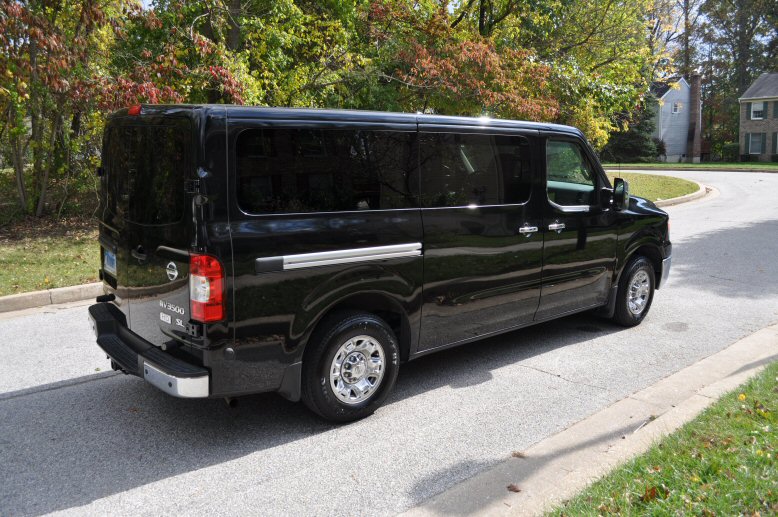 The Interior – Configurations Galore
The interior is where the NV really shines. We opted for leather seats and have not regretted that choice. Our kids, like all kids, make messes in whatever vehicle they ride in. While we didn't let them eat in the van for the first few months, we knew we could only hold out for so long. When you're traveling across six states in a single day, you need the flexibility to eat on the go. The leather seats make for much easier clean-up and they have proven to be very comfortable.
What you see next is the most common configuration of the seats in the van, a 2-3-3-4 configuration. The driver and front passenger seats are the largest and most comfortable. The middle rows' seats are medium-sized, and the rear row's seats are slightly smaller in order to fit four people across the back. We've found that full size child seats will fit easily in the middle two rows, but they'd be a little too big for the back row. And that's probably fine – who would want to climb all the way back there to buckle in a child anyway?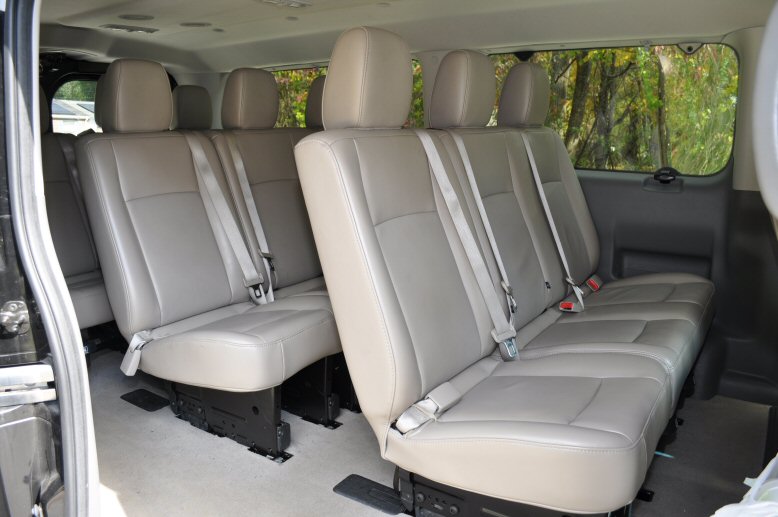 If you don't need all 12 seats installed, Nissan brags that there are 323 other seat configurations for the NV. We've found two that are very popular for us. The first is removing the two driver's side fourth-row seats. This provides a lot of space for luggage and still lets you seat up to 10 people in the van.
The second is removing the fourth row completely and then repositioning the second and third rows further back using the secondary latch points Nissan built into the chassis. This 8-person configuration, shown in the next picture with J, provides about four inches of additional leg room to the second and third rows and is by far our kids' favorite setup for long trips.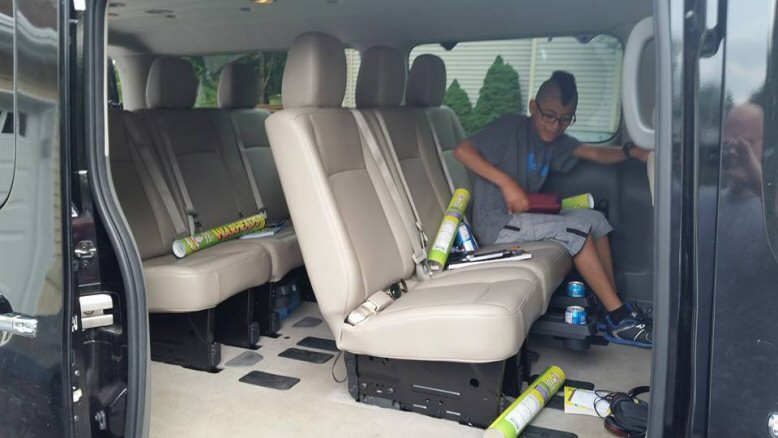 The next photo shows the view from the front passenger seat looking back with all seats installed. You'll immediately notice there is virtually no view out of the rear window when the headrests are installed, and even with them removed, the visibility isn't great. That's one of the reasons we opted for the technology package—it comes with a backup camera that is essential for parking this beast.
Regular driving requires using the side mirrors to see behind you. If you aren't used to driving by side mirrors, it takes a little bit of practice, but I'm a pretty average driver and became comfortable with it in under a month.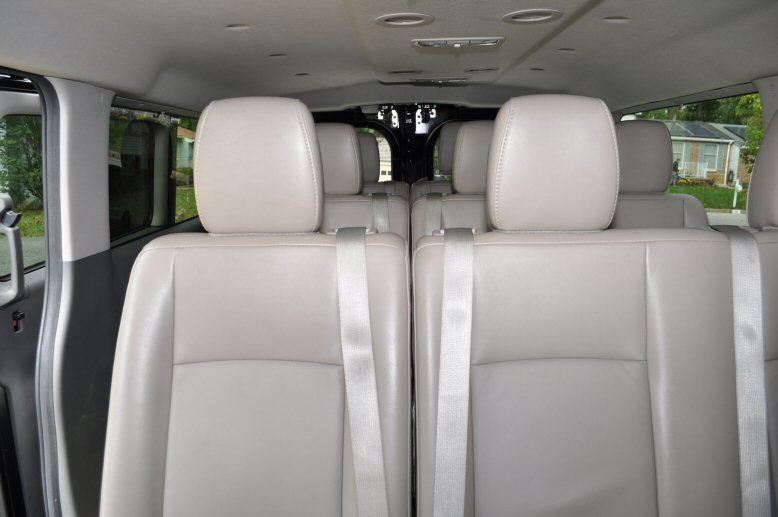 The van's cockpit is comfortable and functional. It's one of the things that sold us on the Nissan. While it does have a somewhat commercial feel to it, it's very well laid out, easy-to-use, and reasonably nice looking. While it seems like four cup holders might be overkill for just two people, we almost always make use of them on long trips to keep our current drink and a spare within hands reach, reducing the number of times we have to stop.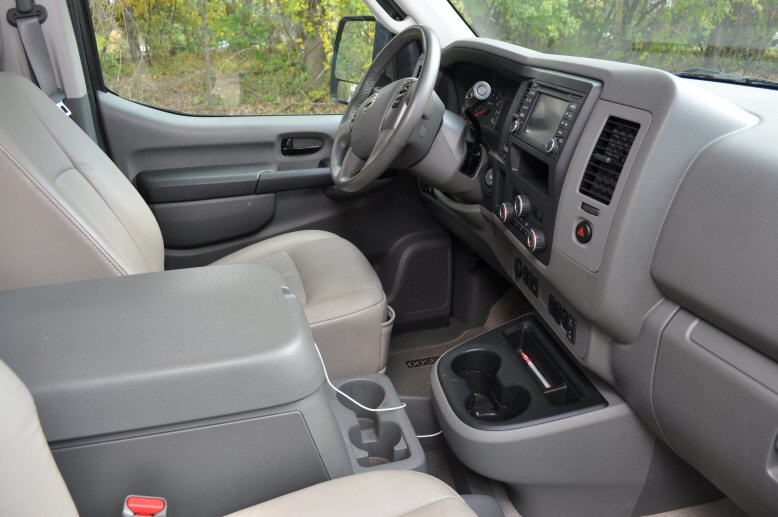 Because the cockpit is both functional and comfortable, it's easy to drive the NV for a long time. My longest drive was a straight-through trip from Orlando, FL to Baltimore, MD (about 920 miles) in a single day.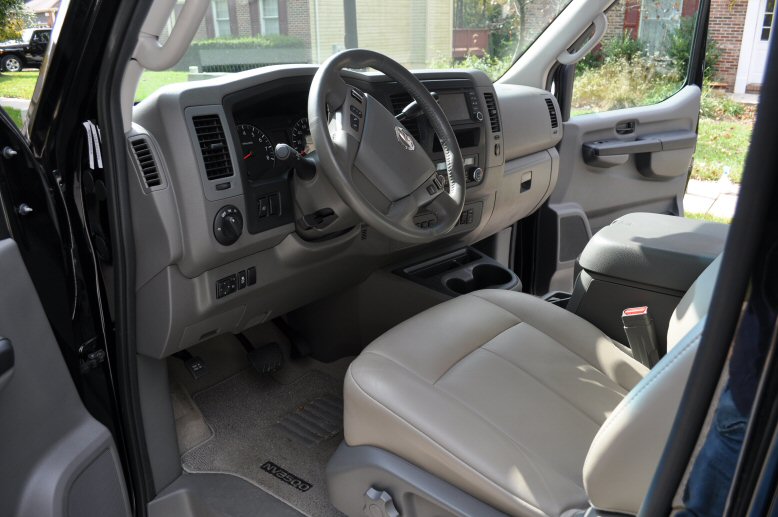 Features – How the NV Makes Road Trips Better
Our kids most-loved feature on long trips are the van's two 120 volt outlets. One is in the front center console and the other is at the rear of the van. When the van is in Park, the outlets will handle up to 400 watts of combined draw. When driving, the maximum is reduced to 150 watts. Our kids like the outlets because they can charge their portable gaming systems on-the-go, enabling endless video gaming. (Though, we do make them take breaks…. because parenting.)
My favorite feature of the NV is phone connectivity and especially Bluetooth audio. This is the first vehicle we have that will let you stream audio directly from a phone to the van's audio system. The sound comes across crystal clear. Audio for phone calls is also clear and we've found the mic works great with no echo.
Probably the only thing that could be improved is the overall navigation/computer interface for the van. We've found this to be true in most vehicles these days. Phones have come such a long way that using a somewhat kludgy vehicle navigation system just doesn't make as much sense as calling up Google Maps or Siri on your phone. Better phone integration and a better menu system would be welcome improvements.
Additional features we really like include:
Three-zone climate control (automatic for front passengers)
Heated front seats
Power mirrors
Back-up camera (tech package)
Proximity sensors on front and rear bumpers
Navigation (tech package)
Tow Package (see below)
Trip computer with "range until empty"
These are the features we really like or use a lot. The complete list is available on Nissan's official page.
Engine & Transmission Options
The NV comes in both V6 and V8 models. The V6 will save you a bit on the purchase price, but most folks on the forums report that it gets no better gas mileage than the V8. The V6 has a lower tow rating and is slower to accelerate to highway speeds. For all of these reasons, we chose the V8 model and haven't regretted it.
Both versions of the van come with a 5-speed automatic transmission. The V8's transmission includes a "tow mode" toggle which changes the transmissions shift points and also automatically downshifts on steep hills.
Gas Mileage, a.k.a. Kronk's Drinking Problem
There's just no way to get around it, this van likes gas. We're getting about 12-13 mpg during everyday use around town. During our 2,000-mile Disney trip which was almost completely highway miles, we managed to get about 16 mpg. Considering we were carrying seven people and a lot of luggage, we thought that was pretty good.
One thing that annoys us a little is that Nissan removed the average miles-per-gallon display from the trip computer, even though it was there on prior model years and clearly the computer is still calculating this figure to determine range until empty. Our guess is that it just wasn't good marketing for potential buyers to see the fuel economy on a test drive.
The fuel tank is 28 gallons, so if gas gets back up to ridiculous prices, it will cost upwards of $100 to refuel. Ouch.
The Tow Package
The few first years Nissan made the NV Passenger, the tow package was optional on V8 models. Since 2013 it has been a standard feature on V8s. One of the things that attracted us to the Nissan over competitors' offerings was its tow capacity, which reaches 8,700 lbs. with the V8 with just a driver and the seats installed. (Extra weight in the cab reduces the towing capacity.) Most competing 12-passenger vans (with the exception of the older Ford E-series and Chevy Express vans) max out around 5,000 lbs, which wouldn't be enough to pull most larger travel trailers.
The comparable NV 3500 cargo van with no seats has a 10,000 lbs. tow rating with just a driver and an empty cab. We think the passenger van could probably pull this much if the seats are removed and the proper weight distribution kit is installed. (That said, don't rely on our say-so to try this – Nissan certainly wouldn't recommend this setup).
Things We Don't Love
While we love Kronk, there are a few things we would change if we could.
The third row seat latches squeak when it gets cold. We're working on a remedy for this, but it can get exceedingly annoying after about an hour. The squeak is very high pitched and intermittent. It's not that loud, but since I'm the kind of person who can't stand to listen to other people chew, this little noise really grates on my nerves. We're hoping WD-40 will do the trick.
The back-up sensors have gone wonky a few times and just kept beeping. Fortunately there is a button to disable them in the cab, but without those sensors, it's hard to park the van close to anything. We think perhaps they are getting dirty.
We had one problem with the lights in the van coming on intermittently while driving because the sensor switch on the driver side door seemed misaligned with the part of the frame that is supposed to activate it when the door is closed. I Jerry-rigged a solution by taping some folded up paper over the part of the frame that actuates the sensor and that seems to have done the trick.
We wish that 4WD were available from the factory, but it isn't. A company called Quigley does 4WD conversions on NV passenger vans. The dealer we purchased from in Frederick will even work with them to get a conversion done on a new van. The cost is about $11,000 and Quigley does match the 5 yr., 100,000 mile factory warranty on the NV.
Price
The NV starts in the low/mid-$30k range and goes up to the very low-$40s fully loaded. We've found that the market for used NVs is pretty small because they aren't that old and apparently many buyers keep and use them for a long time.
Warranty
Starting in 2015, all NV Passenger Vans come with 5-year, 100,000 mile bumper-to-bumper warranties. Extended warranties can be purchased from the dealer to extend the number of years and the mileage.
The Competition
There's been growing competition in the large van space over the last few years. We still like the Nissan for it's finish, towing capacity, and price point, but there are many brands to test drive before settling on one. Each offers a different set of advantages and disadvantages.
Overall Impressions and the Kids' Take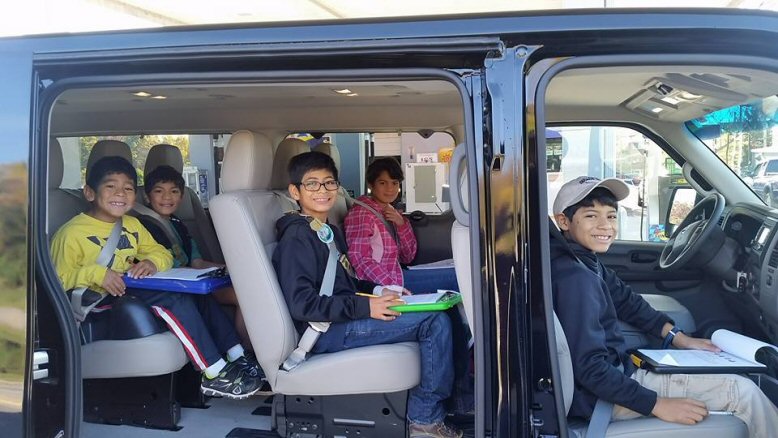 Aside from the few things we mentioned above, we really like the NV for our family. The interior space makes traveling long distances with so many people that much more enjoyable.
Here's final thoughts from the kids on what they like the most about Kronk:
J (Age 12): I really like his speakers because they're loud and clear. I also like the map in front so that I know where we are on long trips. And I like that we can charge our video games. I also like that it looks like the Secret Service is parked out front.
B (Age 12): It's a really great van and has a lot of great features and it's good for spacing out a lot of kids.
L (Age 12): I like the cupholders and that not a lot of people have a van like him.
E: (Age 11): I like his loud engine and the heated seats when I get to sit in the front.
H (Age 8): I like that he's big so that when we go on long trips we can spread out. I also like that the front seats are heated.
Here's a few more reviews from big families around the web: