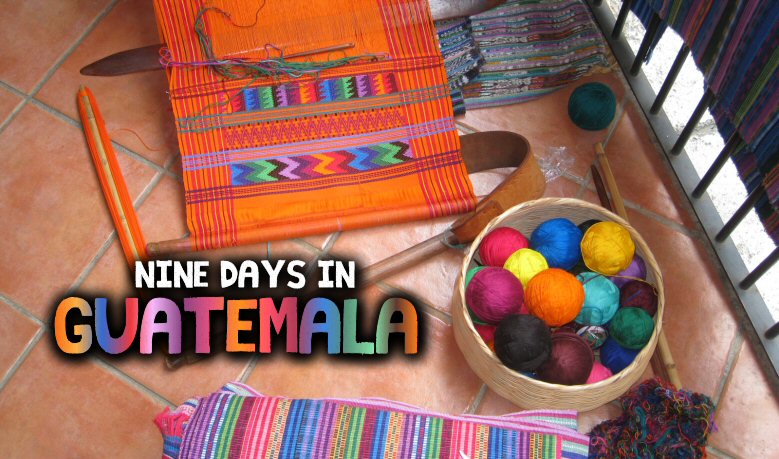 The Trip at a Glance
Trip Dates: Sept. 17-25, 2010 (9 days)
Cities: Guatemala City, Antigua, & the Petén Department
Air Transportation: Delta & TAG Airlines
Ground Transportation: Taxis and Small Tour Vans
Lodging: Hotel La Vista Real (Guatemala City) and Hotel Tikal Inn (Petén)
Excursions: Antigua, Chichicastenango, Lake Atitlan, Panajachel, Petén Department, Tikal National Park, Yaxhá, Guatemala City Zoo, and Volcán Pacaya
Restaurants: El Portal del Angel, Hotel Posada de Don Rodrigo Antigua, Katok, Pollo Campero
Total Cost: Approx. $1,750 / person
When we adopted B and J from Guatemala in 2007, we knew we wanted to take them back as soon as they were old enough to appreciate the experience. In September, 2010, just after they turned six, we took this trip back to Guatemala with a goal of seeing the same places Kim and I saw in 2007 and also expanding our adventures to new areas.
On our first trip we stayed four nights at La Vista Real, an upscale hotel in Guatemala City. Because we only stayed four nights, the latter of which included the newly-introduced twins, Kim and I could only fit in two days of "real" touring to sites in and around the city.  We reached as far as Antigua (1.5 hours away), Lake Atitlan (3 hours away), and the rural market town of Chichicastenango (3-1/2 hours away) before hitting the flurry of adoption and immigration-related work once we took custody of the boys. After the boys joined us, we stuck to wandering the hotel grounds, though we did squeeze in a brief trip to the zoo after hitting the U.S. embassy to acquire their travel visas.
With our tourism days effectively quadrupled to eight this time around, we were able to hit all the same sites Kim and I had on our first trip and also branch out and climb an active volcano (Volcán Pacaya), travel to the Petén Department for two days where we toured the Tikal and Yaxhá National Parks, and visit acquaintances in Guatemala City. Guatemala, and especially our excursion to Petén, remains one of the most stunning and interesting places our family has visited. We love everything about the country and hope this guide will inspire you to consider a trip for your family!
Our Trip & And How to Use this Post
We've documented the trip exactly as we took it and have designed this post so that you can read it straight through front-to-back, or you can jump to the topic that's most interesting to you. Since everything on this site also serves as our personal scrapbooks, you'll see tons of pictures of the kids and us along the way.
If you enjoy this post, we'd love it if you'd share it with your friends via social media. It took more than 30 hours to write, edit, and format the more than 200 pictures we've included!
Why Travel to Guatemala?
For us, this trip was about helping our boys understand and connect with their birth culture and to remember and celebrate their adoption. One of the themes Kim ran throughout the trip was "Then and Now," where she re-staged photos we had taken during the 2007 adoption trip and laid them side by side for the boys (and us!) to enjoy.
But we think Guatemala is a wonderful place to visit regardless of whether you have a personal connection with the country and its heritage. Of all the Central American nations, Guatemala is known for its beautiful colors, hospitality, and rich history. Guatemalan art is bright and bold and the traditional clothes of indigenous women (e.g., the "Huipil", or blouse) is woven from bright, beautiful yarns. Even some graveyards we passed on our journeys were more brightly colored than most American buildings.
Guatemala is steeped in a blend of Catholic and Maya traditions and is filled with beautiful churches that house sculptures, mosaics, wall paintings, and holy relics, some with traditional Maya and pre-Maya art and artifacts alongside. We especially enjoyed touring churches and cathedrals in and around Antigua and the church in Chichicastenango. We've included pictures of several we visited.
We also loved engaging a culture so different from our own. In Chichicastenango, a rural town with a famous market, we experienced one of the most culturally different places we've ever visited. In a market that had more than 500 people buying and selling all types of goods, we were four of only about two dozen tourists we spotted. But even though we were outsiders, everyone in the market was friendly (and also anxious to earn our business).
How We Traveled to and around Guatemala
From Washington D.C. to Guatemala City (round-trip): We flew Delta from Dulles International Airport (IAD) through Atlanta International Airport (ATL) to Aurora Airport in Guatemala City (GUA) and back on the same route. Total travel time was about twelve hours each way and we had no issues on any flights. This was our twins' second time flying (the first being their adoption at age 2-1/2). At six years old, they had no trouble with the flight and actually thought it was a lot of fun. There wasn't anything special about Delta vs. another airline. We simply took the cheapest deal we could find. (We originally booked on Air Mexicana but the airline went bankrupt just weeks before we were supposed to travel and we had to quickly book alternative flights.)
From Guatemala City to Petén (round-trip): On Days 5-6 we took a short jaunt to the Petén Department to visit Tikal National Park and the ruins at Yaxhá.
Commuter flights from multiple airlines run several times a day between Guatemala City (GUA) and Flores Airport (FRS) in Petén. The touring company we used picked TAG airlines. The flight is about an hour, but because of the circuitous route, driving would take over 12 hours, running within a mile of the Belize border, which as you can see is quite a bit out of the way. If you're planning to go to both Guatemala City and Petén on a single trip, we definitely recommend flying between the two.
Where We Stayed In Guatemala City
In Guatemala City we stayed at Hotel La Vista Real, which at the time of this writing is Trip Advisor's #2 hotel in Guatemala. We picked this hotel because our adoption agency recommended it the first time we came to Guatemala City, and we loved everything about our stay, including the price, which came in just over $120 per night for this trip.
The hotel features colonial Spanish architecture surrounding beautiful outdoor grounds, including a very large and inviting courtyard.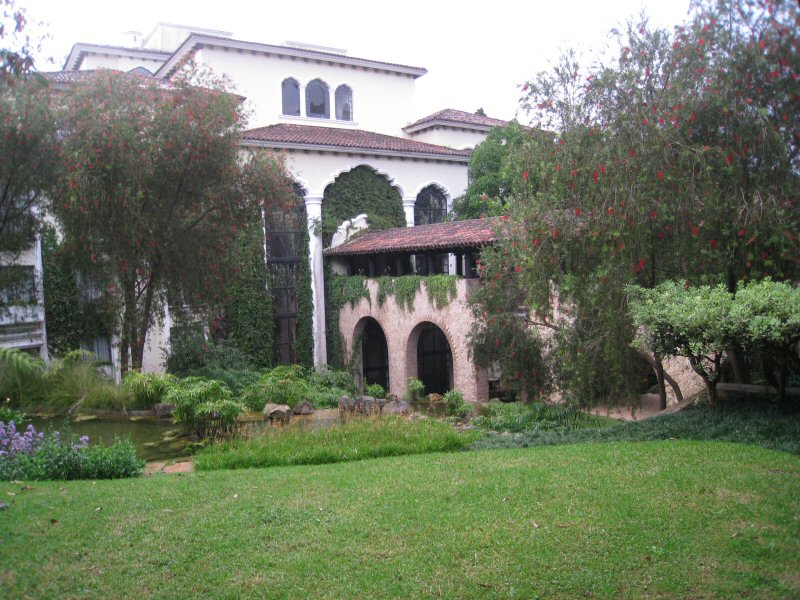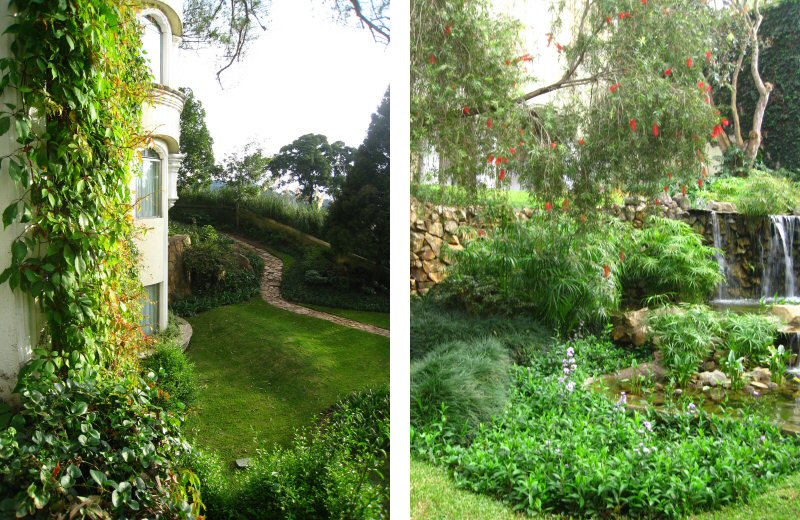 The courtyard includes a small waterfall and koi pond which were a big hit with the boys and provided a great back drop for a few kid pics of our favorite twins!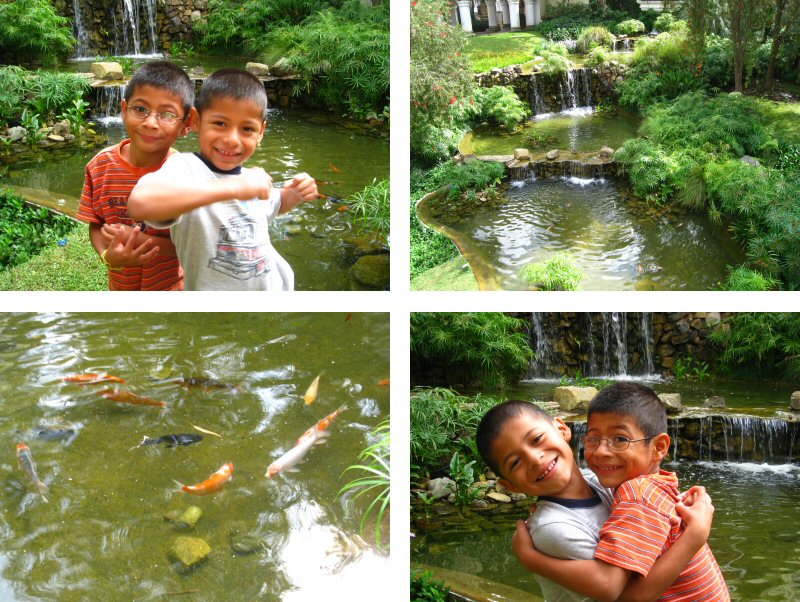 Here's a small taste of the Spanish architecture that characterizes the hotel. Lovely stuff – and the pictures don't really do justice to the entire experience. If we stay in Guatemala City again, we plan to stay here.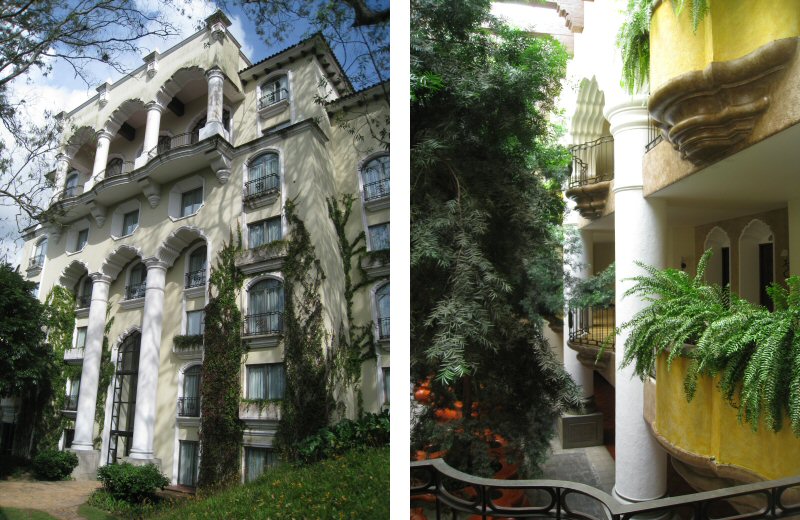 The hotel is perched above the city with views of the volcanoes surrounding the city in the distance. Here's an example. We're pretty certain this is a view of Volcán de Fuego and Volcán de Acatenango, but we aren't positive. (So if you know for sure, let us know in the comments!)

The grounds provide ample opportunities for family pictures. We stuck with casual shots for the most part, but Vista Real hosts weddings, quinceañeras, and other special events and provides a spectacular backdrops for the photos.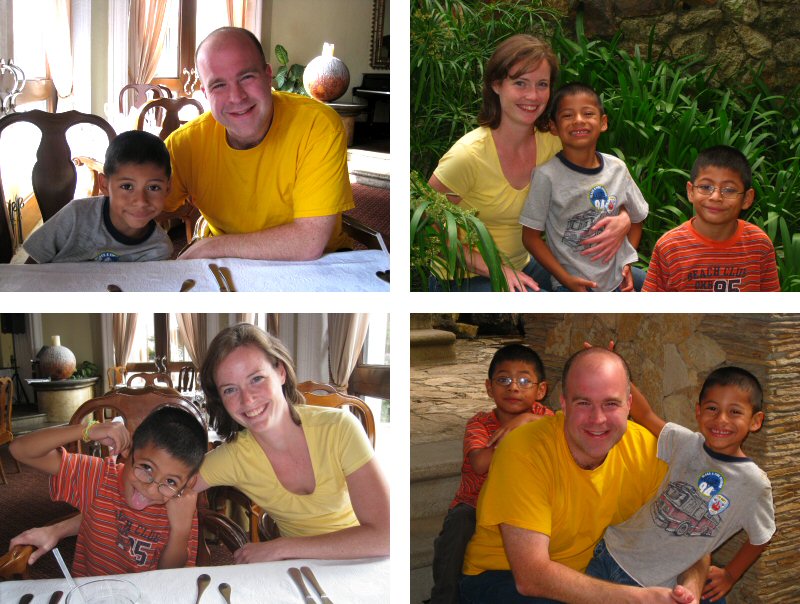 Where We Stayed in Petén / Tikal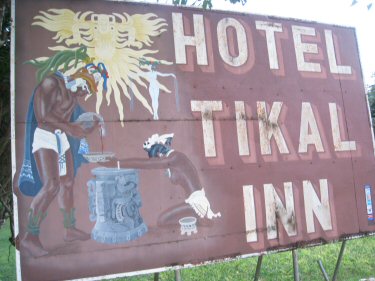 Kim researched a number of options for our stay in Petén. We wanted to stay as close to Tikal National Park as possible, which really left us with a single option: The Hotel Tikal Inn. The Inn is located in the park adjacent to the ruins and is less than a ten minute walk to the entrance of the archaeological site. But it's not for everyone. Here's why:
Tikal is in the jungle. The real jungle. Nighttime temperatures never dropped below 80 degrees with near 100% humidity while we were there. The Inn has electric (via generator) and WiFi (via satellite) for only six hours each day–two in the morning and four at night. When the generator turns off, so does the only method for cooling off in the rooms: a small electric fan. There's no air conditioning, and needless to say, it gets *really* sticky and hot.
Tikal is also home to a wide range of critters, from spiders the size of the palm of your hand, to giant grasshoppers, to the loudest land mammals on earth: howler monkeys. The howler monkeys howled most of the evening and well into the night. It's an eerie sound and scared J, but he eventually accepted that they needed to be loud just like he needs to be loud sometimes!
Watch a Video Kim took of a howler monkey in the Guatemala Zoo.
Here's a picture of the grounds. We stayed on the bottom right of the bungalow on the opposite side of the pool. You can see more pictures in Days 5 -6 in our Itinerary section.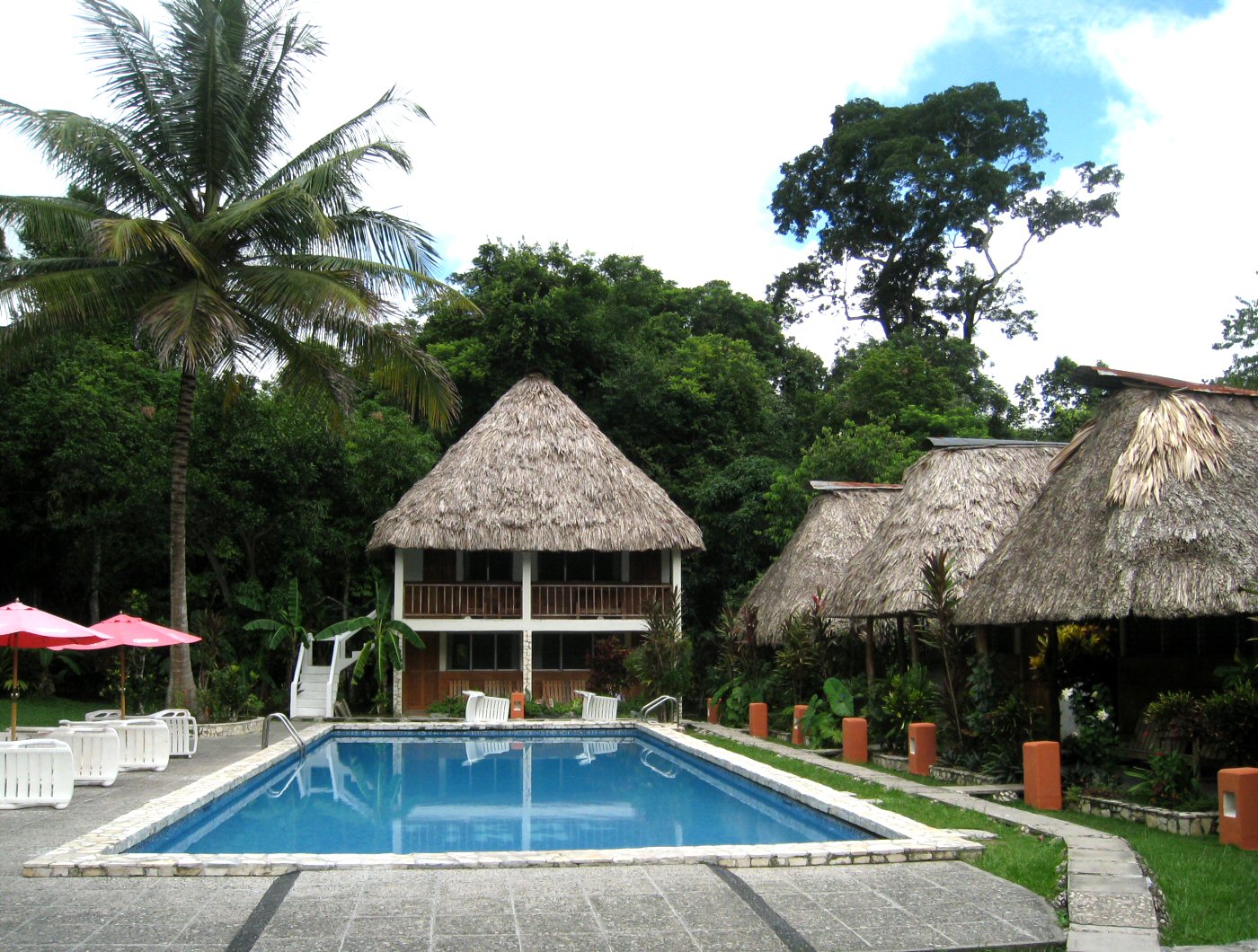 While we loved our stay in Tikal, we were really happy to get back to our air conditioned room at La Vista Real when we returned to the city!
What We Packed
Guatemala lies firmly within the tropics, and low lying areas have only two seasons – dry (Nov-Apr) and rainy (May-Oct). It's warm all year except atop the mountains, and during the rainy season it's very humid and rains many afternoons. Unlike in the USA, nobody we saw wore shorts (except for bathing suits in beach areas), even though the heat and humidity–especially in Petén–can be oppressive.
With that in mind, we packed jeans and other long casual pants (mostly khakis) along with a lot of short sleeve shirts. We also brought along the typical toiletries, stuffed animals for the boys, and a few toys. One thing we forgot to bring was bathing suits, which would have been nice since the Tikal Inn actually had a pool. The boys ended up jumping in the pool in one of the few pairs of shorts we brought for each of them.
In total, Kim and I packed two large suitcases, the twins each packed a small suitcase, and Kim and I also carried on duffel bags and packed backpacks for the twins. When we traveled to Petén, we took only the duffels and backpacks and left the others at our room in Vista Real, which we held even though we were away for two days. The extra luggage came in handy as we purchased a number of souvenirs that we ended up bringing back with us.
Touring Companies We Used
When Kim was originally planning this trip, she researched venues we might want to see and then identified touring companies in Guatemala that could help. We got quotes from Turansa, Mayalandia, Turismo Aventura, and our hotel, La Vista Real. With the exception of Turismo Aventura, all three were able to provide a full package quote for Antigua, Chichicastenango, Tikal/Yaxhá, and Volcán Pacaya. Turansa came in with the best price at $2,244 US, which included the flights to/from Peten for the four of us on TAG.
Detailed Itinerary & Pictures of the Trip!
Below you'll find everything we did on the trip and hopefully get some ideas for your own trip!
Day 1: Traveling to Guatemala and Check-In at La Vista Real
Like most of our adventures, this one started early in the morning. And while no one in our family are really morning people (understatement!), it seems that the start of trips is an exception. It's hard to contain the excitement!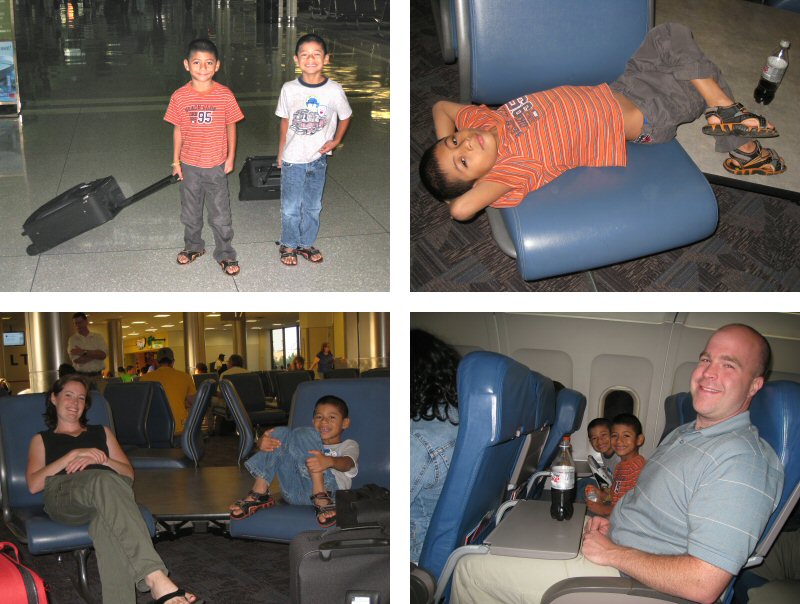 After about 12 hours of flying, layover, more flying, and a taxi ride, we arrived at the hotel!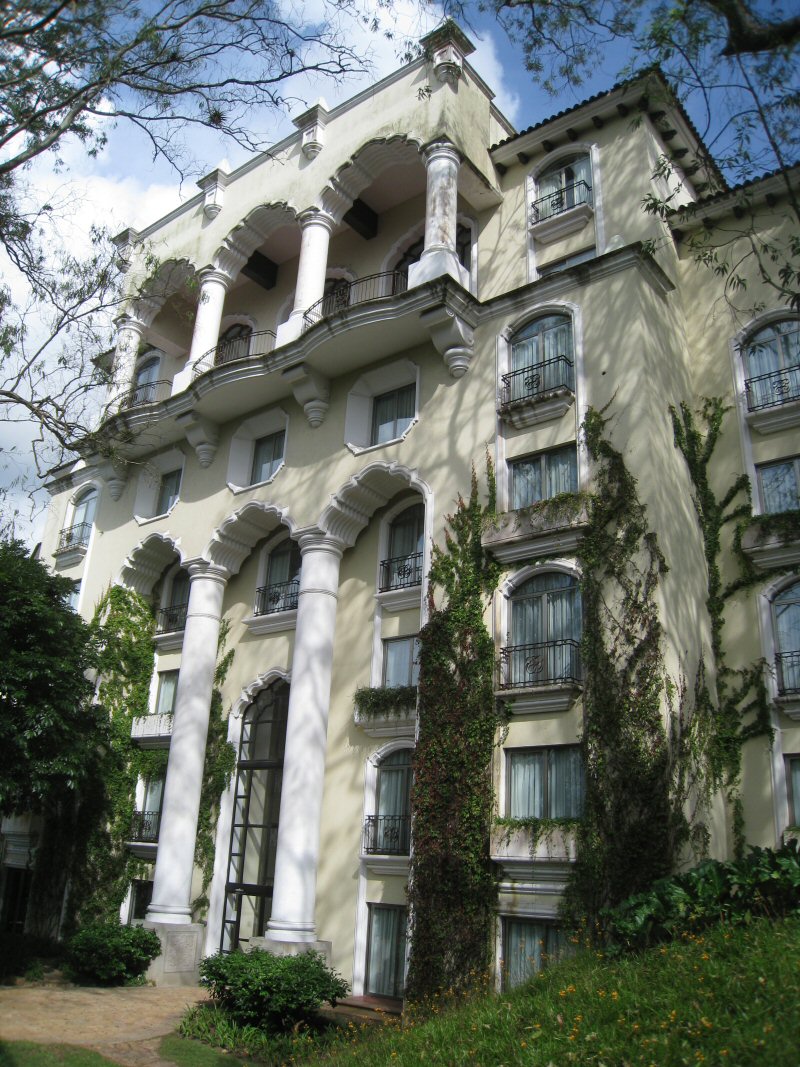 It was as beautiful as when we had left it 3-1/2 years before. It's at this point where we should be showing you pictures of the inside of the room. We took a few, but none of them looked really good. If you're interested in what they look like, you can just check out the hotel's web site. For more pictures of the grounds, jump back to our Where We Stayed section.
We ate dinner that night at El Portal del Angel, a steak house pretty close to the hotel, where Kim and I ate on our first trip. The lighting was so dark we didn't get any good pictures; however the view overlooking Guatemala City is spectacular. The food is excellent, and the prices, considering the quality, are very reasonable and less than comparable U.S. restaurants. Since we don't have our own picture, here's a link to their Facebook page so you can see the place for yourself!
Day 2: Antigua, San Juan de Obispo, San Pedro Las Huertas, and Surrounding Areas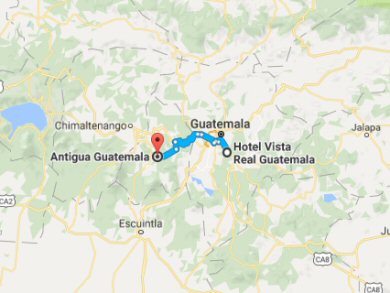 Early on Day 2, our tour guides from Turansa met us at the hotel and we headed two hours east to Antigua to visit the city and surrounding towns. We captured tons of pictures throughout the day. One thing that stuck out to us is just how many beautiful churches are in and around Antigua, many that are very old, but often still in use.
San Juan del Obispo: Our tour began in San Juan del Obispo which translates to "Saint John of the Bishop", so named because it was the home of the first Guatemalan Bishop, Francisco Marroquín.
The town is home to one of Guatemala's earliest catholic churches, built in 1547 by Bishop Marroquin, as well as the Monastery the Bishop founded. While the facade of the church is in a bit if disrepair, it remains quite beautiful.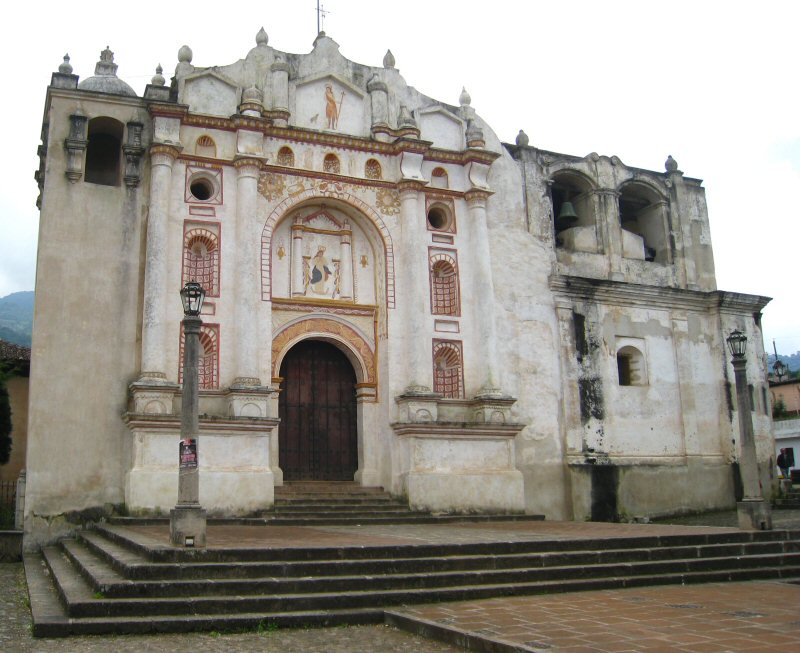 To the best of our recollection, this next picture is of the monastery, though we've been unable to confirm that. (I remember thinking to myself that once you get in, it'd be hard to get out through those bars!)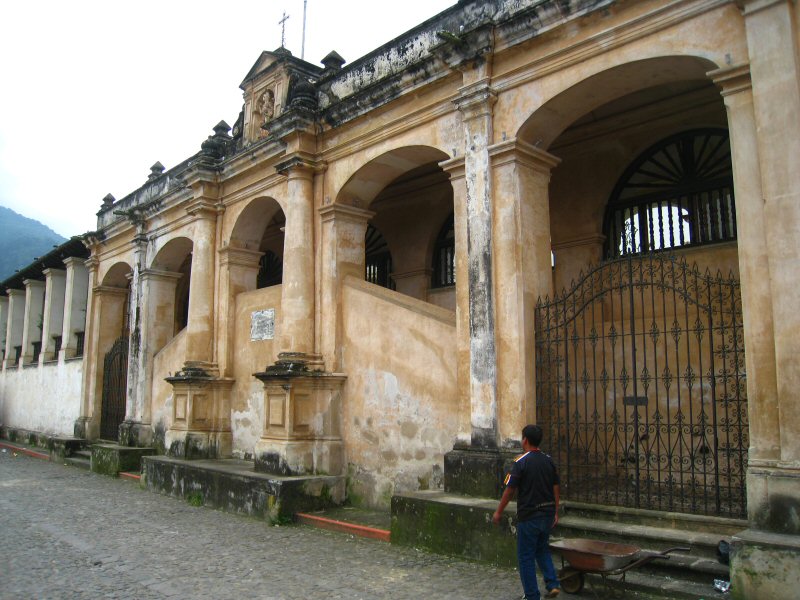 San Pedro Las Huertas: After about an hour, we departed San Juan for nearby San Pedro Las Huertas, which was a much more active community. Our tour began at the town church, a beautiful orange Baroque church built in 1672. Just like the one in San Juan, it was stunning.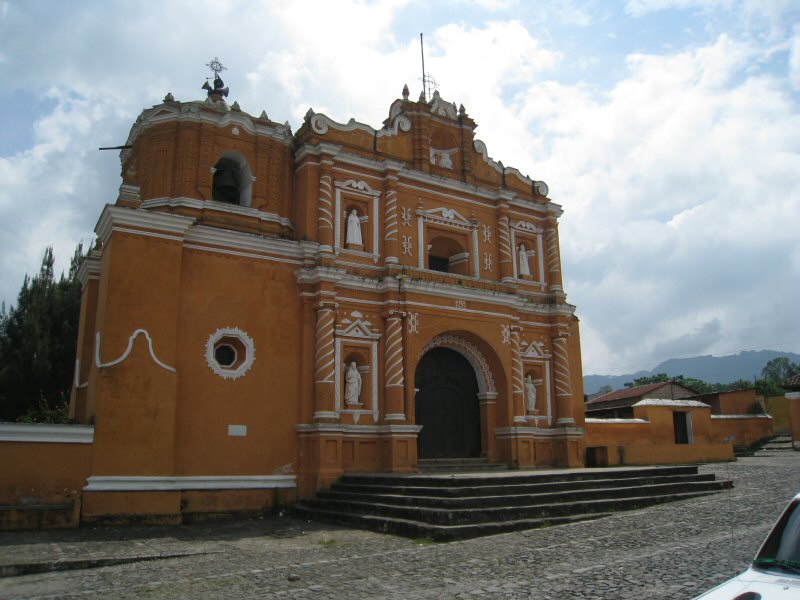 Nearby, there were some women operating this small fruit and vegetable market.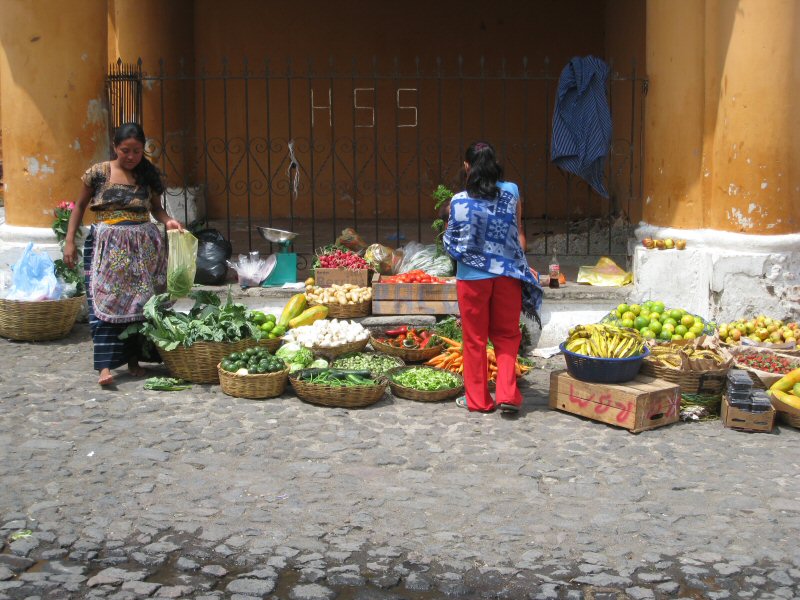 Next we visited the public laundry, which gives a small glimpse into into everyday activities of daily life in the town. I've seen pictures of this laundry on some other travel pages; it's uniqueness seems to be a draw for tourists.

While we were in the town center, very loud music broke out and we explored nearby to find a school band production that was very impressive–complete with all types of instruments and choreography.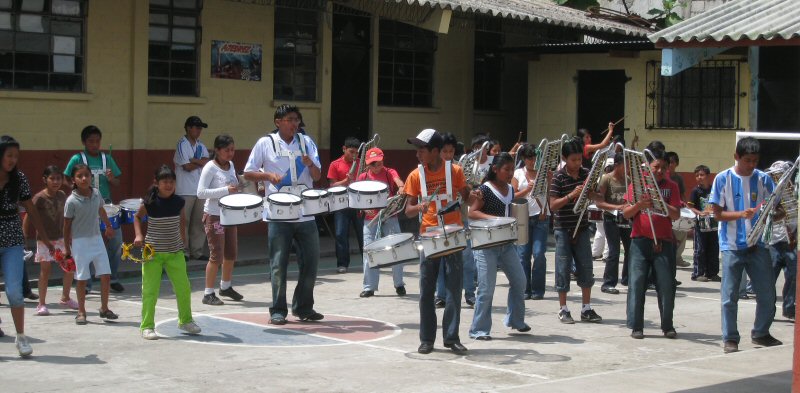 Next to the school there is a large climbing pole with a flag on top that apparently the kids use to train and develop climbing ability. B and J gave the climb a shot. By my judgment J made it just a little higher!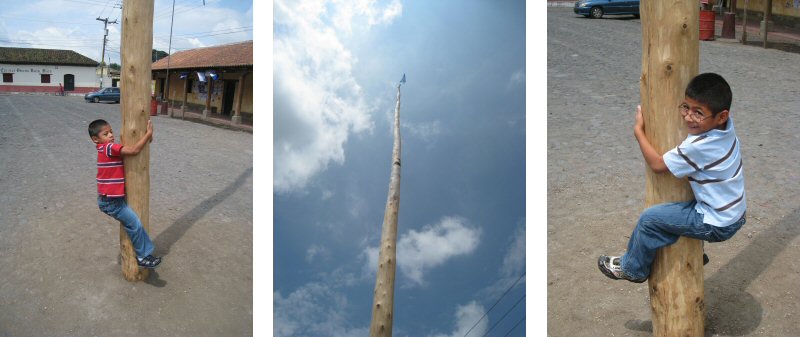 Ciudad Vieja Cathedral: Next we visited the Ciudad Vieja Cathedral. Originally built in 1534, just 42 years after Columbus' arrival in the new world, the facade has undergone many renovations. The current cathedral is a stunningly beautiful white building adorned with intricate pillars and statues and filled with art and relics. It was the most impressive architecture we saw on the entire trip.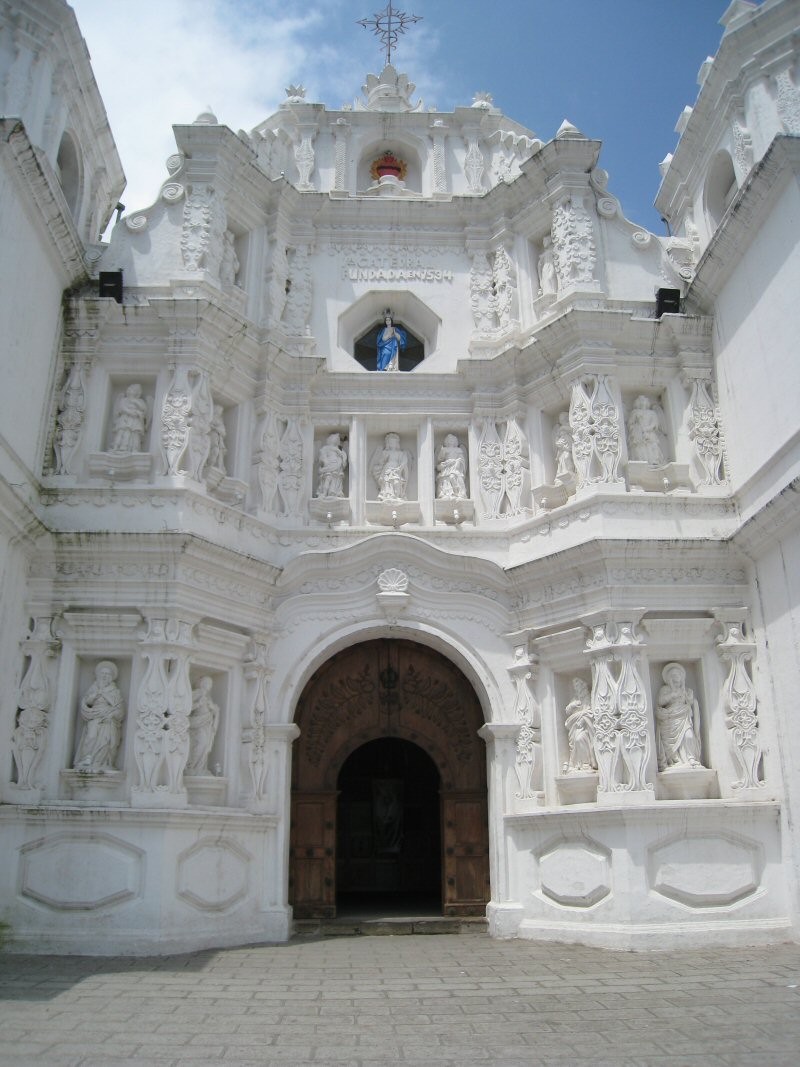 Inside the cathedral are dozens of artifacts spanning the last several centuries of Catholic life in the town. Here are just a few we captured on the trip.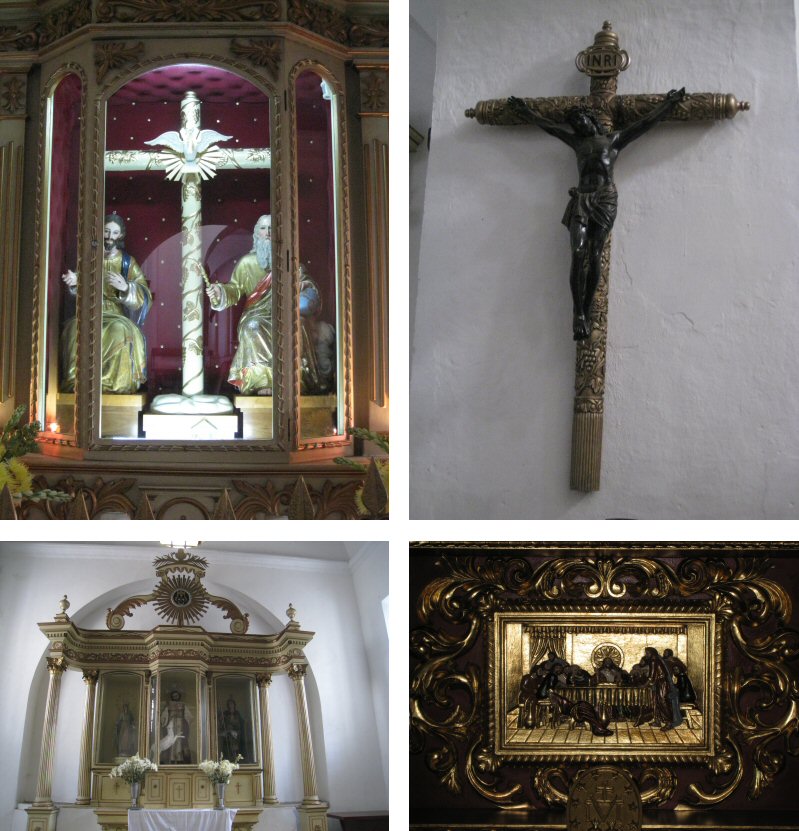 Valhalla Macadamia Nut Farm: After the Cathedral we got back on the road and headed to Valhalla Experimental Station, an organic Macadamia nut farm run by husband and wife couple Lawrence Gottschamer and Emilia Aguirre. Besides being a functional farm, the Valhalla project seeks to "reverse global warming, assist indigenous people in developing self-sustaining agriculture, and educate the public about the environment", according to their mission statement.
We learned a bit about sustainable farming in Guatemala and tried the Macadamia nuts, but honestly one of our favorite features was Valhalla's unique outdoor bathroom, which allows a person to use the commode surrounded by plants!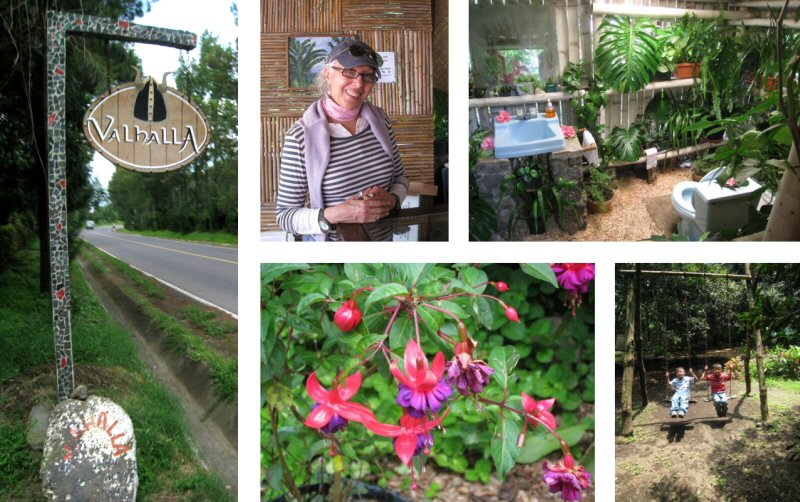 After a short stint at the farm, we made a brief stop at a local market that we actually felt was a little too "touristy" and was also eerily quiet. It felt like a market that was trying to be authentic but was actually corporately run. It would hardly be worth mentioning, but the stop did give us one of our favorite pictures of this trip that we used for our headline photo.

One of the artisans at the market also gave us permission to take her picture for this next shot, which shows her working on a fabric panel–the type of which could be used for many purposes including making a huipil.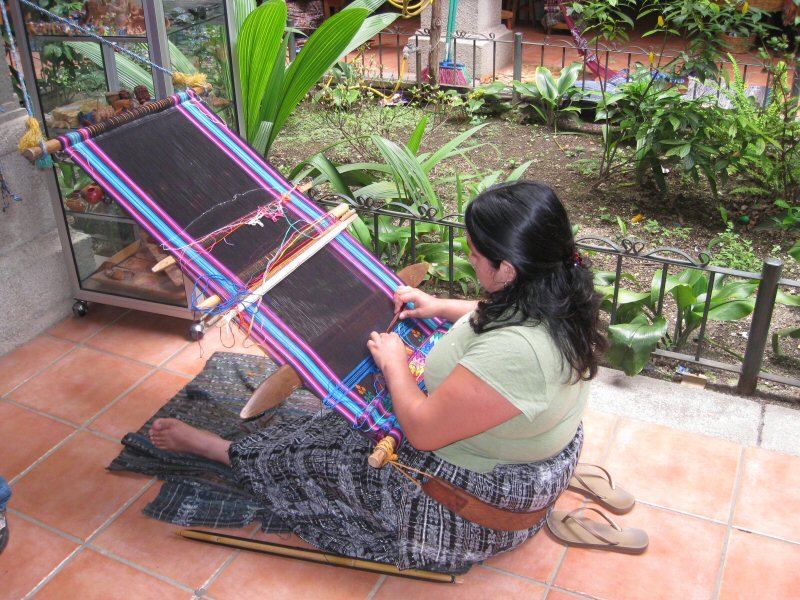 Hotel Posada de Don Rodrigo La Antigua: After leaving the market we headed back into town in Antigua for lunch at the Hotel Posada de Don Rodrigo La Antigua. Lunch was good, and the highlight was the tortilla cook who let B and J both try their hand at making their own tortillas, which as you can see from these faces was a huge hit!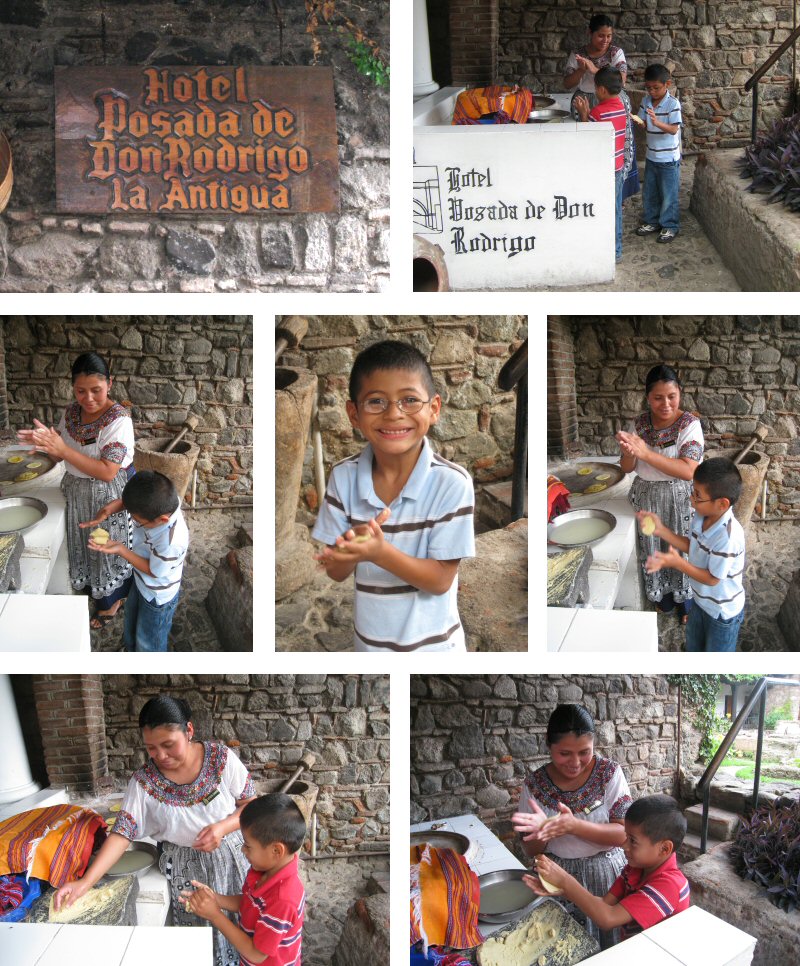 After lunch we took a walking tour of Antigua's streets. The bright colors and architectural features in Antigua are wonderful. Everywhere you look you are immersed with beautiful buildings lining cobblestone streets.
Antigua is certainly one of the most beautiful places to live in Guatemala, and if we return, we will try to spend at least a few days in the city.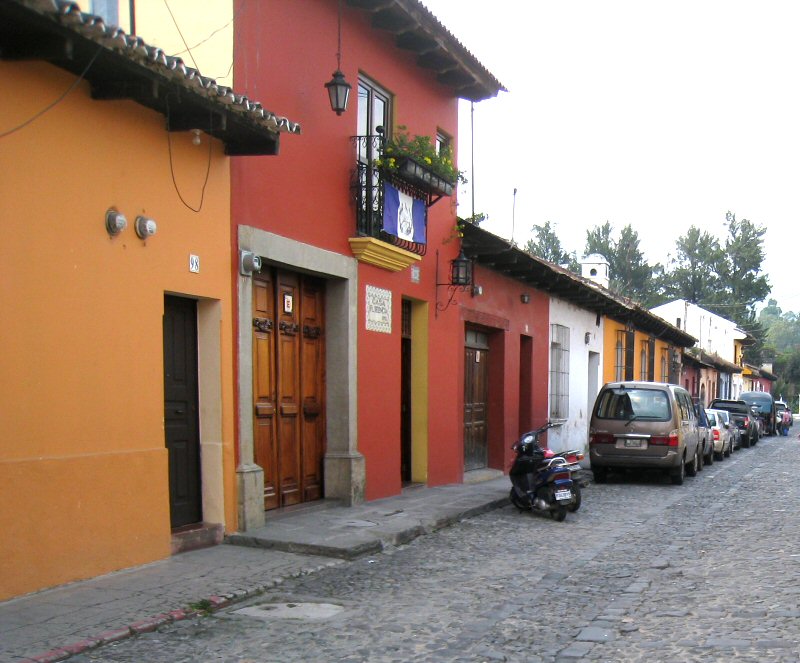 One of the things that I loved the most about the architecture — being a sort of home improvement nut myself — is how beautiful and different the entrances to each building are. I snapped pictures of dozens of doors; here's my favorite six.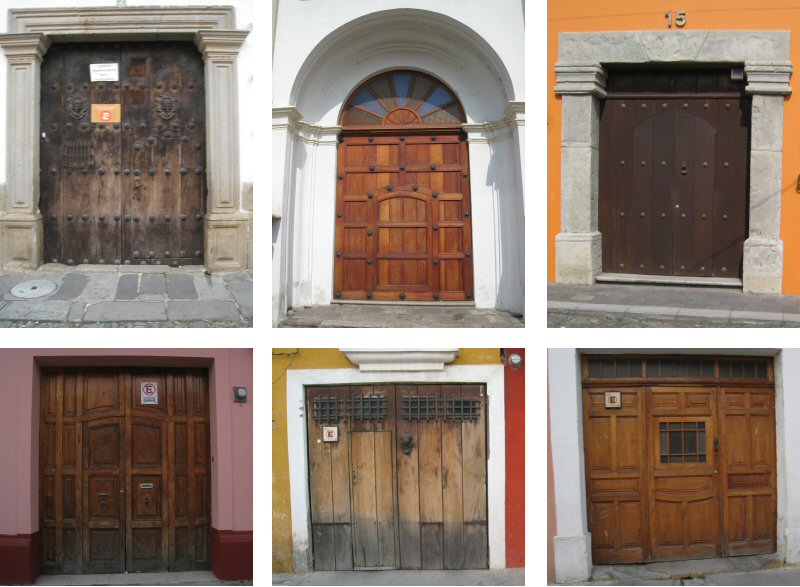 After touring a few streets, we returned to the city center and captured a quick shot of Iglesia de La Merced. Unfortunately we didn't have time to tour the interior of the church (and the boys were a little antsy at this point, anyway).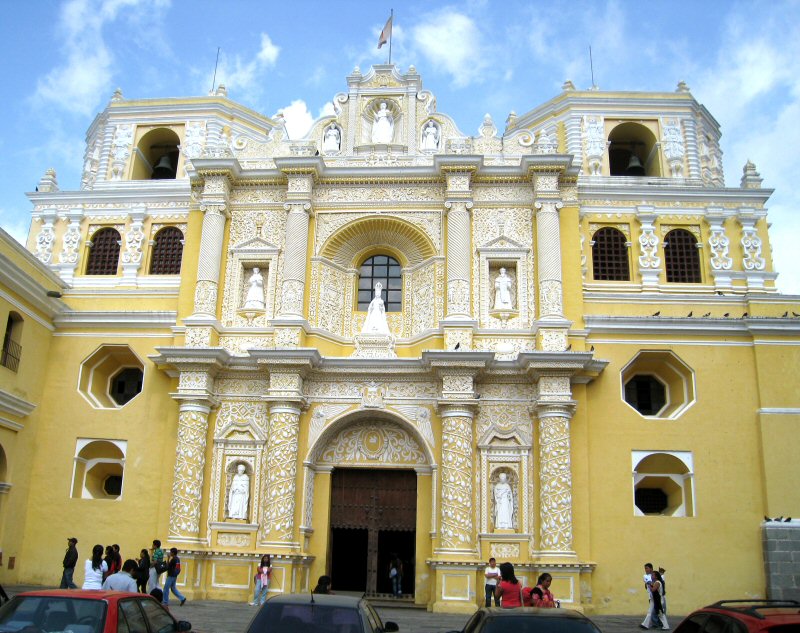 Close by we toured the ruins and catacombs of the Antigua Guatemala Cathedral. The cathedral is a hybrid of functioning church as well as ruins of an older structure long since destroyed by earthquakes and volcanic eruptions.  You can see the ruins of the older brick structure just behind the facade of the new building on the left in the next picture.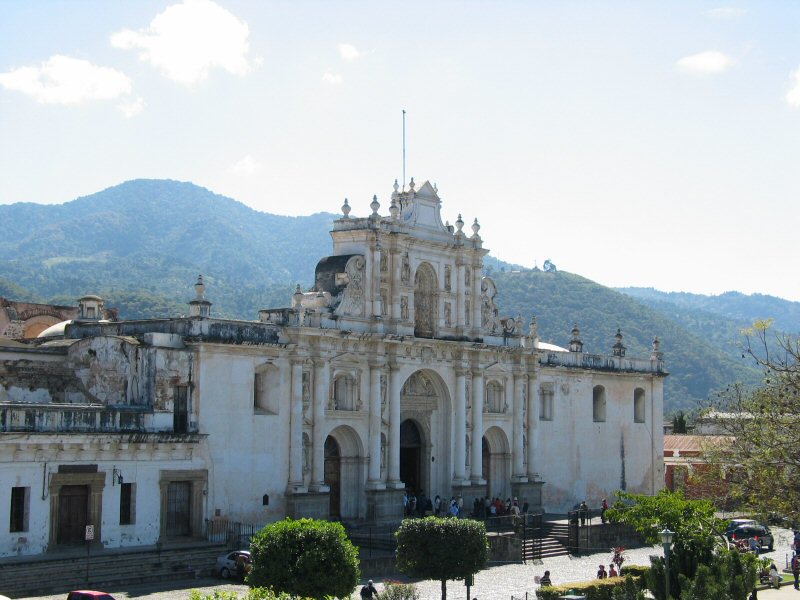 Here's a picture looking up at from the inside of the ruins including the beautiful arches of the original structure. We actually took this picture on our 2007 trip and included it here because we failed to take any pictures this time around! Even as ruins, the building is beautiful.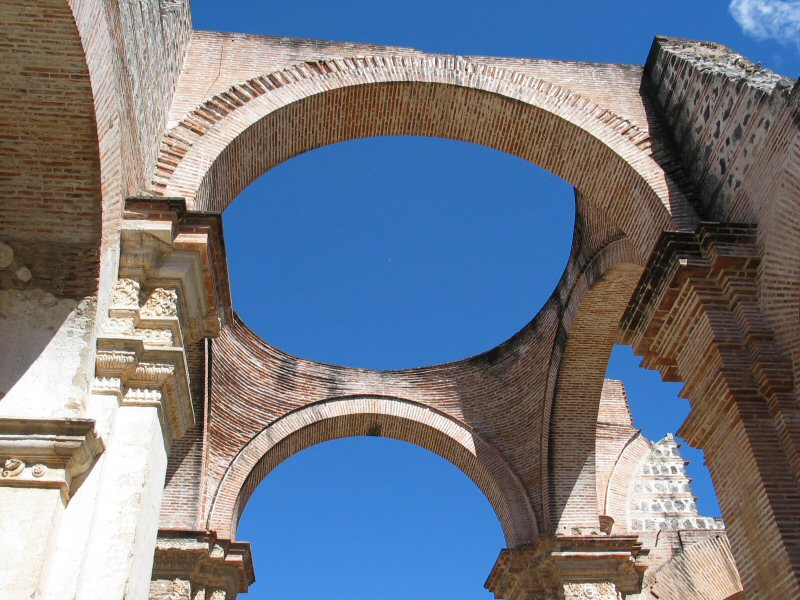 After walking through the ruins, we hit the catacombs, which in one room includes a crucifix that has been covered in black soot due to candles that are regularly lit to represent prayers for family members and friends.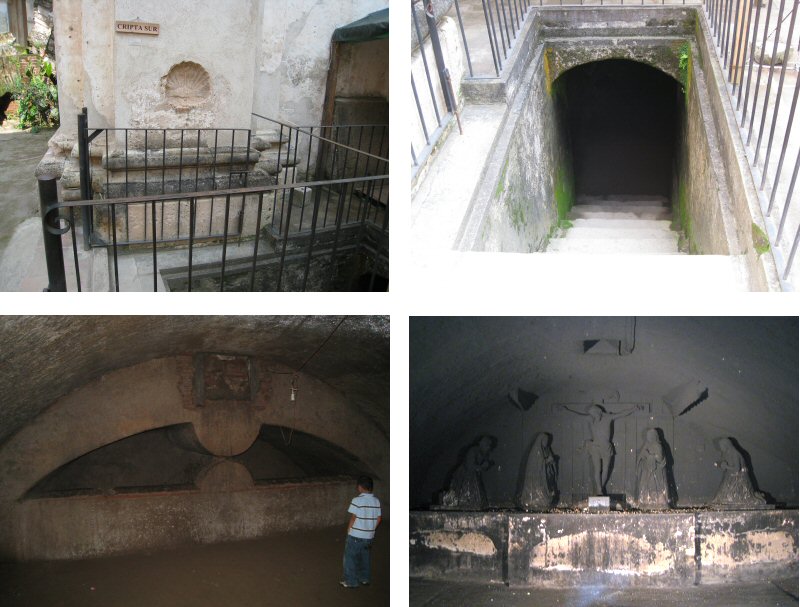 After we finished at the cathedral, we stopped briefly at Hotel Casa Santo Domingo to see the grounds and use the restrooms. The hotel is built on the property of the old Santo Domingo monastery, which according to Wikipedia was one of the most grand convents in all of the Americas. The grounds remain amazing and if we return to stay in Antigua, Santo Domingo is top on our list.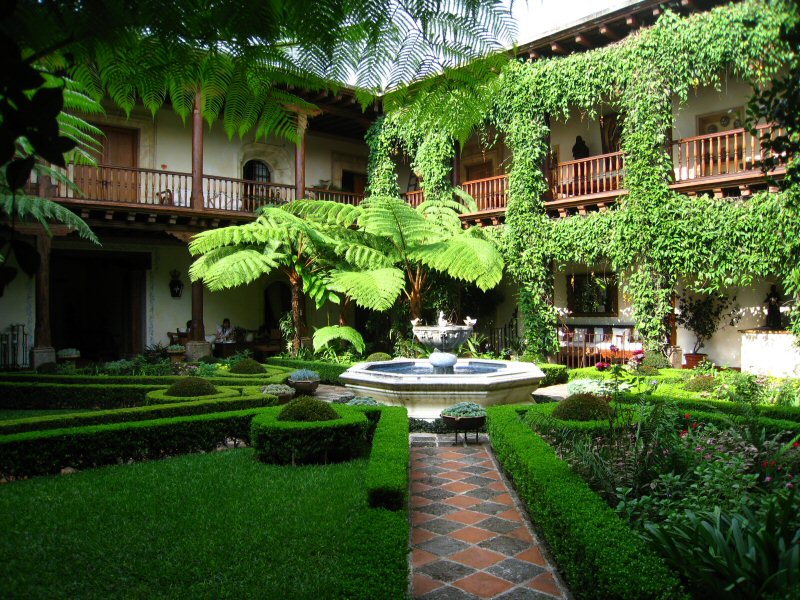 While we didn't take many pictures at Santo Domingo, one of the funnier things Kim ran into in the restroom were these faucets made of traditional Maya masks. She couldn't resist snapping a few pics of these!

After the brief hotel stop we returned to the city center for a final picture at the fountain in the middle of the center square. Kim and I took a picture here during the 2007 before we met the boys, so this picture falls into the "then and now" category for us.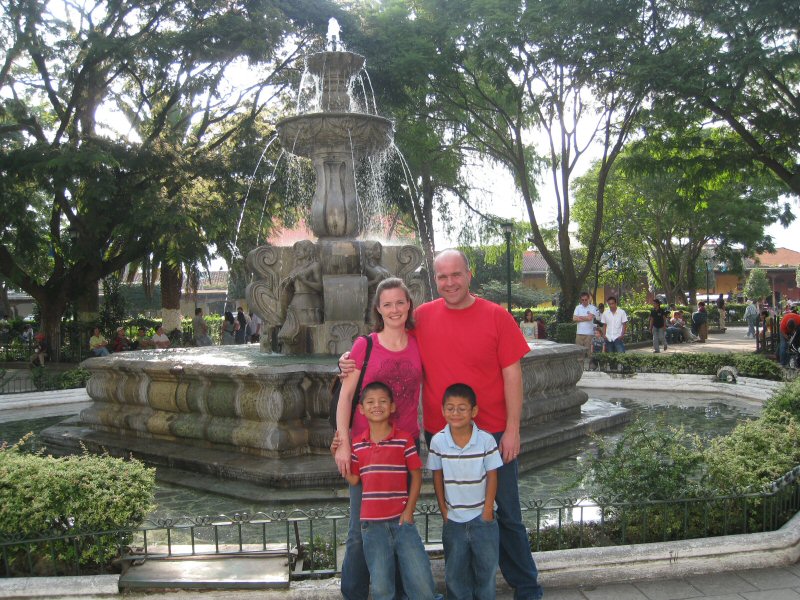 From here we departed back to Hotel La Vista Real in Guatemala City to get some sleep and get ready for the next day's adventure in Chichicastenango and Lake Atitlan!
Day 3: Chichicastenango & Lake Atitlan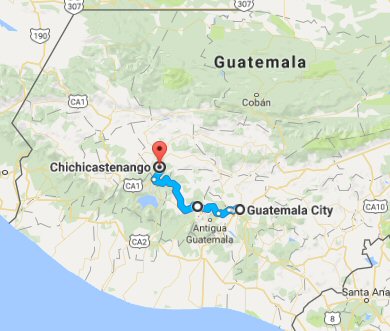 We got up before daybreak again on Day 3 to meet our Turansa tour guides and get an early start out to Chichicastenango, a rural town in Guatemala's highlands famous for its market days on Thursdays and Sundays.
We visited "Chichi" on our first trip to Guatemala in 2007 and it was high on our list again for this trip. The town's name means "City of Nettles" in the Nahutl language, and is so named for the nettle plant native to the region.
Chichicastenango is just over three hours outside of Guatemala City. About an hour and a half into our trip, we stopped at this little restaurant called Katok in Chimaltenango for breakfast.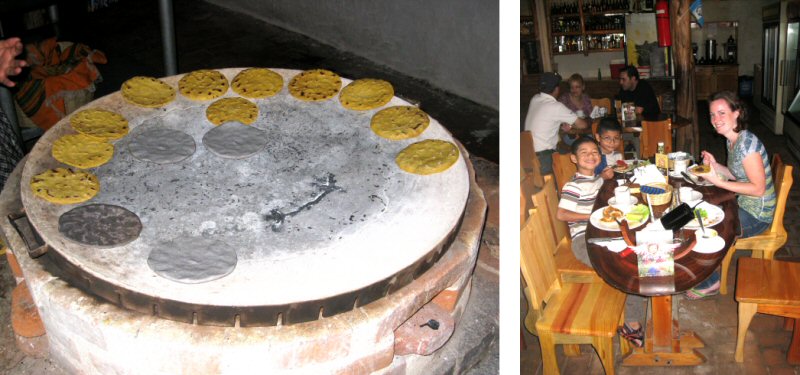 After another hour and a half, we started recognizing the streets of Chichicastenango from our first trip. They're characteristic of many towns in Guatemala, with "Claro" and "Tigo" (cell phone vendors) and cola product signs everywhere!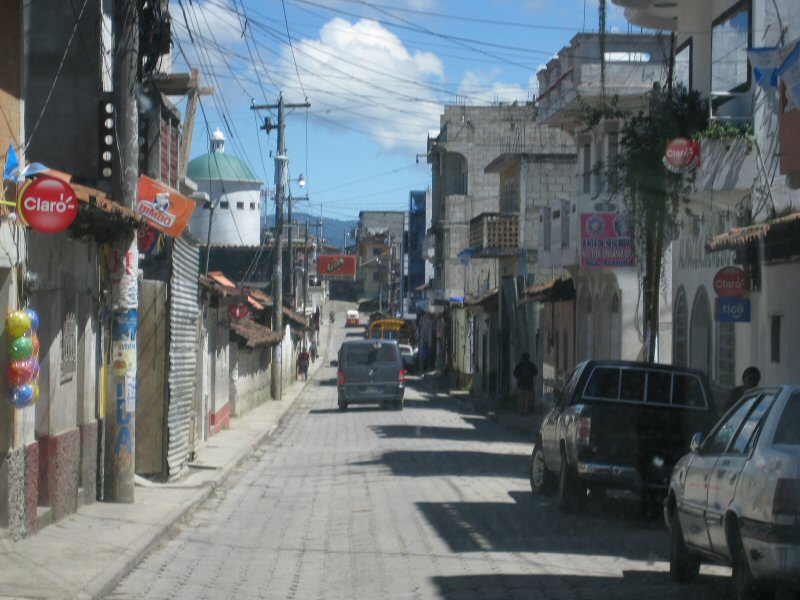 When we arrived in the town center, we immediately remembered Iglesia de Santo Tomas. The church was built in 1545 — just 53 years from when Columbus first landed in the western hemisphere. It was constructed atop a pre-Columbian temple platform, the only remains of which are steps leading up to it and some of the church's foundational elements.
Our guide told us that residents of this area practice a religion that draws from elements of both Catholic and ancient local traditions, and that the church has allowed that compromise to make the Catholic faith more palatable to the people here. Because of their origin, the steps are still venerated by the townspeople.
The inside of the church was filled with candles which represented prayers for people's families and friends. Over the years, the smoke from those candles has covered the interior of the church, such that many of the paintings and sculptures are a dark soot black. We didn't take pictures out of respect for worshipers that were there that day, but even when covered in soot, there was a definite beauty to the place.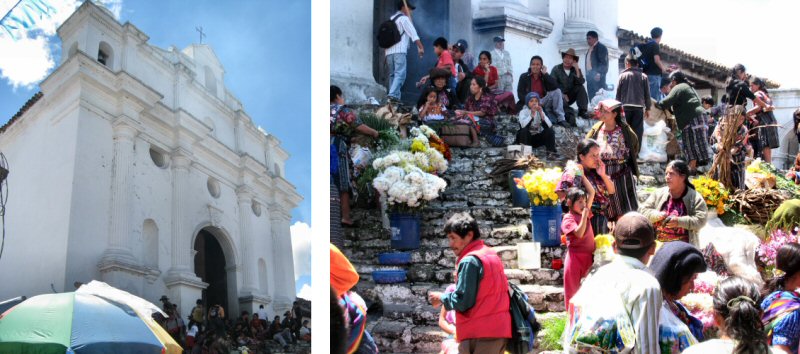 The remainder of the central square was filled with all kinds of colorful goods from the vendors working that day. These booths are set up and torn down twice per week — on Thursday and Sunday market days.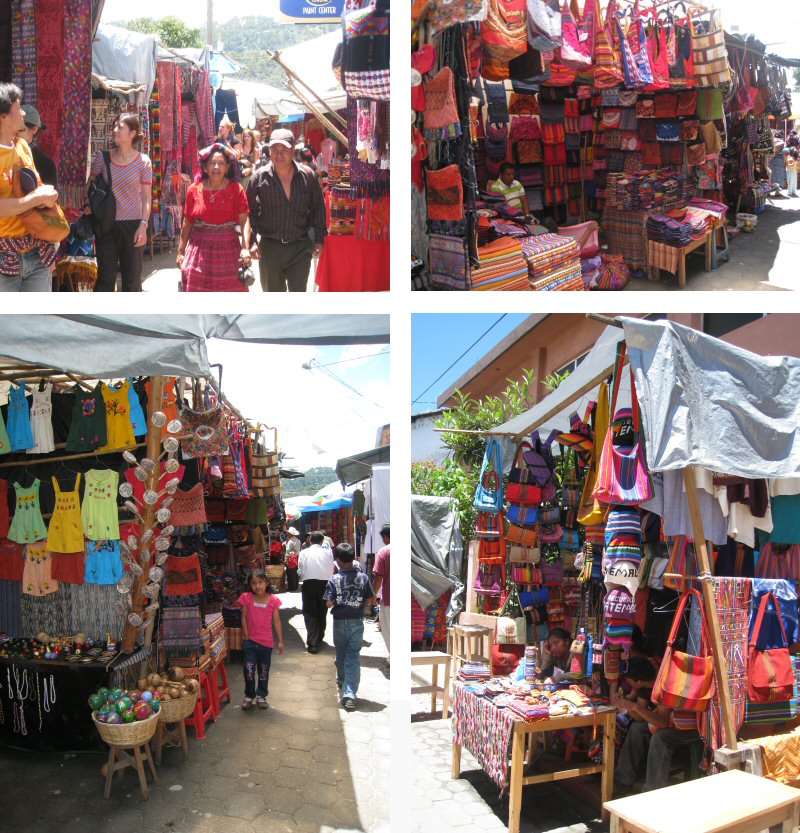 The picture below was outside of an art vendor's store and displays knife paintings that are very common in Guatemala. We ended up purchasing a large canvas from this dealer that hangs on the wall in our dining room.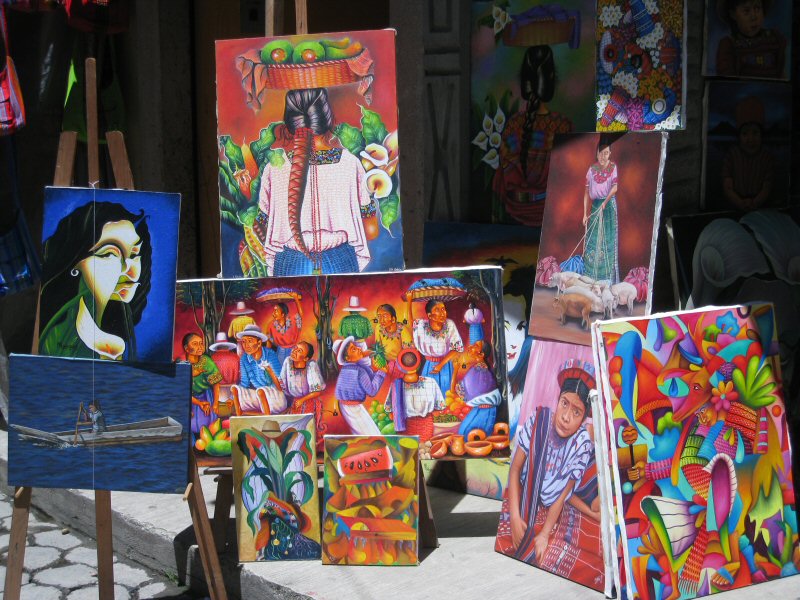 Lake Atitlan and Panajachel: After two hours in Chichicastenango, we started on our way to Lake Atitlan, located two hours south of Chichi and more or less on the way back to Guatemala City. Along the way we passed one of the most colorful cemeteries we'd ever seen. Unfortunately we did not get to visit up close, and actually took this picture from more than a mile away.

On our way to Lake Atitlan, damage from recent floods marked the roadways. We took a picture of one of the most treacherous spots we saw, where travel had been reduced to a single lane, and where the edge of the road drops off more than 1,000 feet. I had to tell myself that much larger busses had been driving along this route and we'd be fine!

When we arrived in Panajachel, one of the towns on the edge of the lake, we took a brief stop for lunch at a local restaurant. We think this restaurant was either called Casablanca or La Palapa. If you can tell from these pictures, let us know!

The restaurant had two parakeets. Normally this would not be a big deal, but our boy J has loved birds since we first met him, and this picture is one of our favorites of him. He was so excited to see these little birds!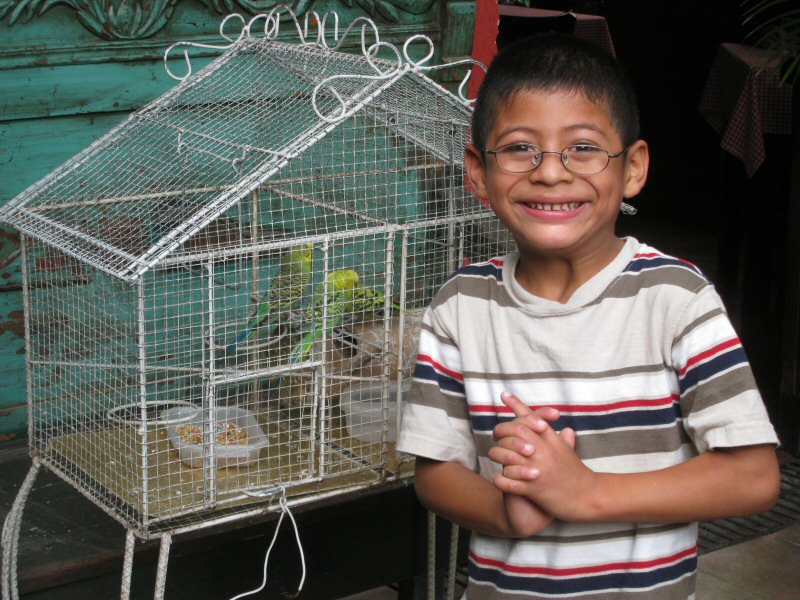 After lunch we got to stand lakeside a take a few pictures of the lake and the surroundings.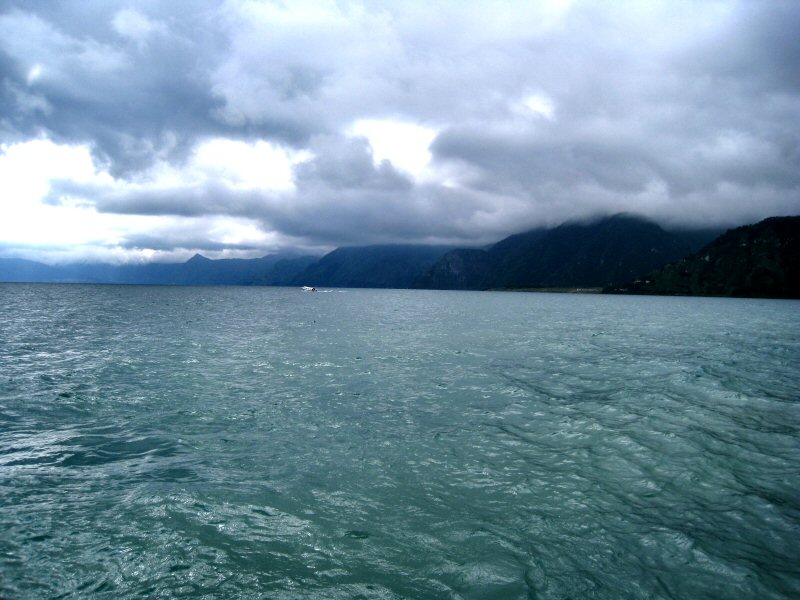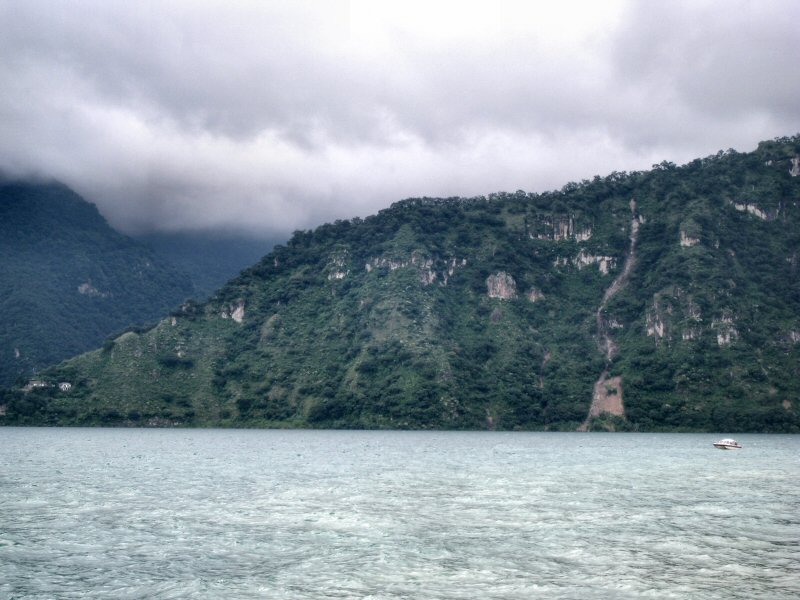 After we finished taking pictures at Atitlan, we headed back to the hotel and snapped a quick picture with our Turansa tour guides, who were fantastic!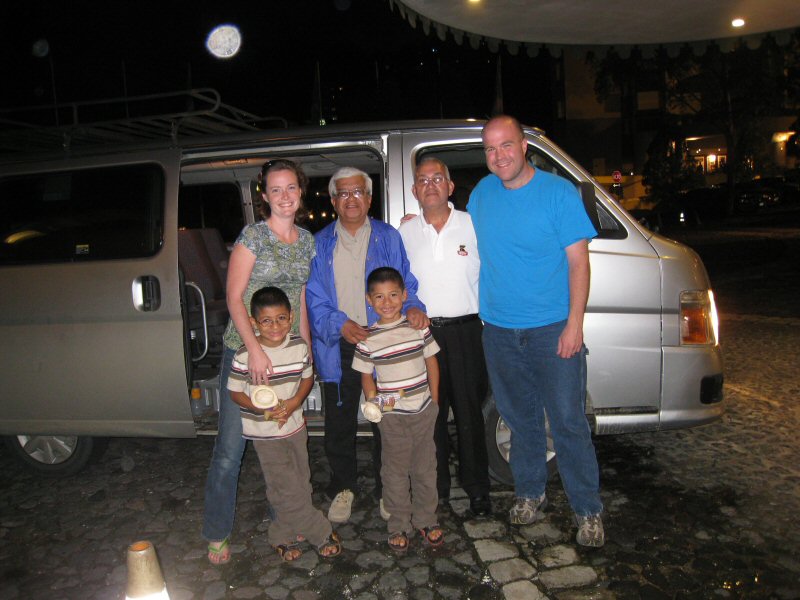 Day 4: Downtime Day in Guatemala City
With Days 2-3 chock full of driving and touring we knew we'd want a down day to relax around the hotel and tool around the city before we jump on another plane on Day 5. We ended up visiting a local Christian school run by The Shalom Foundation that our church has worked with in the past. We also took the boys to Pollo Campero, a Guatemalan-owned fast food chain that is everywhere in Guatemala and El Salvador and has opened dozens of stores in the US, including one in our backyard in Laurel, MD.
Most of the pictures we have of the school include lots of kids' faces, so to protect their privacy, we'll skip them here. Sadly, we got no pictures at Pollo Campero, either. I think we might have been suffering from tourism exhaustion!
Day 5: Traveling to Petén & Touring Tikal National Park
We got up before dawn on Day 5 to catch an early commuter flight on TAG Airlines from Guatemala City to the Petén Department. Perhaps due to a flaw in the security processes at the airport, we never actually went through a security checkpoint, instead bypassing the normal boarding process and meeting up at a hangar on the property. That streamlined the boarding process, but didn't exactly instill faith in the Guatemalan airport authority.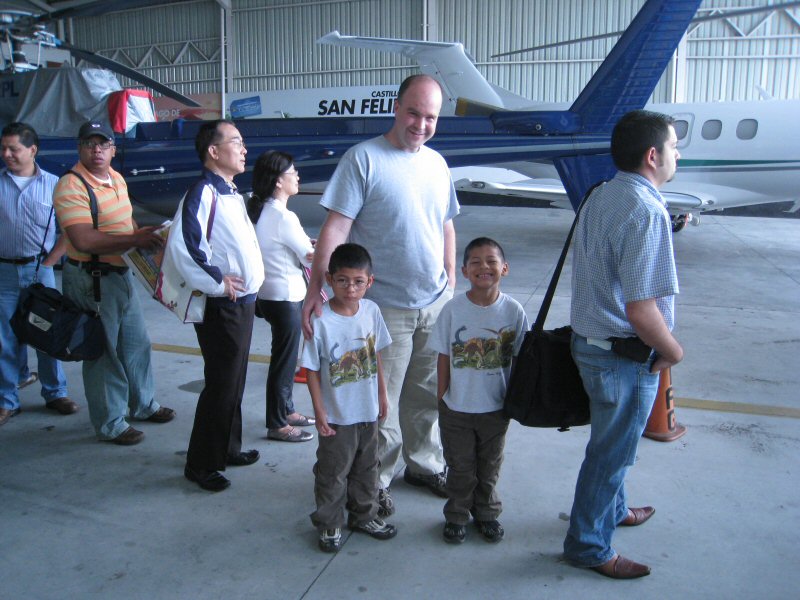 TAG flies a small plane back and forth between Guatemala and Petén several times per day. The size wasn't unexpected, but the writing on the side of the plane (in the center of the picture below) said "Todo lo Puedo en Cristo que me Fortalece", which roughly translates to "I can do all things through Christ who strengthens me." As Christians, we certainly appreciated the reference, though it felt a little bit like getting on a plane that is saying to itself, "I think I can! I think I can!"
Fortunately, we made it, landing safely in Petén about an hour and a half later, where we took a mini bus out to the Tikal Inn in Tikal National Park, which is itself a little more than an hour away from the airport.
When we got out of the bus it really started to set in just how hot and humid the jungle is, and how remote of an area we had entered. I remember thinking to myself, "What if I get bitten by a poisonous snake? How long would it take to get to the hospital?" (I'm a worst case planner…it's a blessing and a curse.) Fortunately I didn't get bit by any snakes, poisonous or otherwise, though over the next two days we did run into two of them.
As we walked onto the hotel grounds, a group of people were standing around watching something moving on the ground. Turns out it was just the largest spider I've ever seen in the wild. I'm not sure what this species is (feel free to comment if you know), but tip-to-tip it was easily the size of the palm of my hand. I turned to Kim and said quietly, "Where have you brought us?!" Fortunately the locals told us this particular spider likes to eat ants, which is what it was doing when we stumbled on it, and wouldn't bother us. I'm really glad I never saw one in our room–that might have been too much.

About five minutes later as we were walking back to our room, we encountered what can only be described as a mutant grasshopper. I love Jose's face in this next pic. He's got to be thinking the six-year-old equivalent of "oh hell no."

After we passed by all the crazy bugs, we arrived at our bungalow on the far side of the pool. Unfortunately we failed to snap a pic of the inside of our room–it's the one on the lower right–but it was pretty bare bones and had only two beds, a small attached bathroom, a single light, and an electric fan. The fan is mostly there to taunt you since it only works when the hotel's generator is running–so after 10:00 at night, you're completely out of luck until 7:00 the next morning.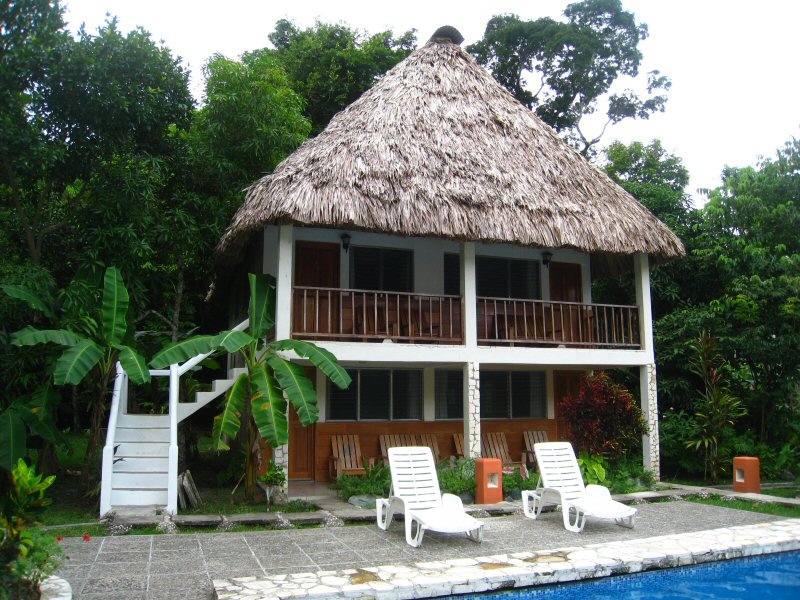 After we got settled in our room, we met up with our tour guide and headed to the entrance of the Tikal archaeological site.
We really enjoyed Tikal, despite the oppressive heat. You can see from my t-shirt in most pictures that I was sweating like a dog the entire day–but it was worth it. There was so much to see in the park that we're planning to write separately about our experience in the next month or so. Here's a few pictures from our day, starting with a model of the ancient city located near the entrance to the park.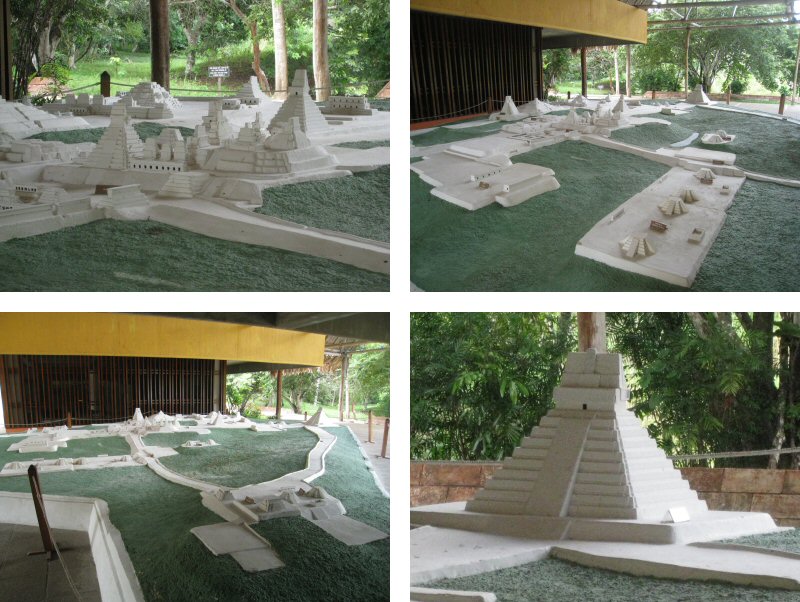 Not too far inside the gate, you'll find workers clearing moss from the ruins. For centuries Tikal remained buried in the rainforest, and our guide said that in Tikal's subtropical climate it would only take a few months before the low-lying sites we be reclaimed by the jungle, and a few years before growth climbed up much of the pyramids.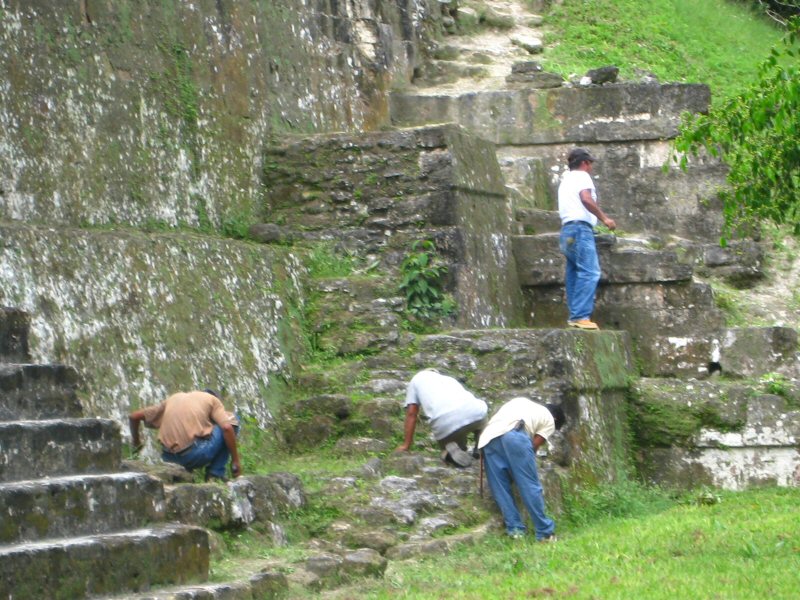 Once you get to the center of the acropolis, the view of Tikal is absolutely stunning! This photo was take from the top of Temple #2, which lies opposite the famous Temple of the Great Jaguar (aka Temple #1).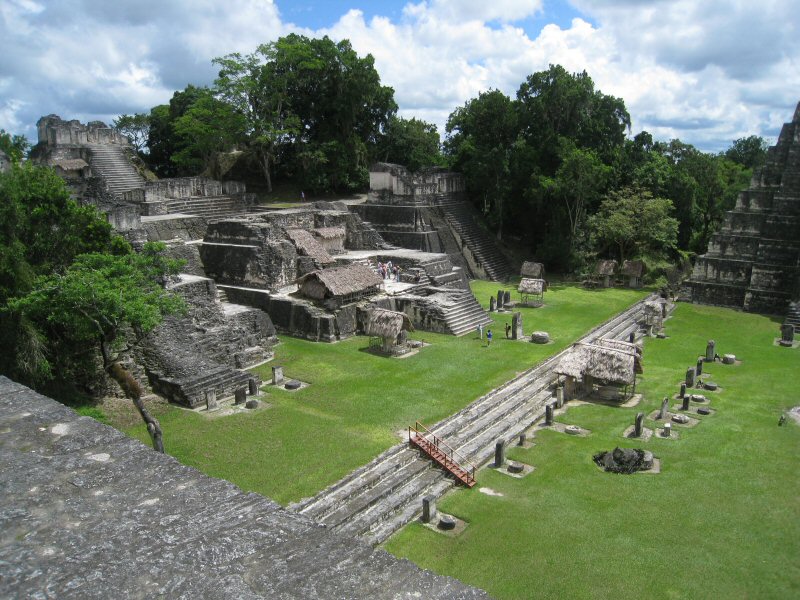 Around the time we traveled to Tikal, our boys were really into Diego of "Go Diego Go" cartoon fame. In one Diego episode–which none of us can remember now–the "Temple of the Jaguar" makes an appearance. Here's KIm and the boys with the real Temple of the Jaguar in Tikal, fulfilling a childhood dream!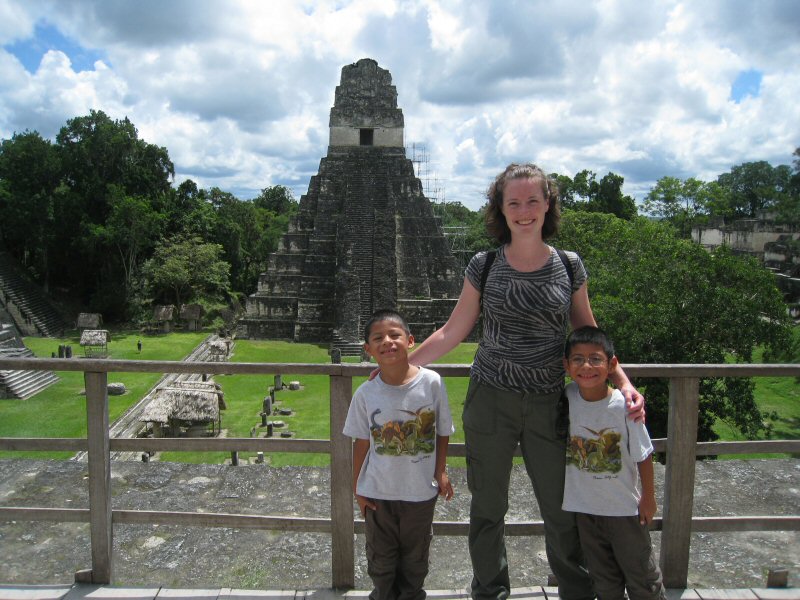 We have around 50 additional pictures of Tikal that we'll share when we put together the dedicated Tikal post.
After we finished up, we headed back to the Tikal Inn and let the boys jump in the pool to cool off (did I mention it was HOT!)

We closed out Day 5 enjoying some cold drinks inside the hotel's lounge for a few hours while the power was still on.

Day 6: Touring Yaxhá National Park and Traveling Back to Guatemala City
After another less-than-great-night-sleep due to the heat, we headed out early with our guide to see Yaxhá, the ruins of another, older Mesoamerican civilization about an hour away from Tikal. Yaxhá is named for the Yaxhá river which runs along side of it. (You can see the river in the picture from atop one of the temples). It served as the ceremonial center for the civilization that lived here between AD 200 and 600.
On our way to the archaeological site we spotted a snake in the road. Our driver recognized this as the famous fer-de-lance (yellow beard), a venomous pit viper. Fortunately this guy was dead, because this is the snake that kills as many as 200 people each year throughout Central and South America. In addition to being highly venomous, the snake is territorial and will strike at you if you get close to its den.

Yaxhá has significantly fewer temples and sculptures than Tikal, but the temples are climbable and very interesting.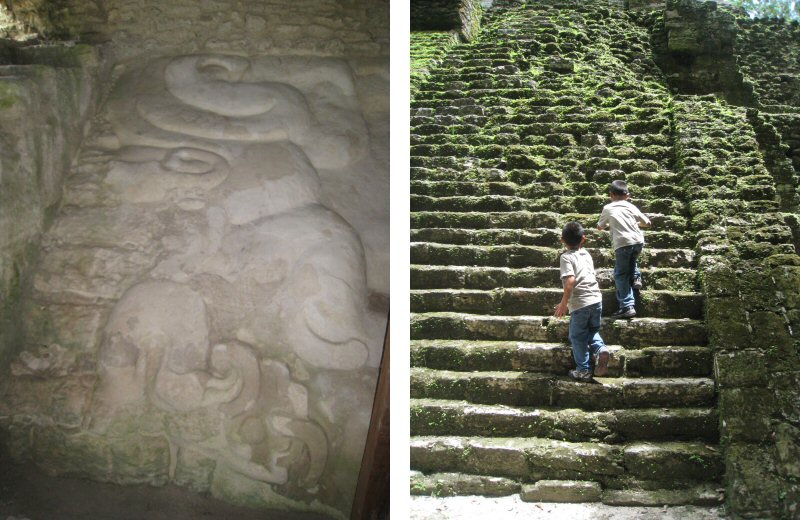 We didn't take a whole lot of pictures in Yaxhá, but this one from the summit of one of the temples shows just how high these are. And they're very steep, which made me a little woozy. After we took this picture I stood behind that wall on the right until we were ready to go!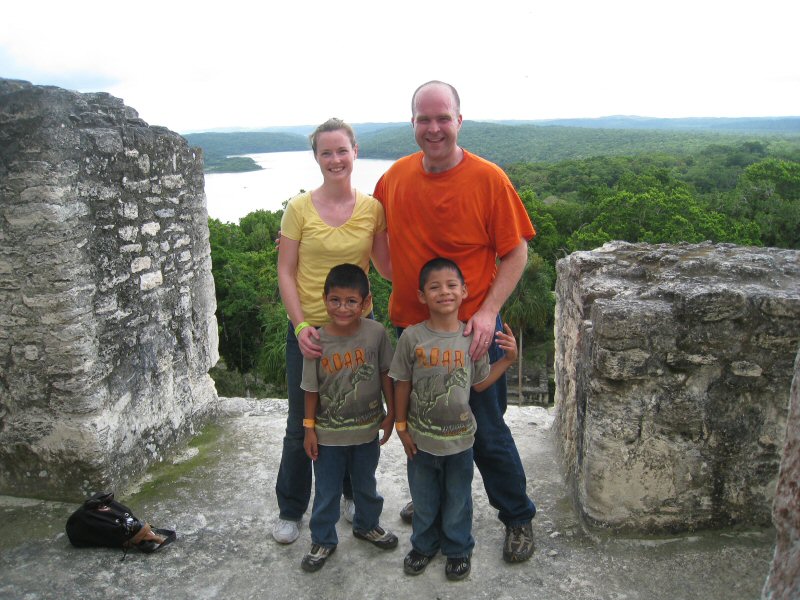 After our tour of the temples we visited some nearby sites in the rainforest. One of the more fascinating creates we saw on this trip appeared here: Leaf Cutter Ants! We watched as an army of millions of these guys cut leaves off of a tall tree in the rainforest. Really cool stuff – wish we had taken more than just this one picture.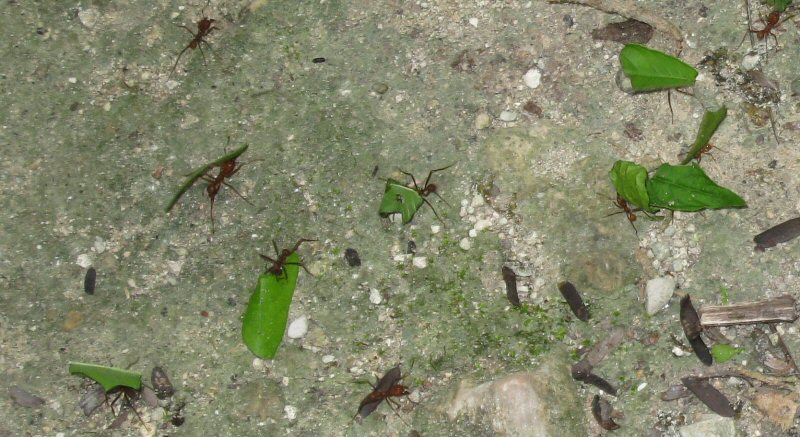 After we finished up in Yaxhá, we headed back to the airport and boarded our TAG commuter flight back to Guatemala City. One really cool thing about this small airline: they invited our boys up to the cockpit to meet the pilots and take pictures mid-flight. Living in a post-911 world in the US, it's a small treasure that's been lost to terrorism, and so we were grateful that they were so friendly.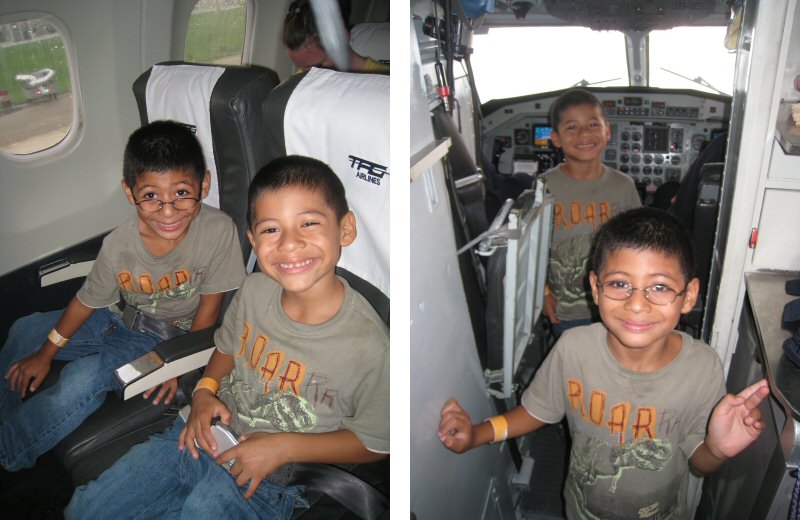 Day 7: Guatemala City Zoo
After two days of flights and touring in the extremely hot Peten, we wanted something pretty relaxing for Day  7, so we headed to the Guatemala Zoo. Kim and I both felt that the zoo was one of the best laid out and most natural zoos we've ever visited. Since most places we visit in the US experience four seasons, it's hard to compete with the lush grounds of a zoo in the tropics.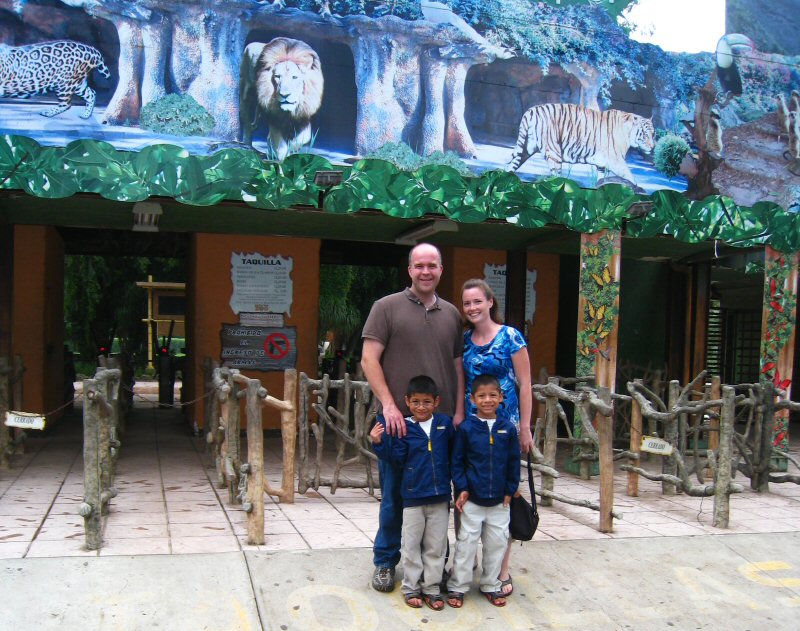 Many of the animals seemed to be cooperating with us for pictures. Here's a jaguar and a bear, and then that same bear with B.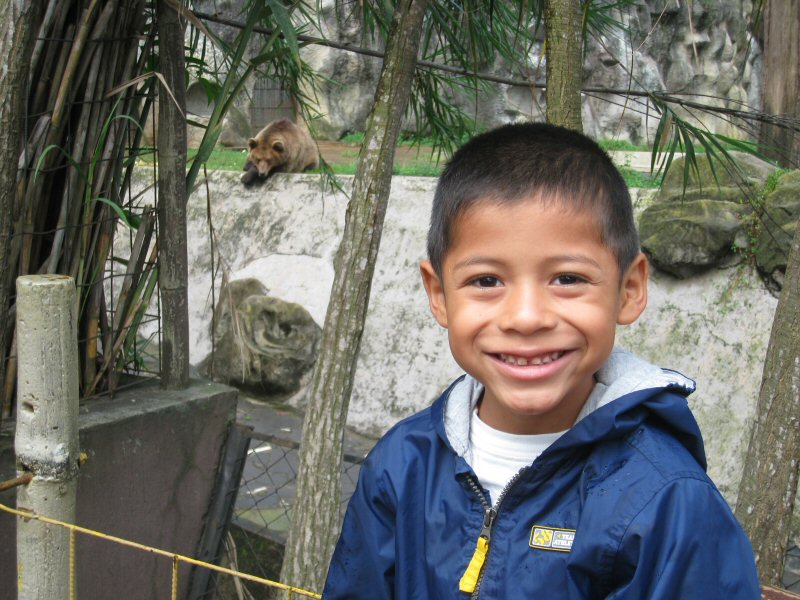 The guy on the left below is a howler monkey. We first heard them in Tikal and felt a little bad for this guy, who is stuck in the zoo instead of out with his friends. None the less, he was plenty loud, and Kim took this video of him howling!

And a tapir and hippos…

And then there's this picture Kim took that looks like an African Safari where the lions have been perfectly placed for us!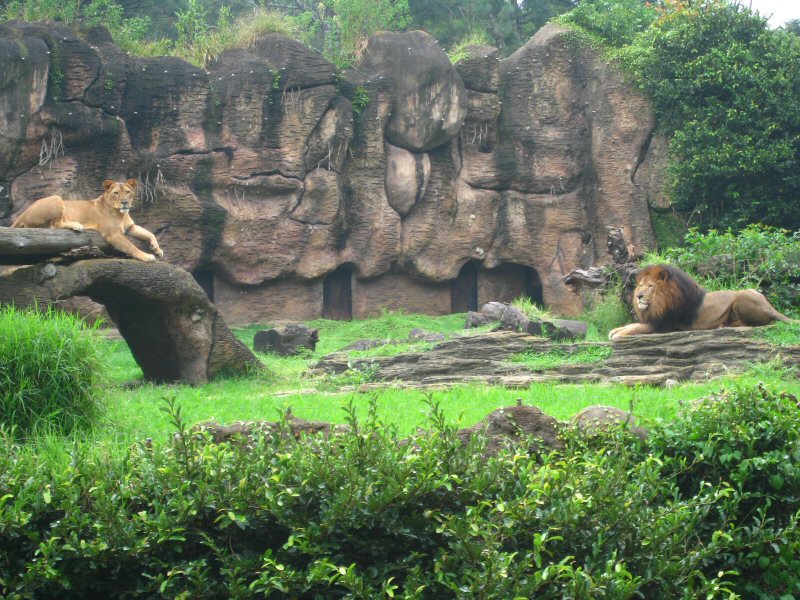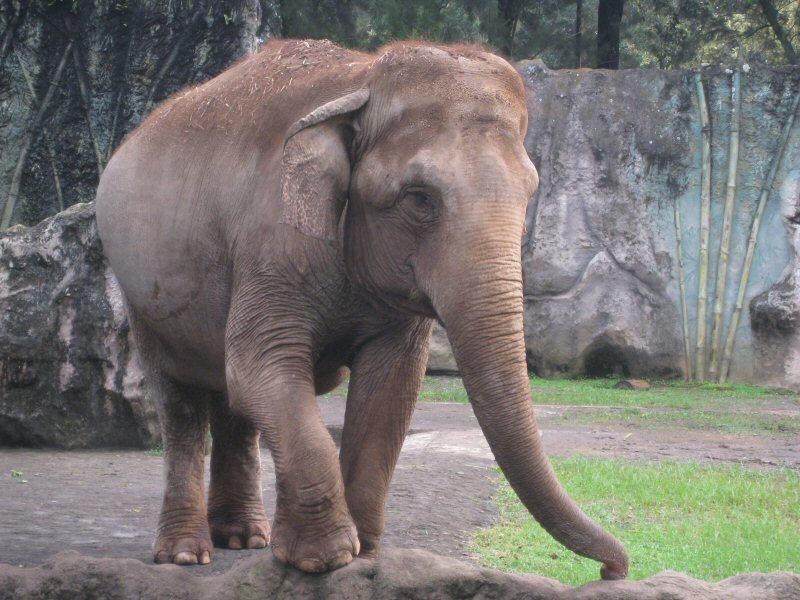 And finally, Kim with the "CURI-OSOS" poster — cause she's a curious girl, and Jose making one of his signature silly faces in front of the monkey cage!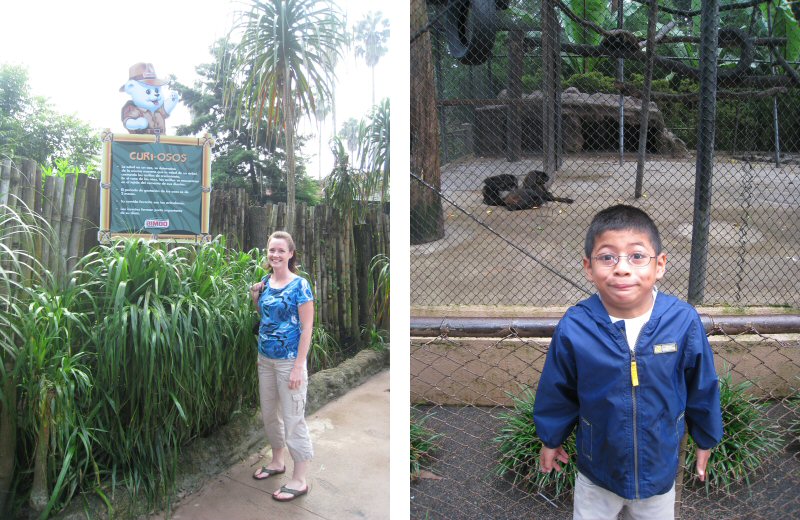 Day 8: Climbing Volcán Pacaya & Watching the Chicken Buses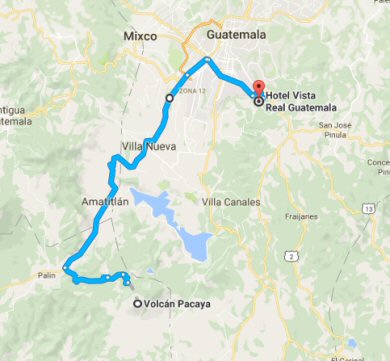 We woke up early on day 8 to catch a taxi out to Volcán Pacaya, an active volcano that had erupted in May, 2010, just five months before we visited.
Climbing an active volcano and roasting marshmallows over a lava vent remains one of the highlights of all of our travels to date and an excursion that Kim, B, J, and I will remember for the rest of our lives.
We've included just two pictures here and you can read about our entire experience in our separate Climbing Volcán Pacaya experience post.
We spent the rest of our day relaxing in the hotel room and shot a few photos of Guatemala's most endearing (and quite polluting) form of mass transportation–the "Chicken Bus". These buses are typically repurposed older American school buses that have found new life as mass transportation in Guatemala. We've never actually ridden on one, but we have been caught behind a few in traffic, and sometimes the exhaust is quite overwhelming!
Day 9: Traveling Home
We were sad to depart, but happy that the boys had seen so much of Guatemala and its rich culture. We hope to go back one day, but there are many more places for us to go first!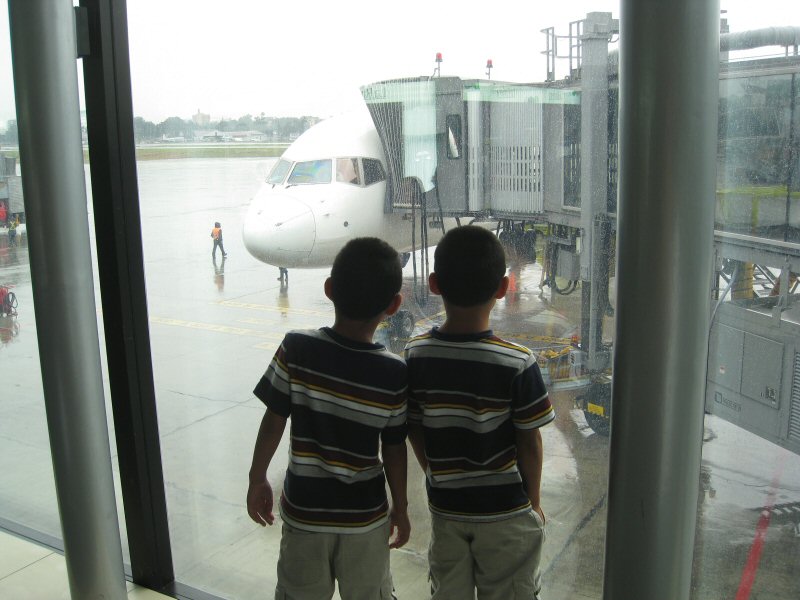 Thanks for reading!