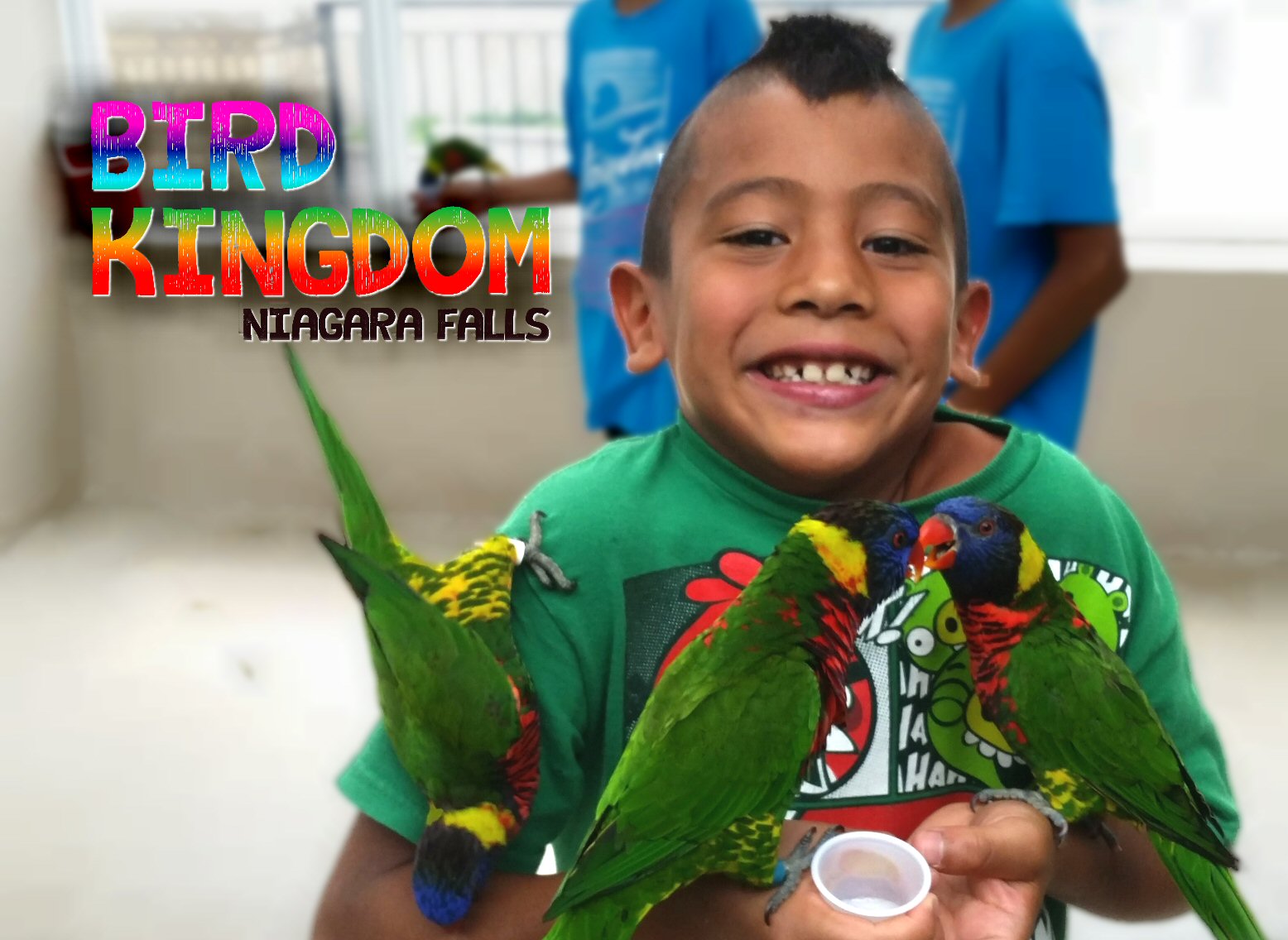 Bird Kingdom at a Glance
Location: Niagara Falls, ON, Canada
Who Went: Kim, Fred, B, J, L, E, H, & Mom
Trip: Niagara Falls 2016
Web site: Bird Kingdom
Cost: $15 / person
Our Rating: 5 of 5 Stars!
Recommended For: Everyone
We've stopped at Bird Kingdom on both of our family trips to Niagara Falls. Our son, J, really enjoys birds and the whole family really enjoys nature. We're by no means bird experts, but Bird Kingdom is fun even if you aren't a bird expert, because it's a place you can see the creatures up close. The birds are very used to humans, so they don't spook easily and will frequently sit still for photos!
Check out our four-day Niagara Falls trip from August, 2016.
The Bird Kingdom building is arranged to guide you through its attractions sequentially. Visitors start in a small Niagara Museum, then visit some reptile exhibits, a bat exhibit, and finally proceed to two aviaries — a small aviary mostly populated with little birds and reptiles, and a large aviary that is more than three stories tall and is the highlight of the attraction. Most of our photos are from the large aviary and its mini-exhibit, the Rainbow Lorikeet Cage.
Reptile Exhibit
The reptile exhibit is fairly small and won't rival most metropolitan zoos. But it's still got some great creatures and since our kids especially enjoy turtles, it held their attention for a while.
Bat Cage Exhibit
The bat cage, or as we like to think of it, the bat cave, houses somewhere between 25-50 bats. Lighting is very low so that the bats stay active for visitors. I was able to capture one reasonably clear picture of this bat eyeing up some apples.
Small Aviary
The small aviary is about 1,000 square feet of mostly free-roaming birds. This parrot waves to guests and says hello. You can even hold him and get your picture taken, which all the boys did. Unfortunately, they wouldn't let us snap pics of them holding the bird with our phones – the photos are a moneymaker for them.
Large Aviary
The large aviary is the main attraction at Bird Kingdom. It's four stories tall and houses hundreds of birds of varying sizes. We focused on enjoying the experience and didn't take too many pics. Here's a few of the family and just a few fowl that caught my eye.
Rainbow Lorikeet Cage
In the large aviary, our favorite mini-attraction is the Rainbow Lorikeet cage. Rainbow Lorikeets are colorful parrot-like birds that are native to Australia. At Bird Kingdom, you can pay $2 for a small cup of nectar and the birds will land on you and drink the nectar right out of your hands. It's an awesome experience but definitely requires some discipline, and might be hard for kids with sensory processing challenges. Our boys really enjoyed it, but it was too much for L.
They will not lake you take photographic equipment into the cage, so all of these shots are through the chain link with our smart phones. That makes it tough to get clear pictures, but we typically don't pay for resort photos. Kim's came out great though, and she managed to attract five at once!
Overall Thoughts & Pricing
This was our second trip to Bird Kingdom and if we come back to Niagara Falls in the future, we'd probably visit again. We really enjoy the birds and especially the Lorikeets, and the experience makes for some good memories.
The total cost for our family of seven was about $75. If you're planning on visiting, you should purchase tickets online in advance as that saves a few bucks.