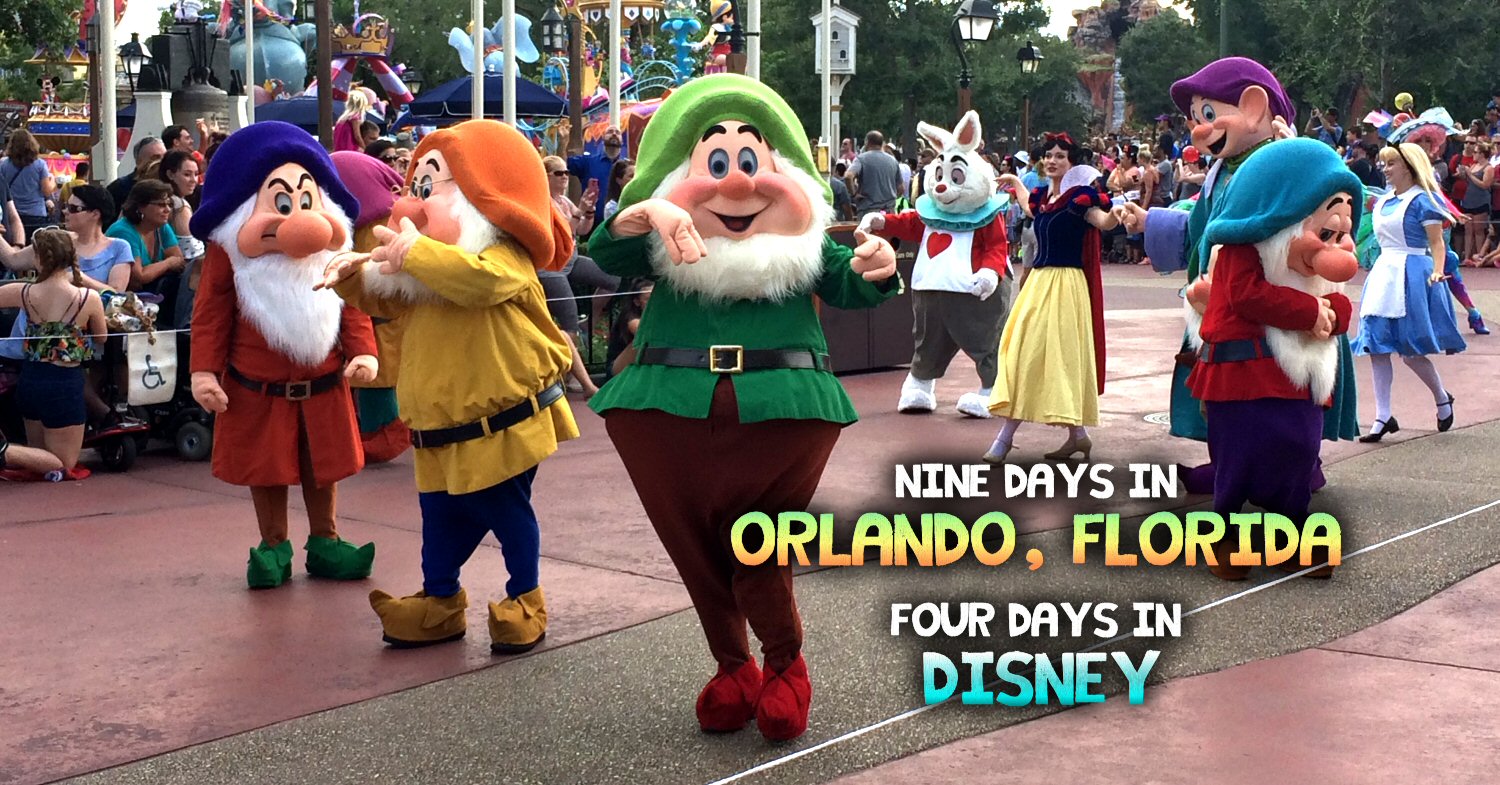 The Trip at a Glance
Trip Dates: Sept. 10-18, 2016 (9 days)
Cities & Towns: Orlando, Kissimmee, Tampa
Ground Transportation: Kronk, our 12-Passenger Van
Lodging: Rental Home in The Emerald Isle Resort
Theme Parks: Animal Kingdom, Epcot, Hollywood Studios, Magic Kingdom
Touring Companies: None. Used our local AAA to get a small discount on Disney tickets.
Restaurants: Bern's Steakhouse (Tampa), Bottoms-up Pizza (Richmond), Flippers (Orlando), Cracker Barrel (Savannah), Les Halles Boulangerie-Patisserie (Epcot – France)
Total Cost: Approx. $775 / person
As far as our trips go, this Disney vacation was one of the least planned we've taken. The only planning we did before leaving for Florida included renting a place to stay and buying Disney park tickets via AAA. We didn't firm up things like which parks to visit on which days until we arrived in Florida, and we didn't realize we should have installed the My Disney phone app and reserved our FastPasses until the night before we hit our first park.
Still, because we went in mid-September when most families are tied to school schedules, the parks weren't nearly as busy as they are during the peak season. With a little bit of quick, on-the-fly planning, we managed to see and do nearly everything we wanted and only had to endure moderate wait times throughout our four days at the parks.
One thing we didn't bring on this trip, much to my chagrin when writing this post, was our SLR camera. Of course Kim and I both had our smart phones, but we only captured a few pictures compared with past trips. There's actually more backstory to that decision than we can share in this post. Suffice it to say, we wanted this vacation to be as relaxing as possible. The result: this post is light on pictures compared to say, our Guatemala trip, with its nearly 200.
Here's one of the best photos we did manage to take of the iconic Cinderella's Castle.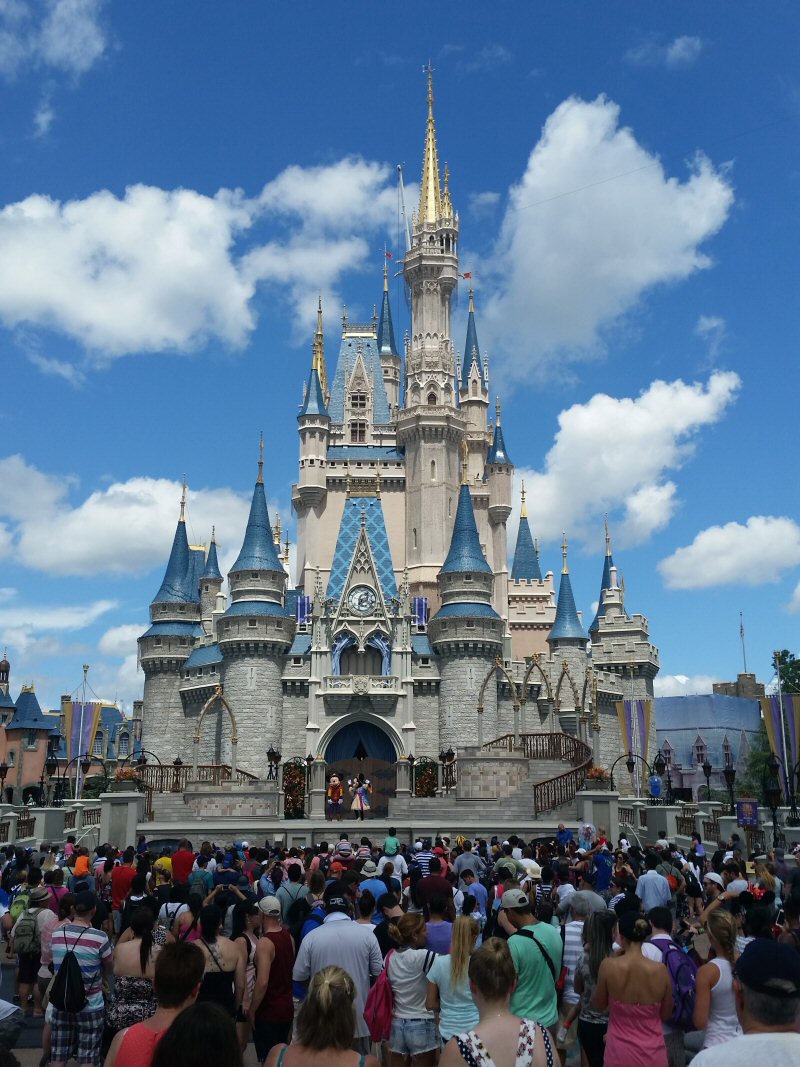 Trip Contents & How to Use This Post
Like all our vacation recaps, we've written this post so you can read straight through or jump to the section that's most interesting or helpful to you. If you've never been to Disney before and are thinking about a trip for your family, we encourage you to read Our Strategy for Maximizing Disney and Where We Stayed sections. Those will probably help you plan the most.
Why We Did Disney & Which Parks We Hit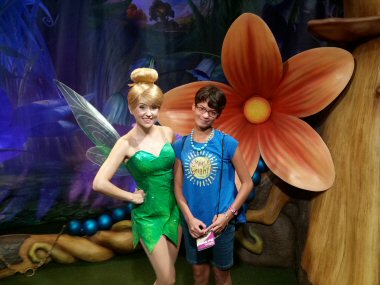 Because we're Americans and that's just what you do.
More seriously, most of our kids' friends have been to Disney and Kim and I went with our parents when we were young. We wanted to pass on the experience to our kids and also want them to have shared experiences they can look back on positively. And truthfully, after three years in a regularly heart-wrenching and anxiety-inducing foster-to-adopt process, we felt like the family needed to do something "normal" families do. Disney seemed like just the thing.
We could write a book on all the other reasons to visit Disney–hundreds of rides, attractions, and shows and an all around magical experience in each of the parks. Disney's unique mix of thrill, performance, and technology really does bring the magic alive.
We decided to try to cover all four Disney parks (Animal Kingdom, Epcot, Hollywood Studios, Magic Kingdom) in one vacation and to cover as much in every park as we could. But we also wanted to limit our expenses, so we bought four single-park day passes (i.e., not "ParkHopper" passes) and we forewent the Disney Water Park add-ons that were also available for purchase. In order to make the trip more doable and help us maximize the days we visited the parks, we planned a "down day" between each park we hit. (That's how we ended up with nine days in Florida and four at Disney.)
Where We Stayed
After looking at the relative cost of staying on Disney's property vs. off-site, we thought it was a no-brainer to stay off-site. We went on this trip with Kim's siblings, which meant three additional adults and two extra kids (for a total of twelve of us). We searched the VRBO listings and landed on this home in The Emerald Isle Resort in Kissimmee, located less than 15 minutes from the entrances to the parks. Priced at an amazing $2,100 for eight nights in mid-September ("off season" for Disney), this place was a steal. When we split the bill, our family covered 55% of the cost, which allowed all seven of us to stay here for only $1,155 for all eight nights–the cheapest vacation rental we've found for all seven of us.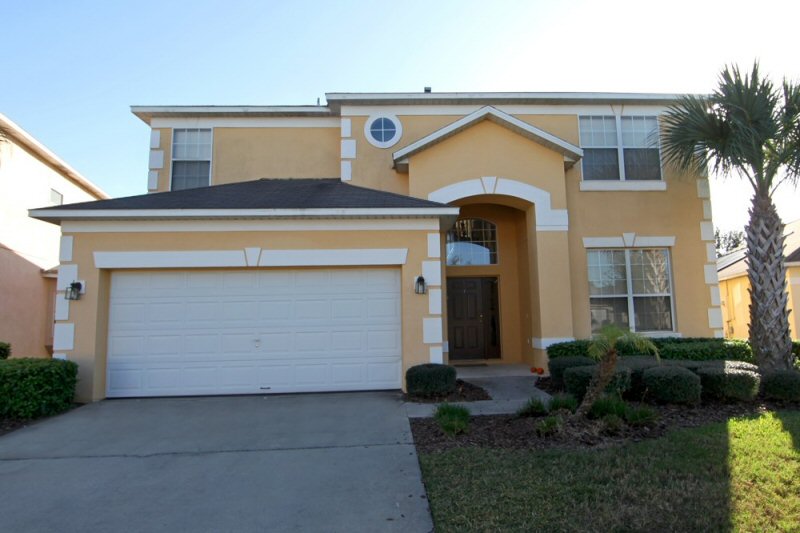 This rental home sports six bedrooms, five bathrooms, and a really nice heated pool and hot tub in a covered lanai out back. We really wanted the pool and hot tub because we planned to largely hang around the house on "off days" from the parks.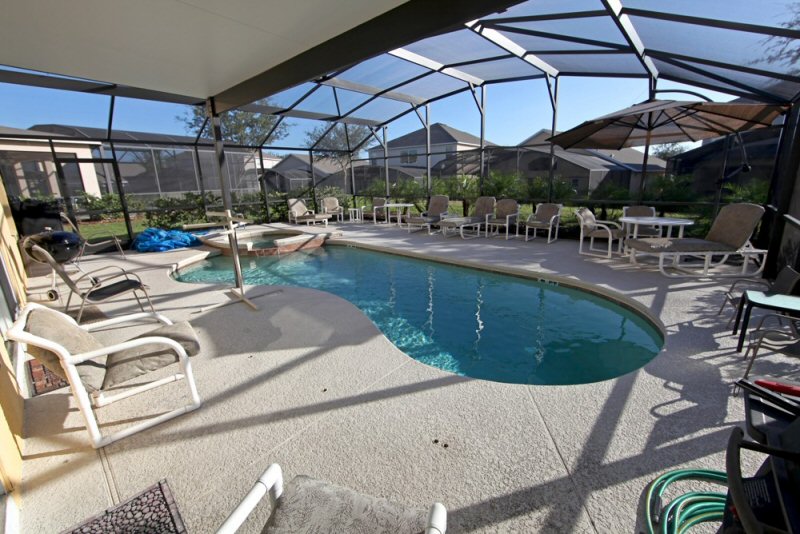 Florida's real estate boom has yielded a glut of vacation properties in and around the Disney parks. Many owners are still underwater and cannot afford to sell, so they rent to defray the cost. This leads to a lot of good deals, especially in the off-season when most homes are going to sit vacant if they aren't rented. We didn't heavily negotiate, but we imagine if you're going in the off-season, you might be able to do better than we did for this or a similar property.
Staying Off Site: I did want to add that at first I thought 15 minutes sounded like a lot of time to have to drive back-and-forth between the house and the parks. Turns out it didn't bother us a bit. We hardly noticed the drive and the scenery is quite pleasant along the way. This location really is great for visiting Disney and should we return, we'll try to stay in a similar location again.
How We Traveled
We drove Kronk, our Nissan 12-Passenger Van straight through from Baltimore to Kissimmee (just over 900 miles). We left at 10pm on Friday night and arrived at 4:00pm on Saturday afternoon (16 hours), stopping 6-8 times along the way. Kim and I are both night people, so driving all night wasn't too bad, but I have to say that by 9am on Saturday I was pretty tired. I had to take a quick 20-minute power nap in the van after eating at Cracker Barrel for breakfast.
On the way home we made better time – leaving at 9am and getting home by 12:30am (15-1/2 hours).
(Personal pride point: I drove the Kissimmee-to-Baltimore run on the way home by myself – my longest drive ever in a single day.)
Our Strategy for Maximizing Disney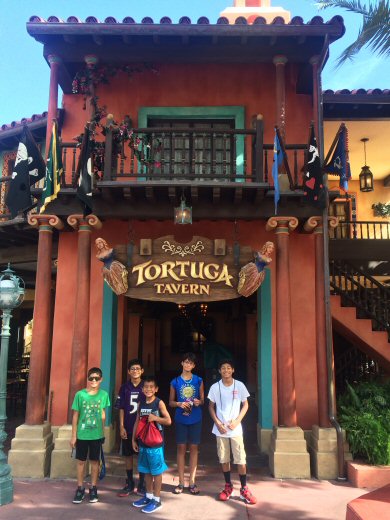 Here's the few things we did that we think made the trip really great. We definitely recommend considering all of this when you visit, and maybe doing a few things even better than we did.
We went when school was in session and Florida was hot. That keeps the crowds down.
We went to a single park each day, rather than trying to hit multiple parks. Several web sites recommended the single park strategy unless you are traveling with teenagers and adults who want to target only a few rides at each park. This also lets you buy single day passes rather than Park Hopper passes, saving a bunch of money.
We planned a day off between each park to lounge around the house, let the kids play video games, and use the pool and hot tub. This gave the kids and us energy to power through 14 hour days at Magic Kingdom and Epcot, which offer the most things to see and do, without getting cranky at one another or feeling like the whole trip was just too much.  (It's worth noting that when we bought tickets we were torn as to whether we should buy the water park add-ons and go on "off days." We're glad we didn't. Chilling around the rental house was the right medicine after the long days at the theme parks.)
We used crowd calendars (including this one and this one) to plot out which parks to go to on which days. We knew we needed to stick to a Sunday-Tuesday-Thursday-Saturday schedule to maintain our "off days", and like we suspected, the crowd calendars indicated it was best to hit Epcot and Magic Kingdom during the week to make the most of those.

We avoided the park that had "Extra Magic Hours" (EMH) whenever we could. The park that has EMH tends to be busier than other parks on that day. We did this for every park except Epcot. The way the scheduling worked out we just couldn't avoid it.

We used this FastPass strategy: We picked the four most important things for us to do, got Fast Passes for three of them (the upper limit for early scheduling) and got in line at the parks early so we could bee line to the fourth ride we didn't get to FastPass. This strategy came in most handy for Epcot's very popular Frozen Ever After ride, which was out of Fastpasses by the time we got around to reserving them. By darting straight to that ride when the park opened, we had only a 15 minute wait. (Later in the day that line was two+ hours long.)

There are additional FastPass strategies that would have come in handy, like scheduling late morning and early afternoon FastPasses, since the parks are less busy in the mornings. You can also find lists of which rides are the most popular and reserve FastPasses for those before others snap them up. We didn't obsess over this and probably would have benefited from a little more advanced planning.

We had the kids pack snacks and water bottles so we didn't have to stop for lunch and could instead wait for dinner. We only ate dinner at one park (Epcot, in their French Restaurant) because of the high costs of food.
The result of these maximizing techniques is that we rode most everything we wanted to ride except the Seven Dwarfs Mine Train at Magic Kingdom. Unfortunately we couldn't get FastPasses and the line grew to 180 minutes by the time we got around to the ride. Other than that, we rode dozens of rides at every park, and often hit our favorites, like Toy Story Mania at Hollywood Studios two or three times.
If you want to do a little better than us, get the Disney Phone App at least a month before you go and reserve your Fastpasses before you go. For guests staying on Disney properties, FastPass reservations are allowed up to 60 days in advance, for everyone else, its 30 days.
Day-by-Day Itinerary and The Kids' Favorite Rides
Like we said above, we didn't take a lot of photos on this trip, but we did manage to capture at least one whole family shot at each park and a few here and there in between, so instead of our usual picture deluge, I've had the kids pick their three favorite Must Rides and one Skip It for each park. Read on for how the trip went!
Day 1: Traveling and Checking In
At the recommendation of friends we decided to drive overnight (starting at 10:00pm from Baltimore) straight through to Orlando. This approach put us at the rental at 4:00pm while it was still light out and gave us time to relax and get a full night's sleep before heading to our first park the next day. While the overnight drive was a little rough (especially for E who hardly slept at all in the van), the plan went off without a hitch and was especially good for Kim's siblings who were traveling with young kids who slept in the car.
Here's our departure selfie – "We're Going to Disney World!"

We arrived at the condo at 4:00, got unpacked and set up, and then turned (albeit late) to getting that Disney Phone App and scheduling our FastPasses for Animal Kingdom. (Had we known better, we would have planned all the Fast Passes for the whole trip before we departed Maryland!)
Day 2: Disney's Animal Kingdom Park
We woke up early on Day 2 to make it to Animal Kingdom as near to the park opening as we could.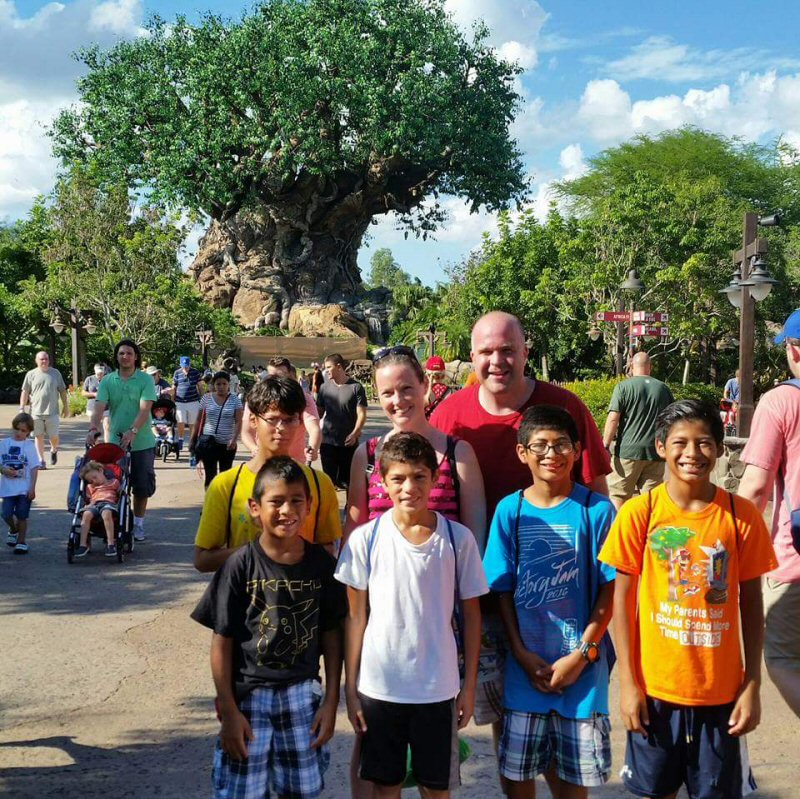 Overall, Animal Kingdom was the family's least favorite park, even though all of us enjoyed Disney's amazing Kilimanjaro Safari and the boys really enjoyed Expedition Everest. L probably would have rode Everest too had she not just had a bad experience with It's Tough to be a Bug (too much sensory stuff and she's deathly scared of insects). Kali River Rapids was fun but I think wouldn't have normally made the favorites lists if not for the lack of other interesting rides. Unfortunately, DINOSAUR wasn't operating the day we visited.
After the Safari, three of the five kids thought the Maharajah Jungle Trek was "boring" and rated it their least favorite. They were looking for more excitement on our first day and it felt too much like a standard walk-through zoo, which we do all the time in Maryland. We closed out the day with The Festival of the Lion King, which brings together stunts, song, dance, and animatronics in a very impressive 30 minute show. It was well worth the wait and a great way to end the day.
If we could rearrange the trip we might have put Animal Kingdom as our second park instead of our first. It would have further broken up the two long days we spent at Epcot and Magic Kingdom. We ended up leaving around 5:00 and briefly entertained the idea of coming back later that night, but everyone thought it was just too much. That meant missing the nighttime safari and Animal Kingdom's closing show, but with three more parks to come, no one felt particularly slighted.
The Fauth Five's "Must Rides" and "Skip Its" at Animal Kingdom!
Day 3: Break Day & Flippers Pizza Restaurant
After driving on Day 1 and visiting Animal Kingdom on Day 2 we were ready for a lazy day in the rental, and that's just what we had on Day 3. Kim completed some homeschool with the kids, but otherwise we hung out around the house, played video games, and swam in the pool and hot tub.
In the evening we headed out to Flipper's Pizza, a highly rated local pizza joint just down the road from our rental that boasts "Honest Ingredients" in its recipes. Flipper's pizza was delicious and not too expensive. Unfortunately, we didn't snap a picture of all of us at dinner. We definitely recommend Flipper's for families.
In the evening on Day 3 we reserved most of our FastPasses for the remaining three parks.
Day 4: Epcot
With a day of rest between us and Animal Kingdom, we ventured out early on Day 4 to Epcot and actually stood in the opening line.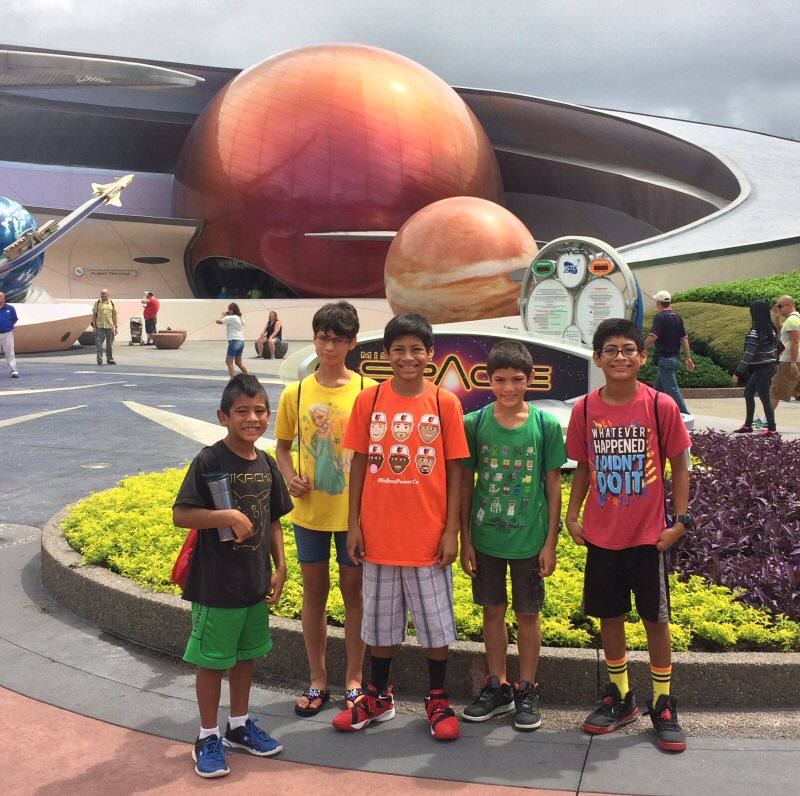 Epcot was my favorite park at Disney, which surprised me because when I was a kid I remember it being significantly less exciting than Magic Kingdom. Disney has really added a lot to Epcot in the last few years. Soarin' and Test Track were  favorites among all the kids. Mission Space was a top pick for three of the boys but was L's least favorite. E really liked Turtle Talk with Crush which is geared towards younger kids but he thought was hilarious. I was surprised that he couldn't think of a least favorite ride since we did sit through a few of the more educational shows in the World Showcase section of Epcot that normally wouldn't meet his thrill quota.
L's favorite ride was Frozen Ever After, an older log flume ride in The Netherlands that Disney has repurposed as a tour through Elsa's Arendelle. While the line was chock full of girls, the ride is very well done and even the boys and parents enjoyed it.
Epcot is the only park where we bought a meal, springing for sandwiches at 
Les Halles Boulangerie-Patisserie
 in the France. We ended up spending nearly $80 on the seven of us for one sandwich each. No one was overly impressed but we didn't want to leave the park given how much time that would have taken.
The Fauth Five's "Must Rides" and "Skip Its" at Epcot!
Day 5: Break Day & Bern's Steakhouse in Tampa
We spent Day 5 mostly lounging around the house. Kim again completed a small amount of home school with the kids so they didn't fall too far behind. But other than that the day was mostly a lazy one.
As we were planning this trip, one thing my brother-in-law really wanted to introduce Kim and me to was Bern's Steakhouse in Tampa. He had dined there on a few business trips and knew we'd like it. Bern's is consistently rated among the top 5 steakhouses in the U.S. by a wide variety of publications.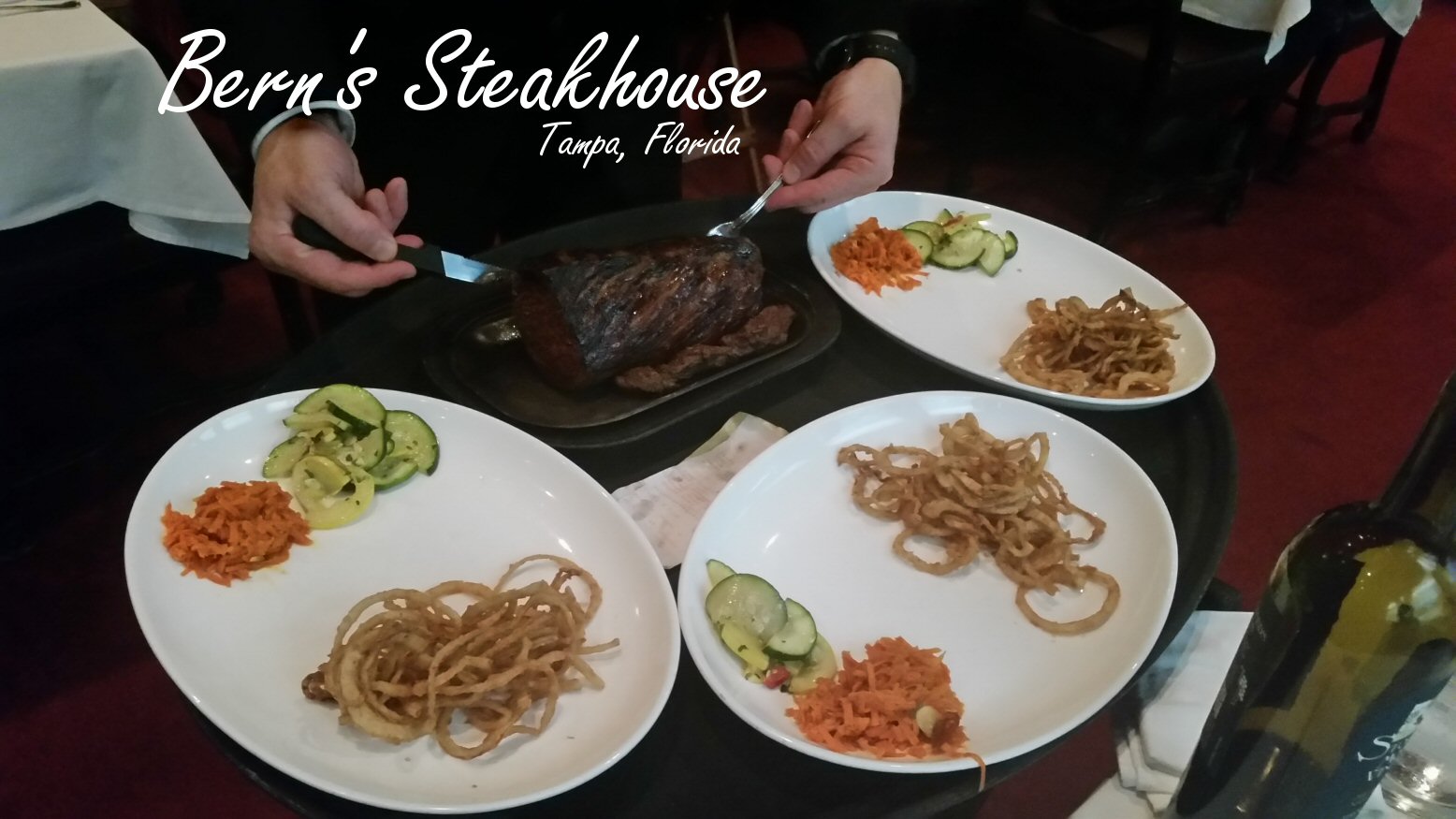 The Bern's experience was so amazing, we've written about it separately. It now stands as Kim's and my favorite dining experience ever. If you're in the Tampa area, we highly recommend Bern's. Special thanks to Kim's sister who watched all seven of the kids so the four other adults could try this experience.
Day 6: The Magic Kingdom
Even though we got home very late from Bern's on Day 5, we still dragged ourselves out of bed early to get to Disney's most famous park, The Magic Kingdom.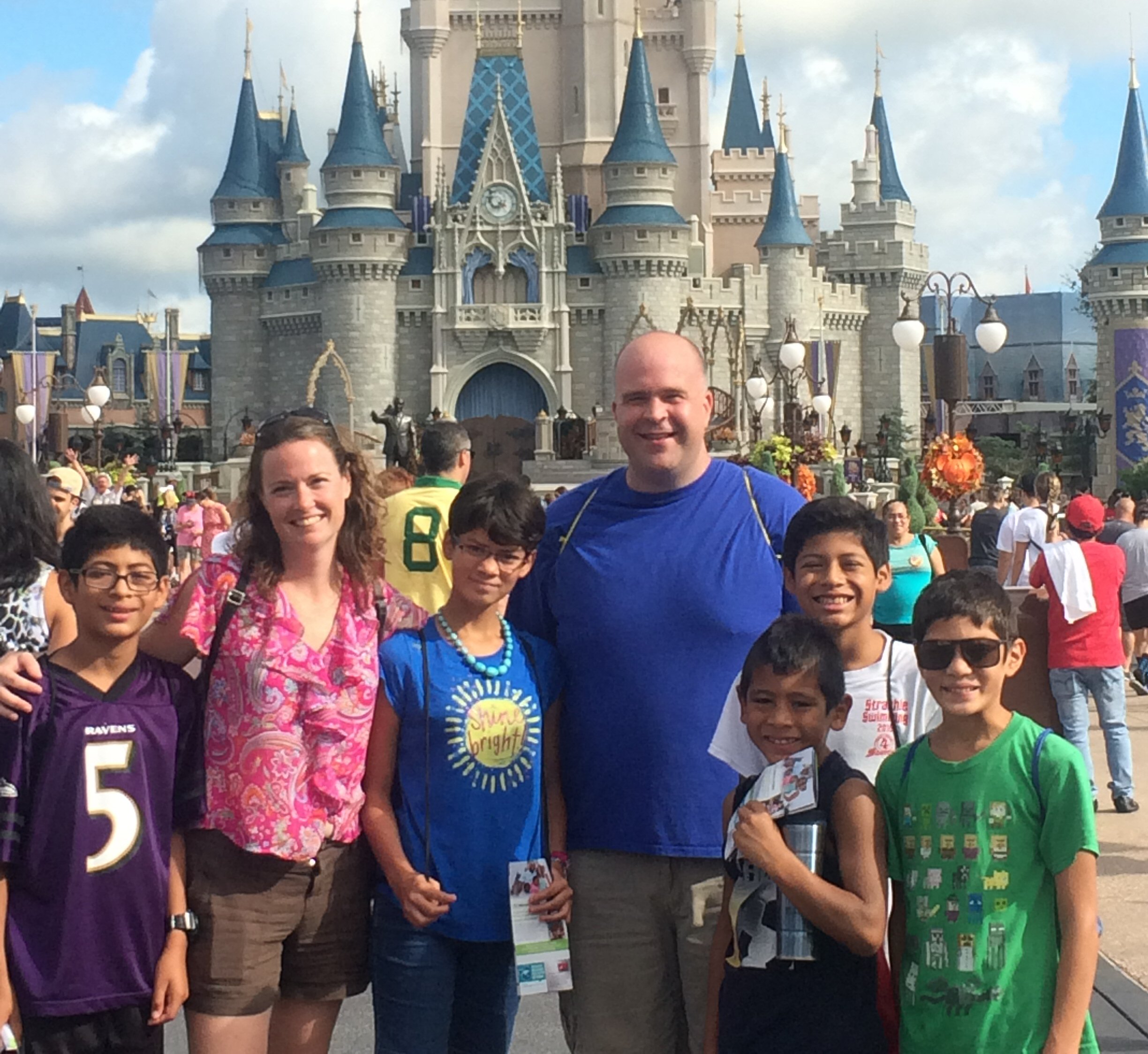 Magic Kingdom remains magical even in its 45th year of operation. Space Mountain, Disney's famous indoor coaster that's nearly as old as the park itself, came out on top among the boys ratings with all four of them naming it among their top three rides in the park. Splash Mountain was a close second and topped four of the five kids' lists. J and L both named the Once Upon a Time Closing Show as their favorite performance and Kim and I agree. Among all of the technological advances Disney uses in its shows, the closing show on Cinderella's castle at the end of the night is truly magnificent. I don't think I've seen any other technological show that rivals it.
E and H both put Pirates of the Caribbean in their top three, which was surprising because the rest of us thought it was a bit boring and L named it her least favorite of the day. (Disney repurposed their older pirate ride for this one and the storyline and animatronics are just so-so). B picked the Carousel of Progress, which, despite needing a refresh on the modern technology part of the show, is actually still pretty charming, especially considering it was one of Walt's own creations. That wasn't enough to sway H though, who rated the ride dead last because it was "boring."
J rated the
Jungle Cruise
his least favorite because the animatronics were terrible and some were broken when we rode. We all think Disney needs to tear down this ride now that they've built Animal Kingdom which covers the Safari theme in a much, much better way.
(Side note: When I was a kid we waited 90 minutes for this ride. When the people before us were getting off the boat everyone was clapping. When we finally rode, at the end of our ride, the tour guide told us we should all clap so that the other people in line would think the ride was worth waiting for. It was a cruel trick!)
In an attempt to save some cash and after our high-priced eating experience at Epcot, we decided to depart Magic Kingdom to a nearby Chick-Fil-A and return for a few more rides and the evening show. The drive was short, but getting on and off the property, due the distance between the parking lot and the park, adds nearly a whole extra hour to the round trip. Still, we saved at least $50 over an in-park eating experience.
The Fauth Five's "Must Rides" and "Skip Its" at Magic Kingdom!
Day 7: Break Day
After another long park day behind us, we cherished another day to just relax around the house. Much like days 3 and 5 Kim spent some time on homeschool with the kids, but we otherwise enjoyed the pool, playing games, and tooling around locally.
This was the only day we didn't go out for dinner. We cooked for the kids and picked up take-out sushi from a nearby Japanese restaurant.
These break days proved invaluable for helping us all keep our sanity and really enjoy our days at the parks.
Day 8: Disney's Hollywood Studios Theme Park
Even with break days, by the time we hit Hollywood Studios everyone was a little fried on theme parking. We decided to stay only till 5:00 because we had to get up early the next day to check out and get back on the road for the long drive home. But we did have a blast, and we are glad the family got to experience this park.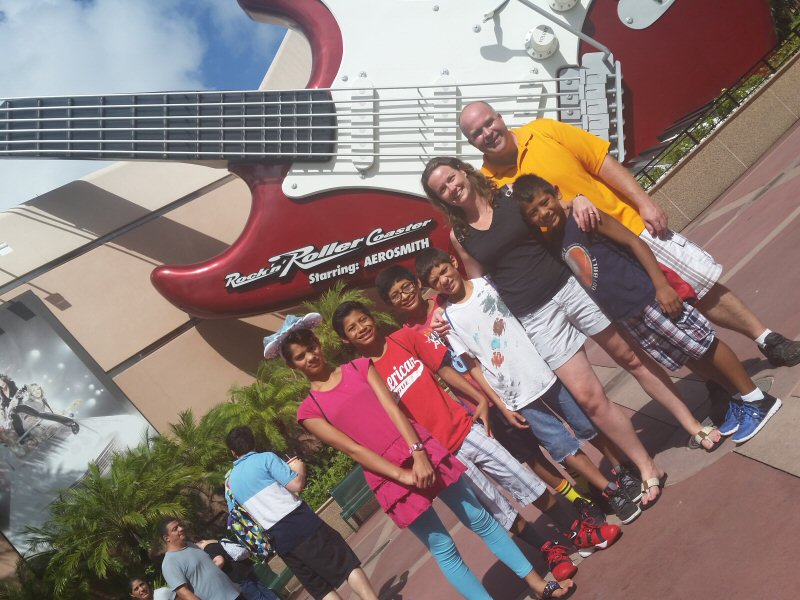 On the whole, Hollywood Studios was great. It had everyone's favorite attraction of the entire trip and the only one we rode three times: Toy Story Mania. It also had the best show: A Frozen Sing Along Celebration, which closes out with a loud rendition of "Let It Go" in which actual snow falls on the theater. It was impressive enough that J, who doesn't normally like Frozen, named it among his top three. (He insisted I add the caveat that it was because the hosts were funny and not because he likes Elsa!)
Besides Toy Story, all of the kids named the
Aerosmith Rock 'n' Roller Coaster
among their top favorites. B and E both liked
Muppet Vision 3D
(which everyone agreed was hilarious). Kim, the boys, and I enjoyed the
Indiana Jones Stunt Show
 and L liked
Star Tours
, which is pretty impressive but made some of us feel motion sick.
The one show none of us could really figure out was the The Way of the Jedi, an 11 minute production that takes clips from each of the Star Wars movies and slaps them together in a relatively uncreative way. It was bad enough that it registered as J's least favorite attraction. Kim and I would rate it at the bottom of our lists, too.
Fortunately eight hours was enough time to see and do everything we wanted in Hollywood Studios. We've no regrets in making this the last park we visited, nor in leaving a little early to enjoy our last night in the rental.
The Fauth Five's "Must Rides" and "Skip Its" at Hollywood Studios!
Day 9: Traveling Home
We checked out of the house at 9 AM and started the 900 mile drive back home. We made it all the way to Richmond before taking a substantial sit-down break for dinner at Bottom's Up Pizza, a little pizza joint in a downtown clubbing district of Richmond that was just off I-95. Bottom's Up sits right underneath a railway and it is loud when trains run through. Pizza was good, and honestly we were all too tired to be judgmental.
We made it home in 15-1/2 hours, unpacked quickly, and hit the sack. Another trip in the bag!
Costs & Cost Saving Strategies for Disney
Total costs for this trip came out to approximately $775 per person. The strategies we used to save money:
Purchased Disney Tickets via AAA to save a few bucks per ticket.
Purchased single park tickets rather than "Park Hopper" tickets, saving about $400 for the family.
Traveled in the off-season (approx. 40% discount on the rental vs. peak).
Shared housing with siblings & their families, saving ~45% off our rental.
Packed snacks and water bottles for the parks and didn't buy a lot of food in park.
Packed snacks for the car ride to eliminate buying food at gas stations and convenience stores.
Expected the kids to use their allowances for souvenirs and gifts.
Where We Splurged:
Cost Savings We Didn't Have Access to or Didn't Use:
Military discounts (you must have an active service military member as part of your group).
Sales tax-free purchasing (available on military bases). You only have to have access to the base for the purchase; you don't have to be in the military.
4-Park Magic Tickets (available through Disney… these park tickets give you 1 admission to each of the four parks, just like we purchased separately, but they are only available in certain seasons and are subject to black-out dates.) These can save you approximately $80 per person.