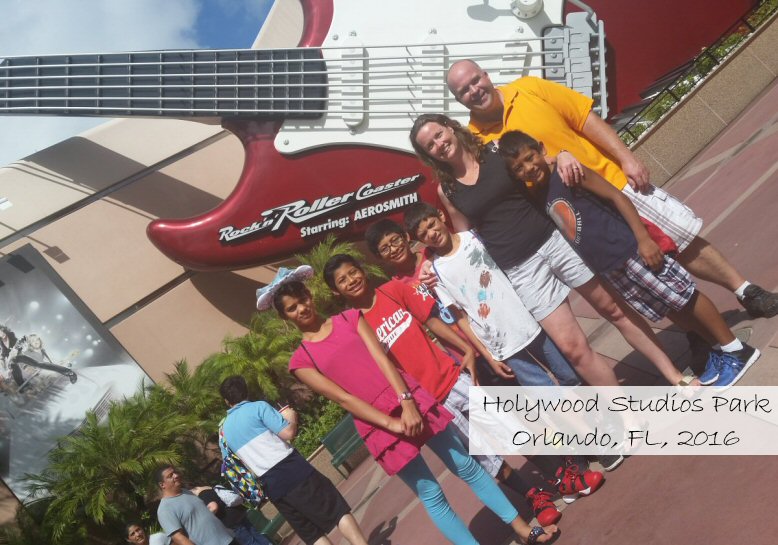 Key Family Stats
Total Family Members: Seven
Total Born in August: Five
Pets: One Hermit Crab (He Travels!)
Kids' Hobbies: Music, Pokemon, Lego, Airsoft, Fashion, Dance, Programming, Video Gaming, Swim Team, Arguing w/ Brothers/Sister, and of course, Traveling.
Weird Facts: Our Christmas trees go up in October. Four of five kids are less than one year apart in age. All our vehicles have names and personalities.
States Collected: 10
Most Exciting Trip: Guatemala, 2010
Most Exotic Travel Goal: The Seychelles
Thanks for stopping by and joining us on our travel adventures! We're The Fauths, a family of seven living just outside Baltimore, Maryland with a passion for going on great trips. I'm Fred and together with my wife Kim and our kids B, J, L, E, and H, we'll be your hosts on our traveling journeys!
As you probably already noticed from our picture, we don't all look alike. Our family was formed through adoption, so unlike most families that grow one-kid-at-a-time, ours grew in two big leaps.
Our oldest twin boys B and J (age 12) came to us almost ten years ago from Central America. As they grew up, traveling was easy-peasy with just the four of us. We took road trips to many of Maryland's state parks and beaches, a week-long trip to Guatemala in 2010, and a two-week, six-state tour of the Northeast U.S. in 2012 (write-up coming soon). Kim and I also snuck in vacations for just the two of us to Aruba in 2007 and Scotland in 2010.

While we were on our Northeast trip in 2012 we got a call that three additional kids, L, E, and H (now ages 12, 11, and 8), were stuck in the Washington D.C. foster care system and in need of a home and a forever family. After what seemed like an unending court process, we finalized adoptions for the new three in 2015.
The three-year-long foster-to-adopt process put a serious damper on our family's ability to travel. We spent all of our vacation days and most of our mental energy doing everything that goes with being foster parents and attending court hearings. Finally, in 2015, when all of the adoptions completed, our travel options opened up again!
So in 2016 we took our whole crew to Ocean City, MD, North Carolina (twice), Niagara Falls, and all four Disney World Theme Parks in Orlando. For Kim and I, 2016 was the first year we felt like a "normal" family in years. These trips were a huge part of helping the seven of us bond as a new but completely different family.

About Packing for Seven
While this site is about traveling as a big family, for us it's more than that. It's about all the places we've gone together, and all the places we want to go. It's about building memories for a lifetime. It's also about sharing everything we've loved (like climbing an active volcano) and some things we haven't (like losing air conditioning on our honeymoon cruise) with more people like us.
Whether you're single, just married, have a few kids or a lot, if you like to travel, we hope that you'll join us on our journeys! Subscribing via RSS, Liking us on Facebook, and/or Following us on Instagram are the best ways to do just that!
Our hope is that you'll take away some inspiration for trips your family might enjoy, and you'll give us suggestions for where we should go and what we should do while we're there. Along the way, we'll create a record that our kids can look back on as they advance into adulthood and (perhaps) have families of their own. We hope you'll be inspired to do the same–whether you document your travels in memory books, on Facebook, or even on your own blog.
Since we live in Maryland, local attractions in the Delmarva area will certainly get more airtime. We can only afford the time and money to travel far away a few times per year. But fortunately, Maryland and our surrounding states have a lot of good things to offer that we're looking forward to sharing with you. One that we love is our historic beach town, Ocean City, where we own a three bedroom oceanfront condo that we rent to other big families. Another is  Swallow Falls State Park on Maryland's beautiful western panhandle. Swallow Falls is home to four of Maryland's waterfalls, with one of the most beautiful canyon trails in the region.
How We've Prioritized Traveling
With our oldest kids already approaching the teen years, we know traveling as a family will become difficult in the years ahead. So we've organized our life to allow us to travel while the kids are still young. Here's a few things we've done, mostly focused on affording the trips given the large number of travelers we have:
We homeschool. Well, really Kim homeschools. I just take credit :-). Homeschooling gives us flexibility to travel during the school season when airfare and lodging tend to be cheaper and venues are less crowded.
We minimize our non-travel expenses. We've chosen to live in a less expensive area; Kim shops at Aldi and Walmart for the bulk of our eats; we don't have cable at home; and I drive a Honda Fit that takes regular gas and gets 35 MPG.
We've tried to find creative ways to earn extra cash, including starting a web site focused on do-it-yourself home improvement with our best friends back in 2008 as well as buying and renting property in Ocean City.
I've been blessed with a good job, and I've stayed at my employer long enough to earn four weeks of vacation each year.
We prioritized paying down our mortgage as quickly as possible. We celebrated paying it off in 2013.
We've moved away from giving our kids "stuff" as presents at birthdays. We typically get the kids something very small and have been trying to focus on items related to our upcoming adventures.
The Inspiration for This Site
The inspiration for this site was our return from our last big family vacation to Disney World in September. As soon as we got home we knew that we wanted to get our next trip planned so we could start looking forward to it! We booked a trip to the U.S. Virgin Islands in Winter, 2017 and were so excited about going, we knew we needed to share it with the world.
We're looking forward to sharing our memories with you and we hope you'll also share yours with us!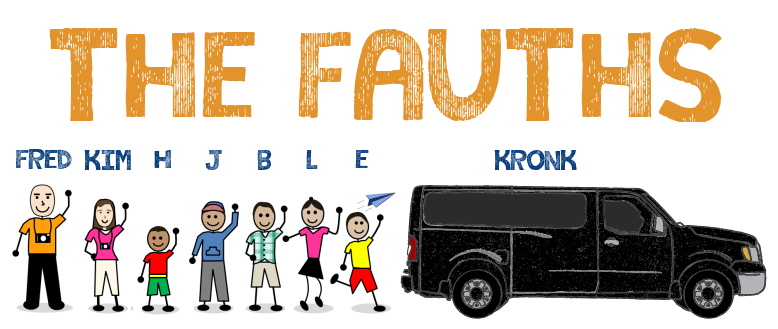 Oh yeah – one more thing. We've got this big Nissan NV 12-Passenger Van. His name is Kronk (after the over-sized and kindhearted Disney character) and he's got the vanity tags to prove it. He's been with us for just over a year and he's definitely a part of the family. He even has his own Facebook page!
When we're Packing for Seven, we're usually packing him.