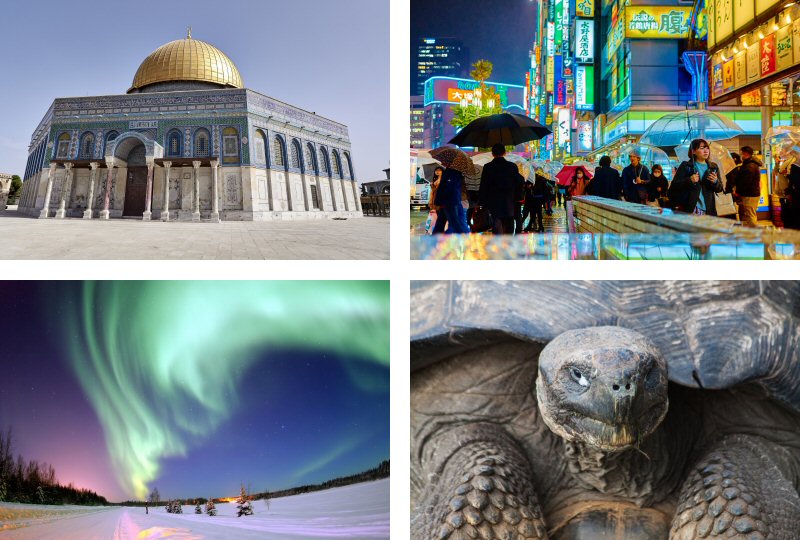 We're slowly evolving this list of lofty travel goals. We know we may never complete the list, and that's OK! We're more interested in collecting ideas of places we might want to go as time and budget allow.
If you're interested in where we've already traveled, you can check out our Big Family Trips archive (we're slowly bringing that collection up to date with past trips) and our progress against collecting the 50 states!
Our Dream List is always evolving. Feel free to give us a suggestion about where we should go and what we should see!
U.S Virgin Islands (Booked for Winter 2017)
Las Vegas, Bryce NP, Zion NP, & Grand Canyon NP (Considering for Summer 2017)
Guam & Tokyo, Japan + Surrounding Cities
Alaska Cruise & Alaska National Parks (Packing for Two?)
South Africa Safari
Mt. Rushmore & the Bad Lands, South Dakota
The Galapagos & Quito, Ecuador
London and Paris + Surrounding Areas
Italian Cities Tour
Jerusalem and the Holy Sites, Israel
The Seychelles Islands
Lima, Machu Picchu, and Surrounding Areas, Peru
The Pyramids & Surrounding Sites, Egypt
Hawaii (Packing for Two?)
Antarctica
Seoul, South Korea
Beijing, China
Mediterranean Cruise
Photo Credit (Creative Commons 2.0): Max Goldberg (Galapagos Tortoise), Edgardo W. Olivera (Dome of the Rock), NASA (Northern Lights), Moyan Brenn (Tokyo). Simple cropping and montage created by Packing for Seven.