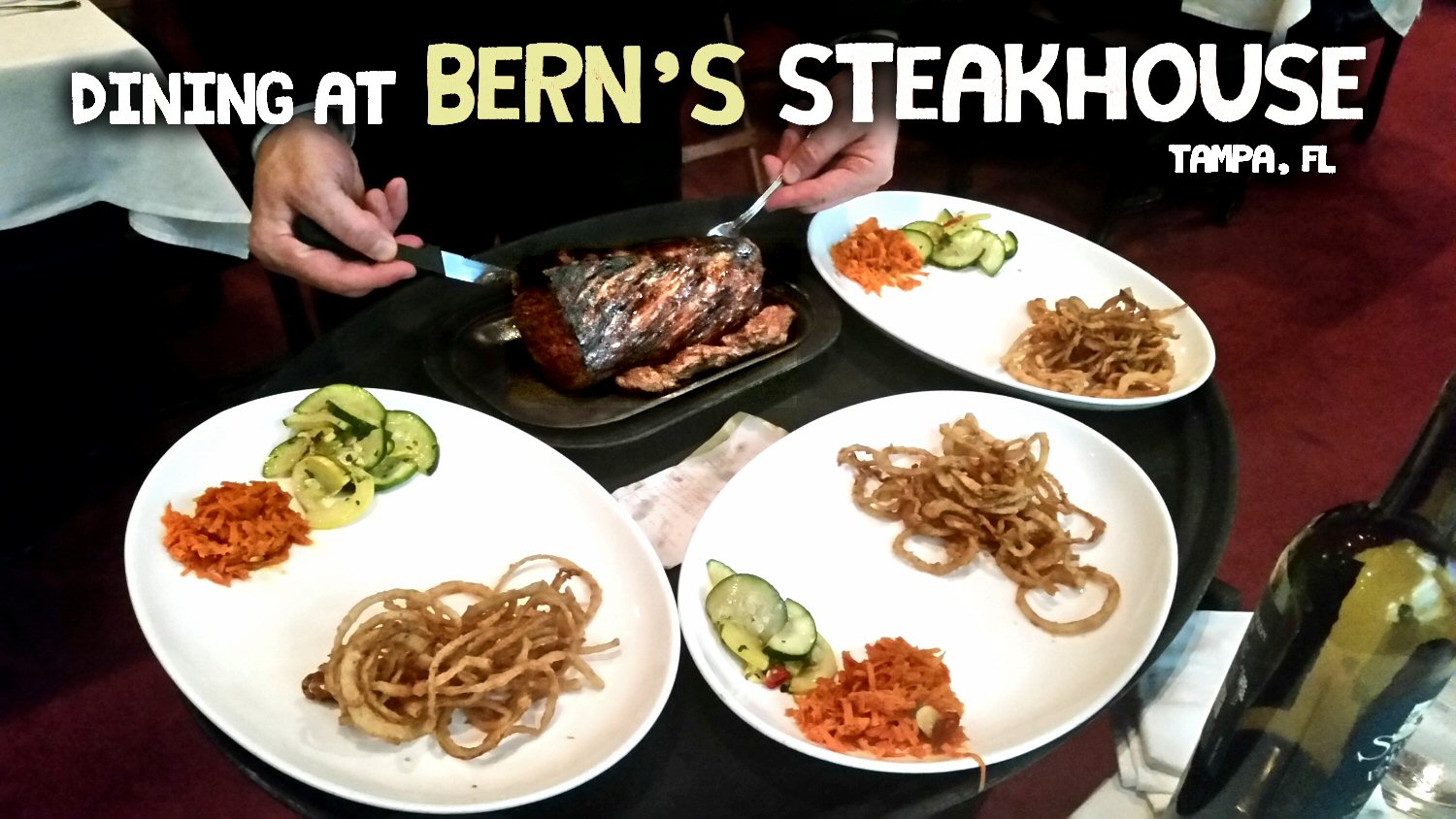 Bern's at a Glance
Location: Tampa, Florida
Trip: Disney Trip, 2016
Web site: Bern's Steakhouse
Claim to Fame: Largest private wine cellar worldwide; Consistently ranked within top 5 steakhouses in the U.S.
Cost: $115 / person (w/ alcohol)
Our Rating: 5 of 5 Stars!
Recommended For: Couples, Foodies, Steak Lovers, Business Dinners
We've found a place you simply must try if you're anywhere near Tampa, Florida. Bern's Steakhouse is, bar none, the best restaurant experience Kim and I have ever had. Seriously, we tried to think of any more exceptional dining experience and came up blank. It's that good.
We visited Bern's Steakhouse on our Disney Trip last August at the recommendation of Kim's and my brother-in-law, Chris (who with Kim's sister, Amy, traveled with us to Disney and went on this double-date with us). While Bern's is located more than an hour away in Tampa, the 85 mile drive was well worth it for this unique experience!
A Little Background on Bern's
Bern's was started by Bern and Gert Laxer in 1953. Bern originally purchased a small luncheonette ("The Gator Juice Bar"), and then later a bar ("The Beer Haven Bar"), which the Laxer's eventually renamed Bern's. Bern's is now run by his son, David Laxer. You can read the Laxers' story on Bern's About Page.
Bern's is famous not only for its steaks–which are truly amazing– but also for its vast wine collection. Bern's houses the single largest private wine collection in the world, with over 600,000 bottles housed in two wine cellars, one of which is more than an acre. As is standard practice in the restaurant, as first time guests our waiter took us on a tour of the small wine cellar.
The building itself is so nondescript that you would never imagine it housed one of the top rated steakhouses in the nation. Our dining experience was exceptional. Here's how it went.
The Menu
The first thing that really gives you the sense that Bern's is special is the menu. Take a look at this photo of the back of the menu book, which describes the lengths Bern's goes to across the board to make your stay something special.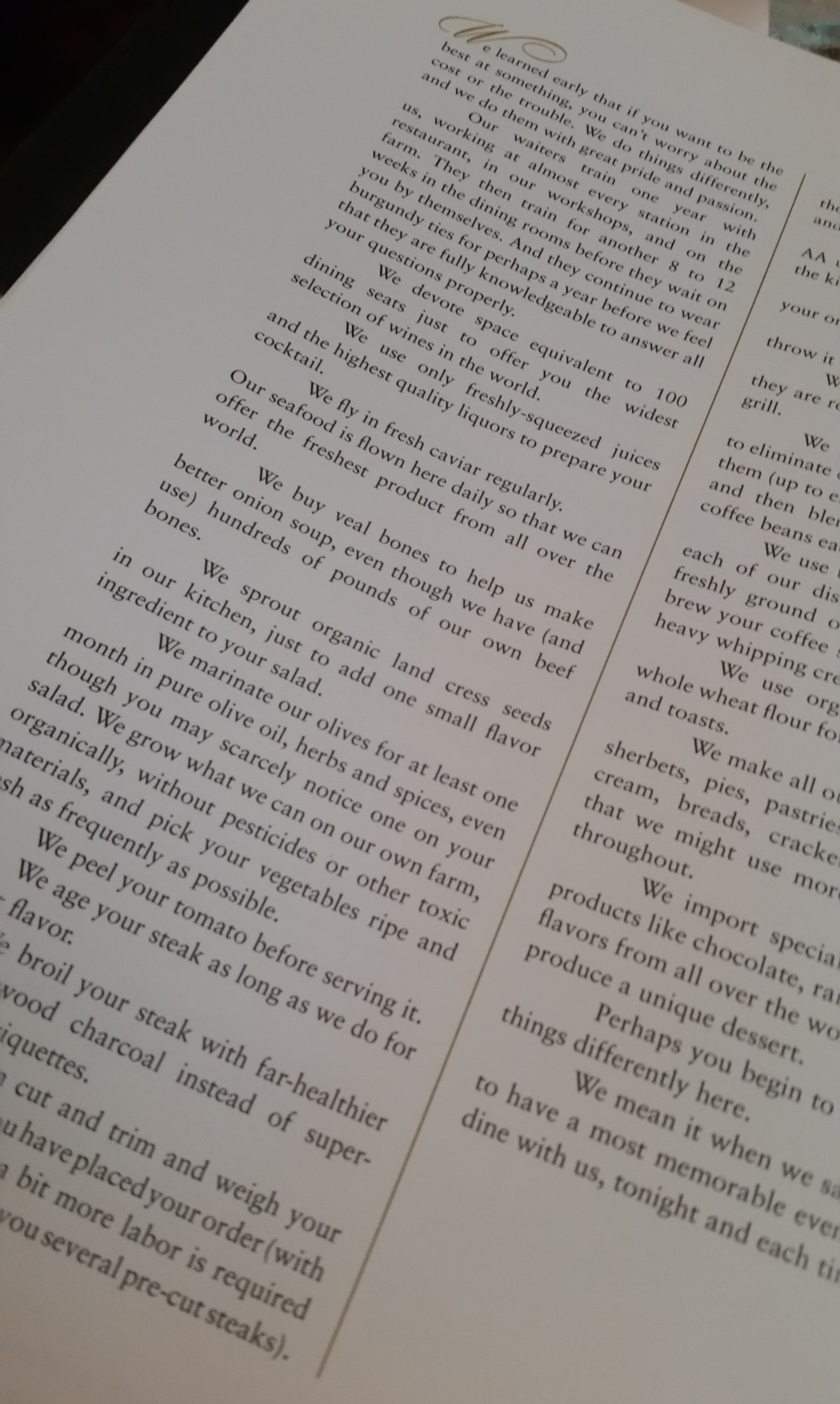 Each table also includes a listing of wines available from Bern's cellars. I flipped through to find the highest price I could at quick glance and this Richebough 1990 @ $4,675.00 was the winner. I have no idea how good a four thousand dollar bottle of win tastes, but I'm confident it would be lost on me.
Also, isn't it great that the Richebourg 1998 is $1,100.15? Not sure why that one costs an extra 15 cents. Maybe it's a signal to wine connoisseurs and we're not nearly sophisticated enough to understand the significance.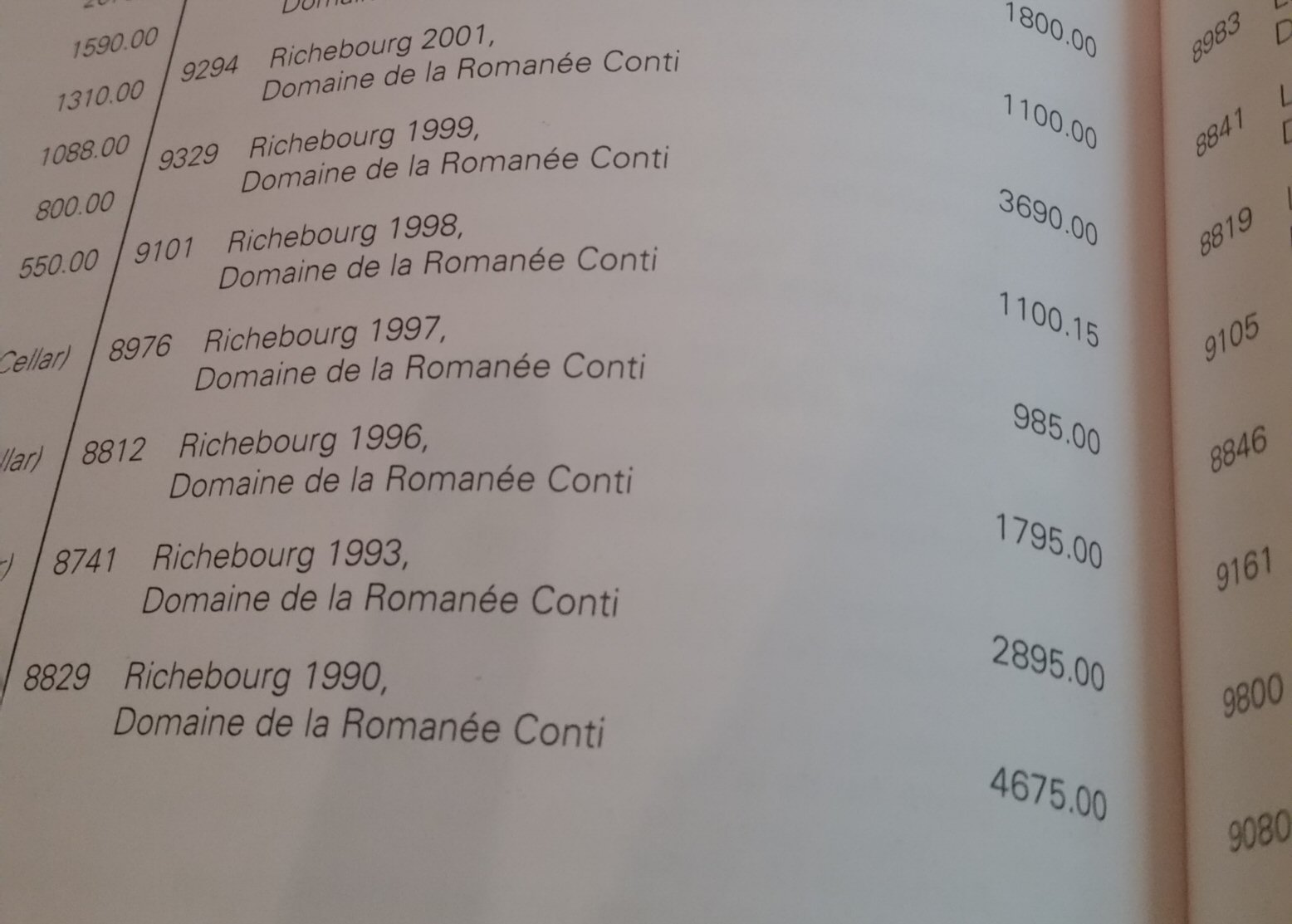 The Steaks and Sides – It's All Amazing
Bern's offers so many steak options (both cuts and preparations) that you'll want to keep your smartphone handy so you don't feel inadequate ordering. We selected a 38 oz. Chateaubriand to share among the four of us. Our favorite part of Bern's is that while this steak-for-four was $175, it came with complementary sides for everyone, including soup, salad, crackers, vegetables, and onion straws.
Our waiter cut and served the steak table side — a nice touch.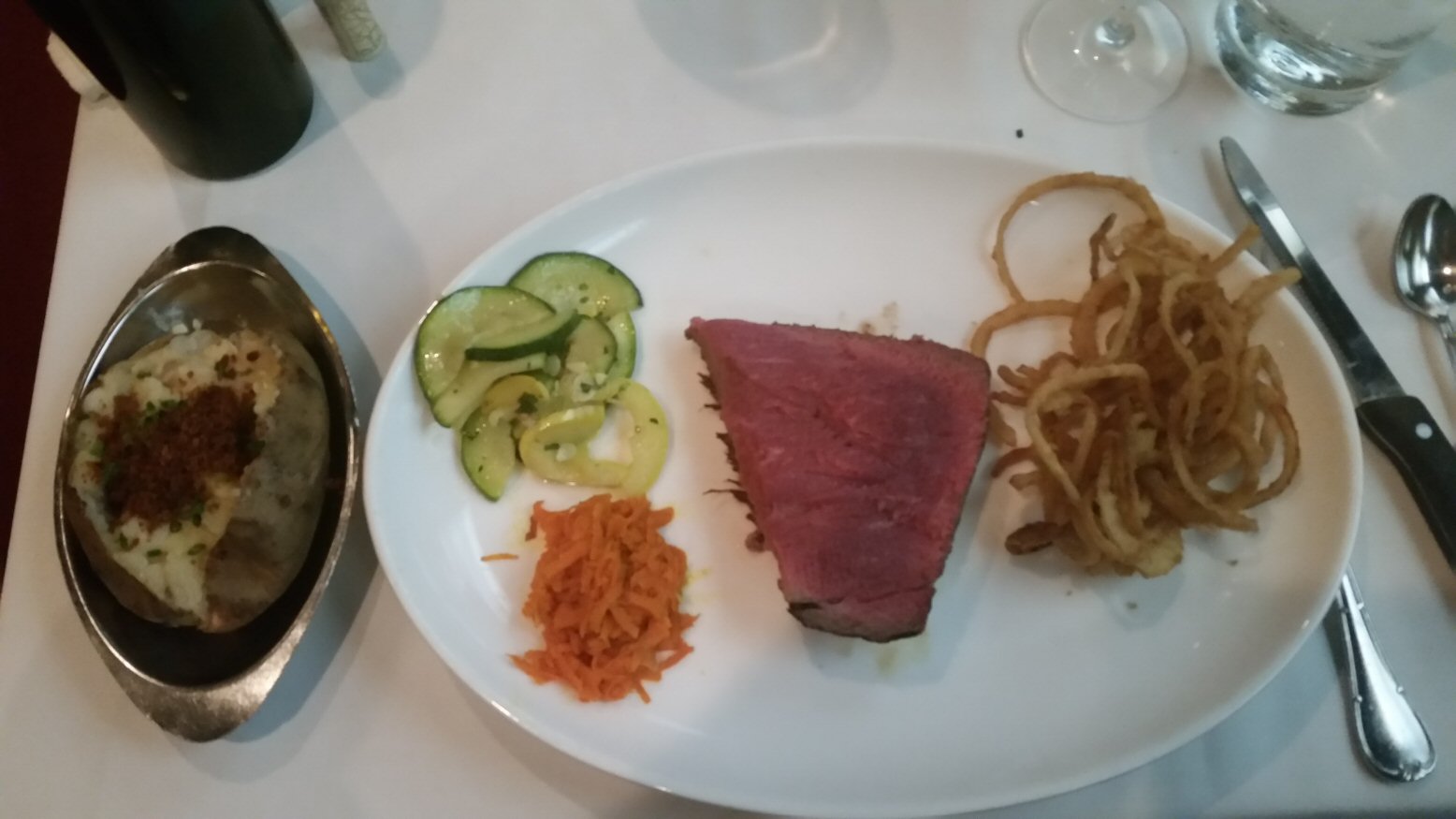 The Kitchen Tour
After dinner, our waiter offered us a tour of the kitchen and wine cellar. Because we were the last seating for the night, the kitchen was largely cleaned up when we came through. But what surprised us most is how comfortable all of the staff were with our presence. There was another group also touring the kitchen at the same time and while everyone was moving pretty quickly around us, no one seemed bothered by our presence.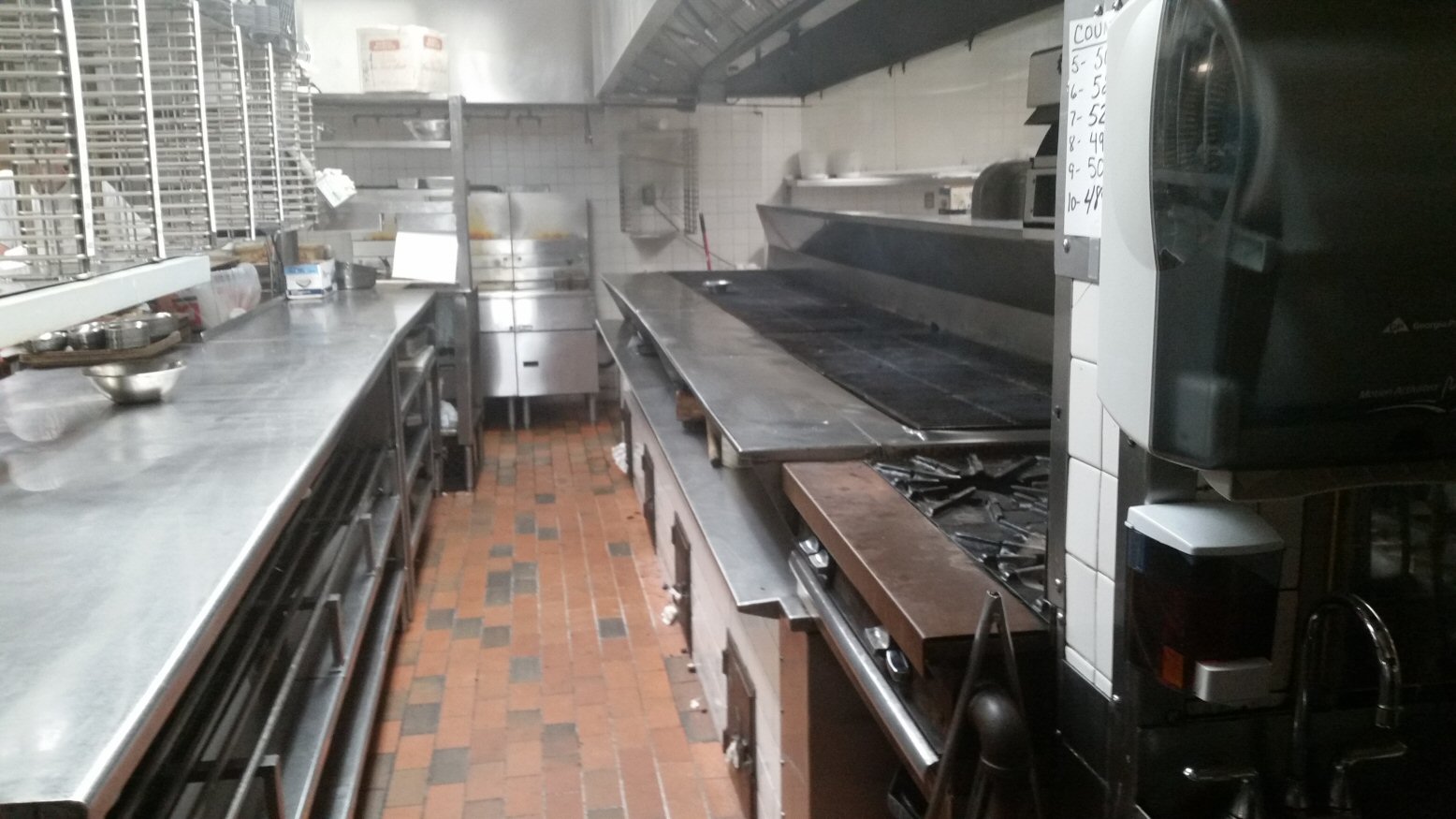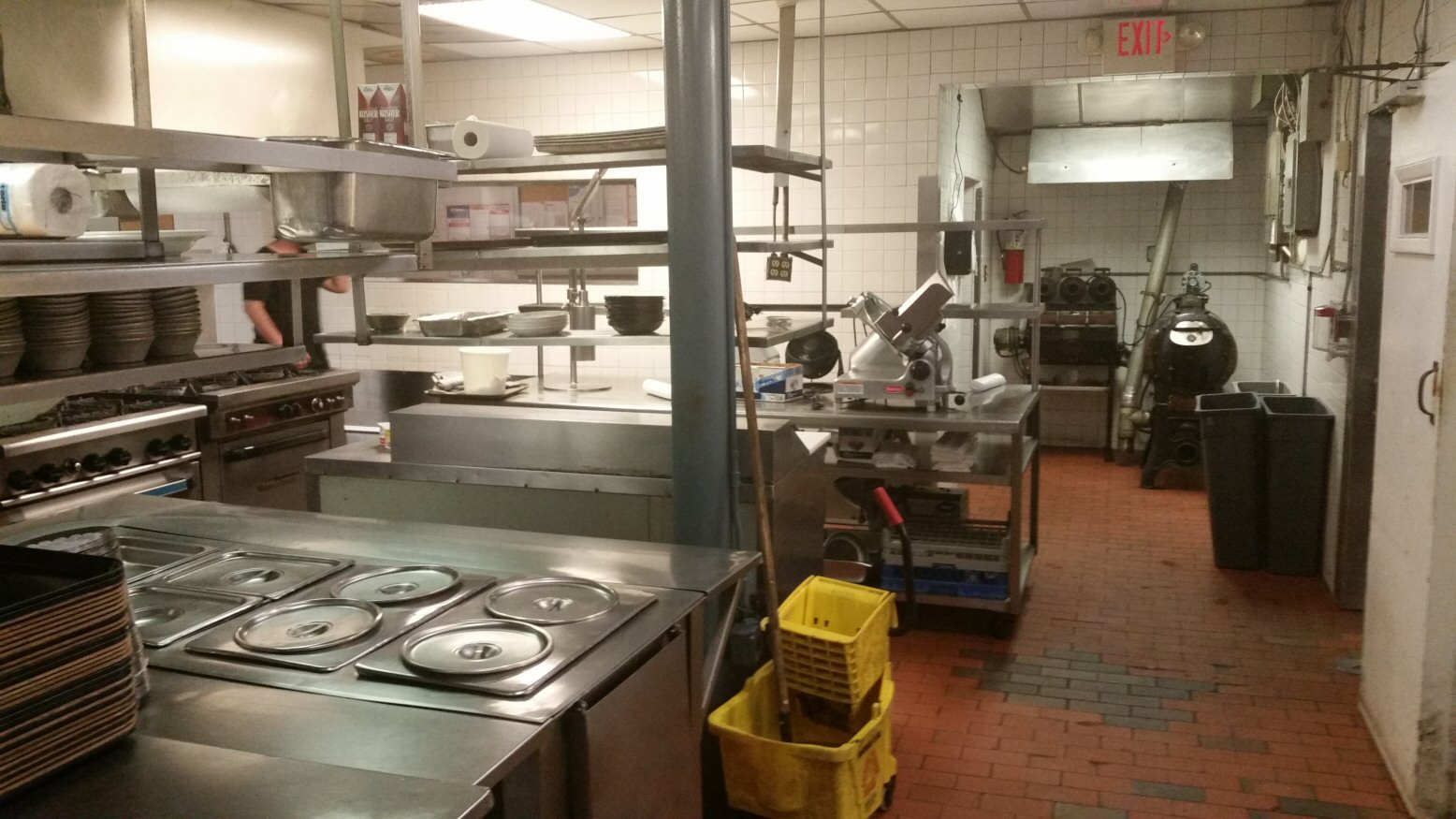 The Small Wine Cellar
Towards the back of the kitchen is Bern's small wine cellar. Before you enter the wine cellar proper, there is a small storage area for Bern's wine-by-the-glass selection, which easily had more than 100 bottles open.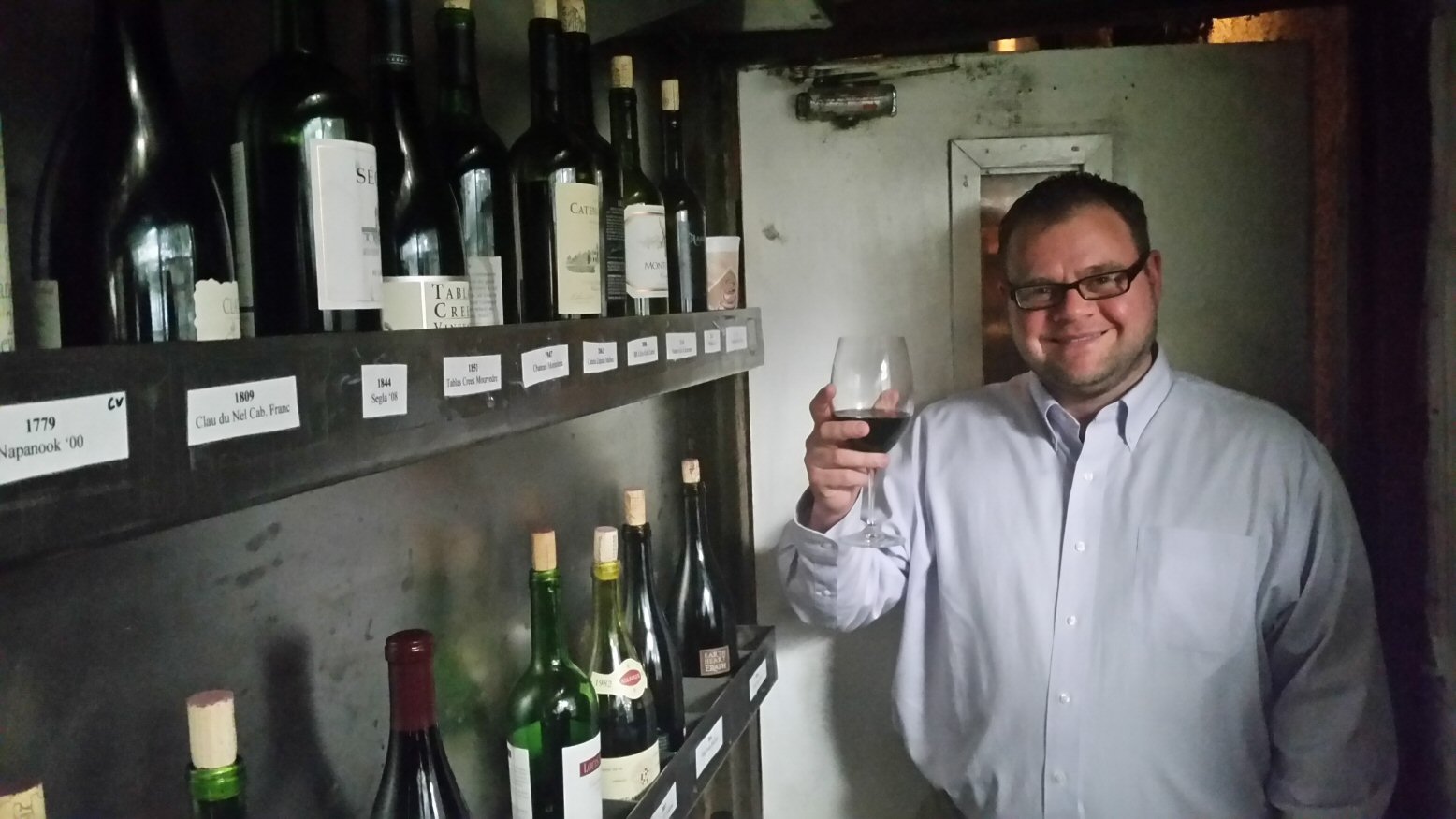 The inside of the small wine cellar–which houses more than 100,000 bottles–is very impressive. Here's a picture of an aisle between two of approximately ten or so stacks that make up the cellar. The number of bottles in just the small cellar is staggering.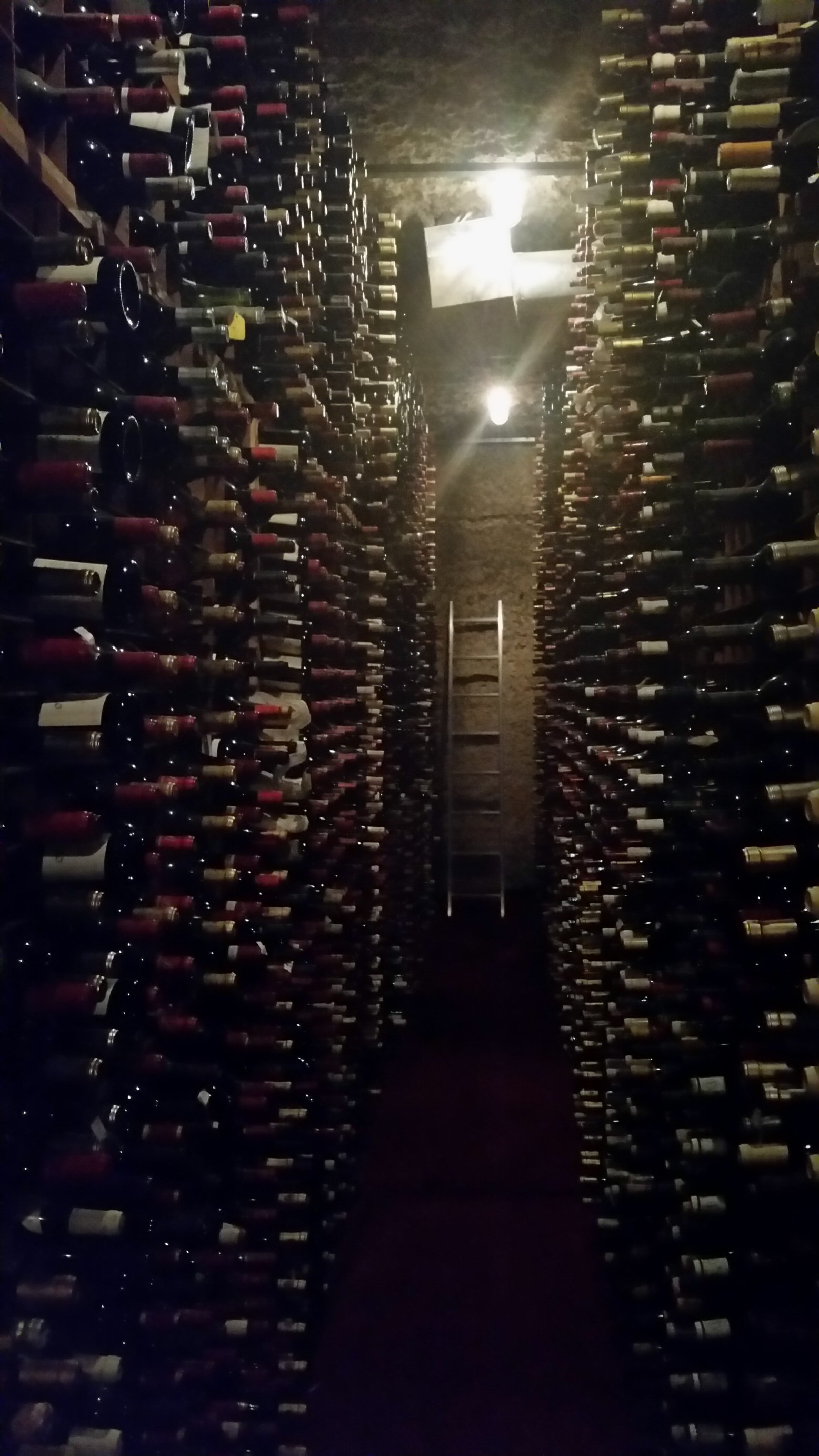 Our waiter pointed out this large bottle on the floor. Apparently this is the most expensive sale-able bottle they have on hand at $30,000. Unfortunately I didn't catch the name.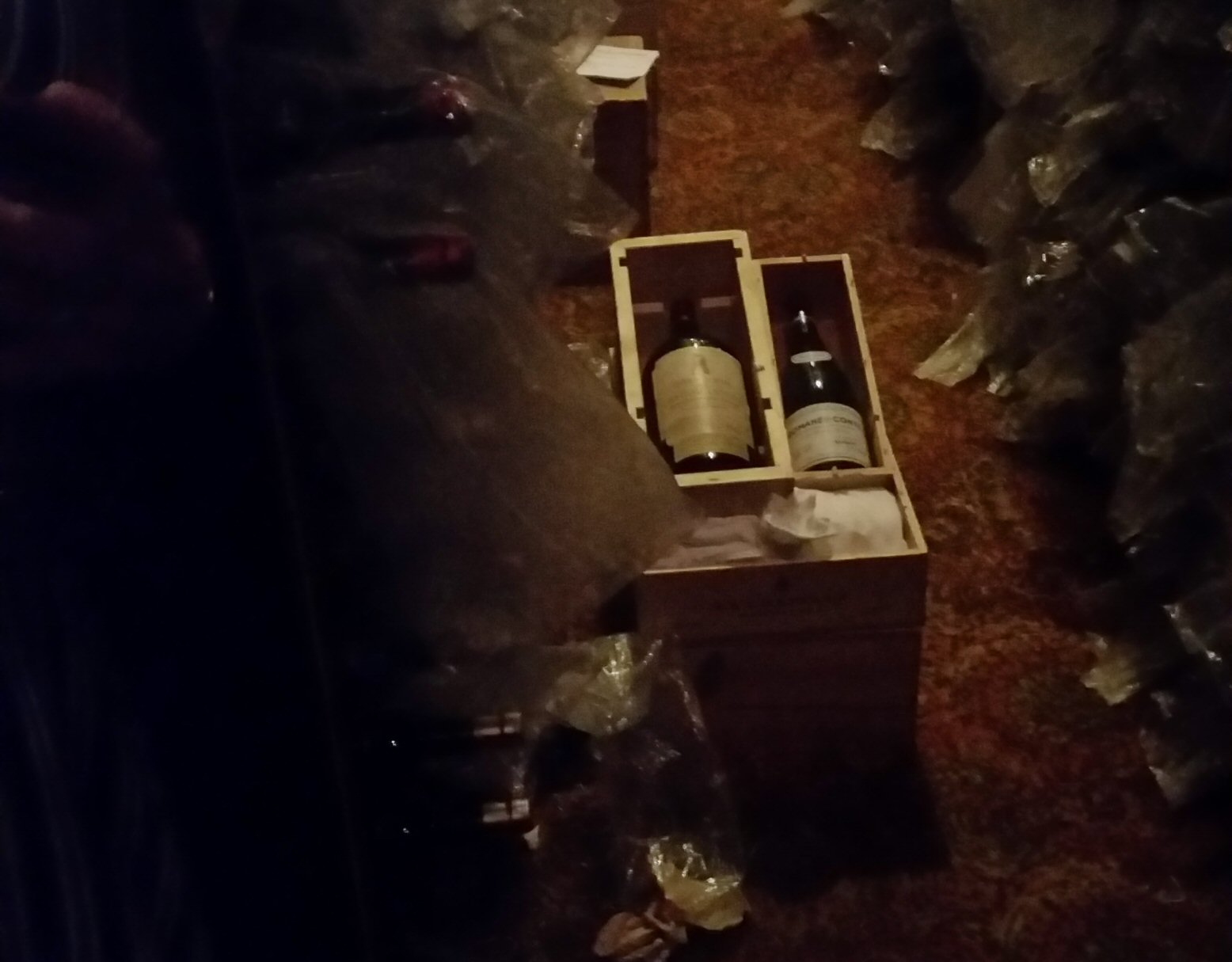 Harry Waugh Dessert Room
After dinner and the tour, guests have the option of retiring upstairs to the Harry Waugh Dessert Room. This is one of the more unique dining spaces we've seen. Each private table is situated within a large wine barrel re-purposed as a cozy dining area. The setting is both charming and intimate. Tables against the wall also have their own miniature music player with a handful of selections.
We probably should have taken a picture of desserts, which were amazing, but instead we just took pictures of Kim's sister and brother-in-law, and ourselves!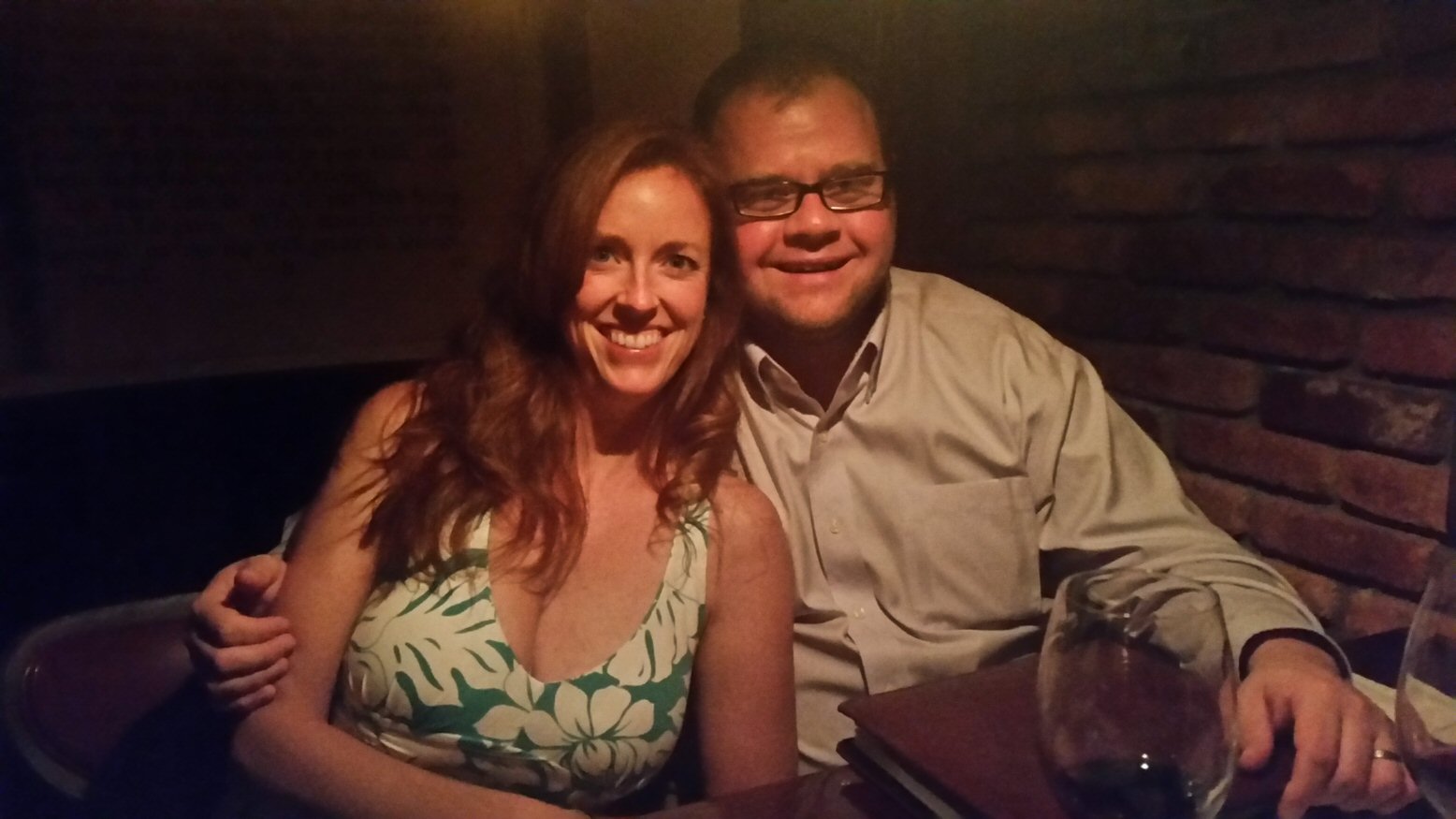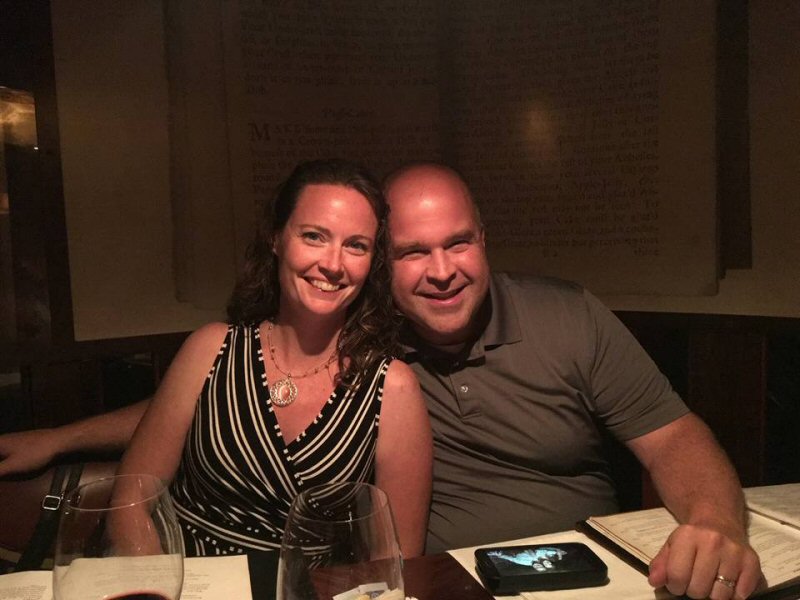 Bern's touts itself as A Unique Culinary Experience. While anyone can make the claim, Bern's really lives up to it. We're looking forward to our next visit!