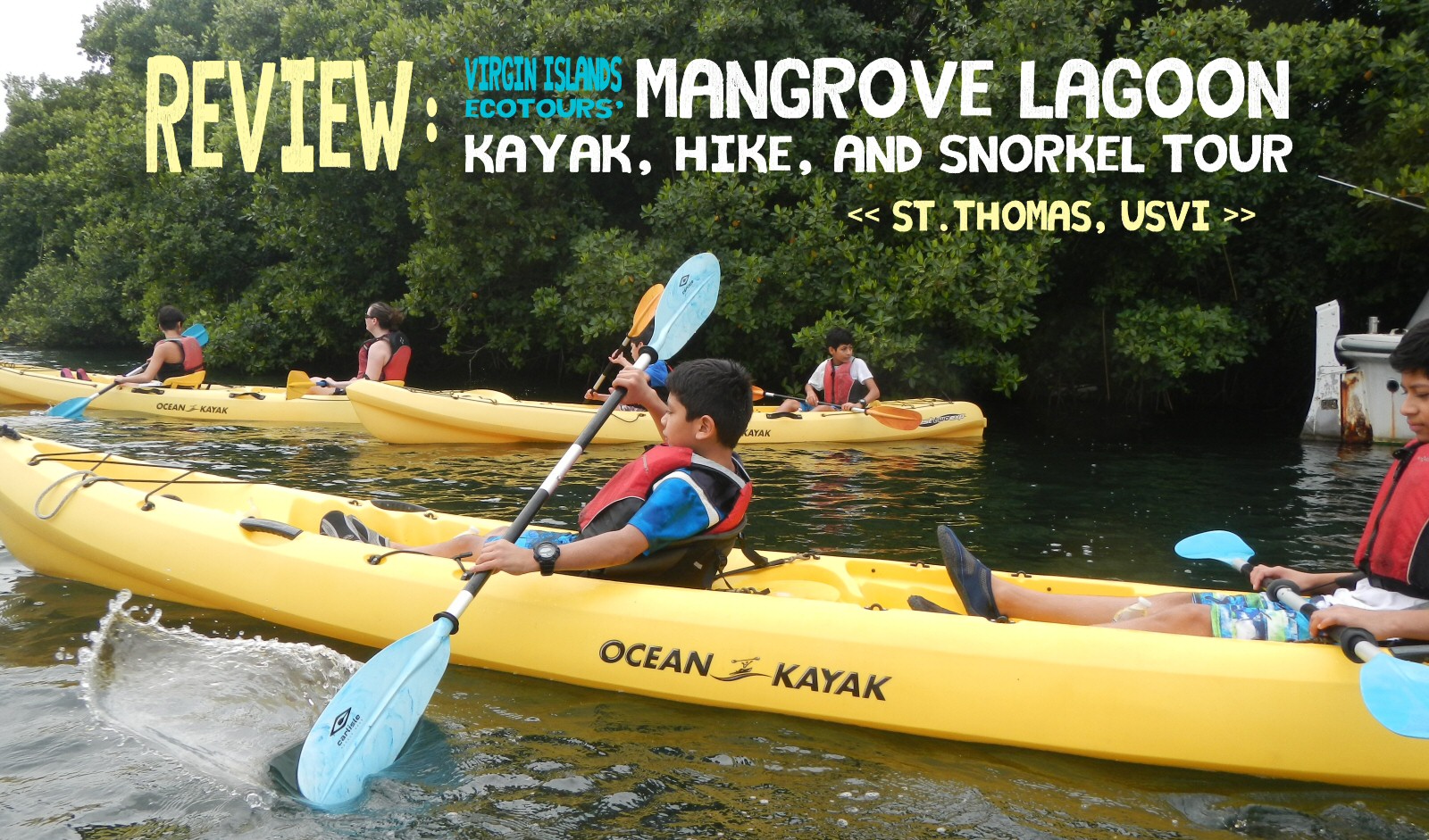 The Tour at a Glance
Location: Mangrove Lagoon – St. Thomas & Cas Cay, US Virgin Islands
Tour Company: VI Eco Tours
Activities: Kayak and snorkel in the Mangrove Lagoon; hike on Cas Cay.
Tour Type: Guided Eco-Tour
Tour Length: 2.5, 3, and 5 hour tours available. (We took the 3 hour tour.)
Ages: Check with VI Eco Tours. It looks like children as young as 2 can be accommodated.
Price: Adults $79, Kids $49  (3-Hour Tour)
Tour Web Site: Click Here
One of the best parts of our recent trip to the US Virgin Islands was this three hour Mangrove Lagoon Kayak, Hike, and Snorkel Tour offered by Virgin Island Eco Tours. Our kids tell everyone who asks that this was their favorite excursion of the week. Before this trip, no one in our family had kayaked and none of our kids had snorkeled outside of a swimming pool. Despite our relative lack of experience, everyone in the family had a blast on this tour and as a result we highly recommend it if you're looking for a fun and adventurous excursion in the USVI.
Keep reading for complete details of our experience and what to expect on the tour. And, if you're looking for more ideas for your own trip to St. Thomas or St. John, we recommend checking out our complete one week itinerary for the US Virgin Islands.
(FYI – We received no compensation for this review. This tour was included in a rental package we purchased at full retail price. As with everything on Packing for Seven, you can trust that our opinions are only our own.)
Who is this Tour Good For?
If your family likes ecotourism in general, you'll probably like this tour. The most strenuous part of the excursion is paddling across the lagoon, but even that is kept to a reasonably slow pace such that just about anyone can have fun doing it. You'll get to see islands around St. Thomas that are otherwise inaccessible, such as Cas Cay, and you'll get to see some pretty cool rock formations, plants, and aquatic life. (We saw a really big puffer fish that the kids loved!)
Age Range: Our kids were ages 12, 12, 12, 11 and 8 on this trip and no one had any trouble keeping up. VI Eco Tours offers other more strenuous kayaking trips (such as their Hassel Island tour which crosses the harbor in Charlotte Amalie which has a minimum age of 16). The Mangrove Lagoon is a very peaceful, protected environment with no waves and no motor boat travel. If you have young kids, check with VI Eco Tours ahead of time to make sure they're good, but if they meet whatever requirements the tour company has, we think they'll have a blast!
What about weight limits? I'm adding this because it was a concern for me. When we went on this trip, I was pushing 290 lbs! I was a little worried that a kayak might sink under my weight! VI Eco Tours assured me I had nothing to worry about and they were right. Here's my kayak doing a great job of keeping me afloat.

The Tour Details
Our tour started at VI Eco Tours' dock on St. Thomas adjacent to the Mangrove Lagoon. After some quick guidance in their staging area, we were off in our kayaks!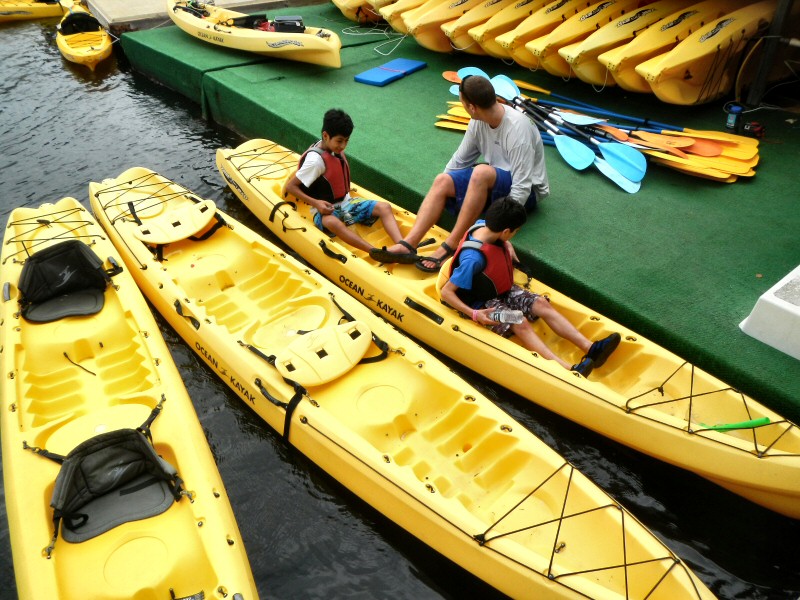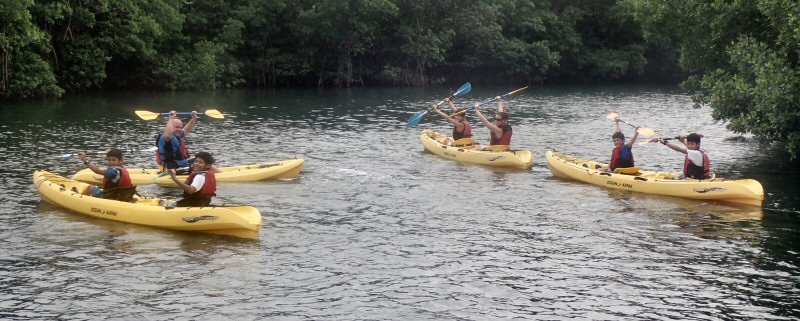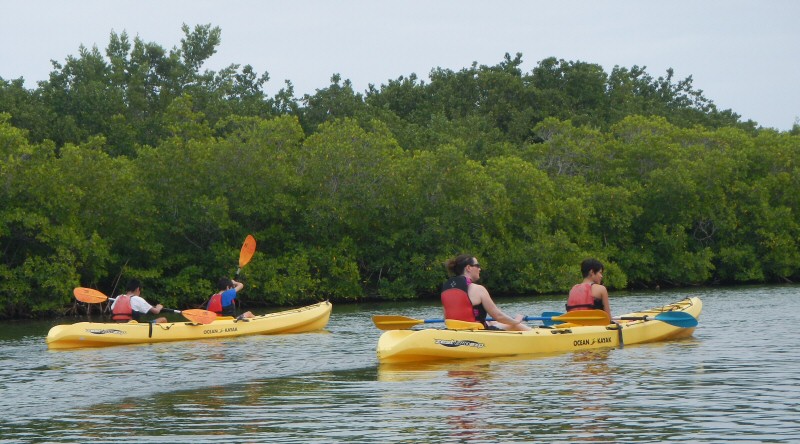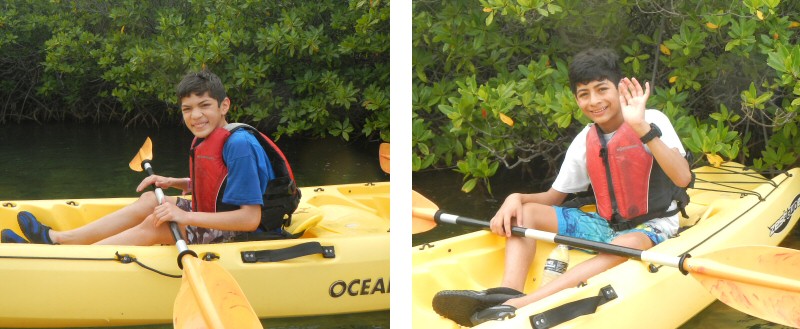 After we got comfortable in our kayaks, our guide took us to a small nook formed by a group of Mangrove trees to give us an up-close look at them and tell us a little bit about their unique qualities.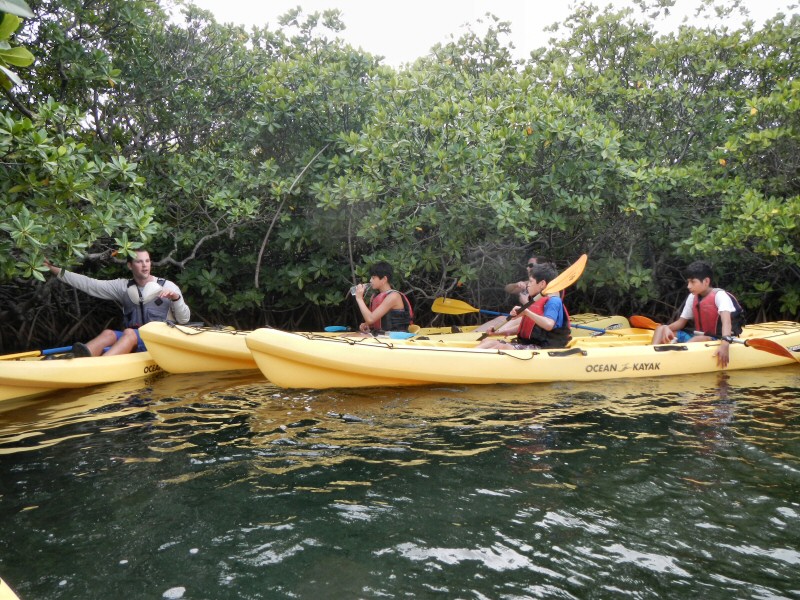 The species of mangrove that grows in this lagoon are adapted for salt water life. One of their most interesting traits is that the tree will "sacrifice" a leaf on each branch, into which it deposits the salt from the water it absorbs. When the sacrificial leaf dies, a new leaf is chosen on that branch. Each Mangrove tree has dozens of yellow sacrificial leaves mixed in with their lush green foliage.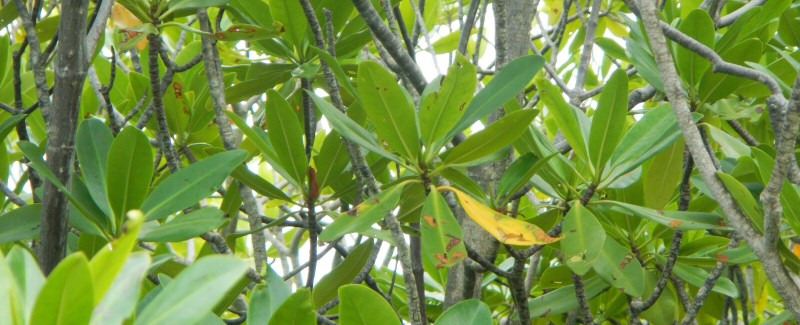 After we finished learning about the mangroves, we paddled our way to "stingray alley," a part of the mangrove known for its abundance of stingrays. Unfortunately the day we visited there were none to be seen, though our guide said just a few days before a ray had jumped 6 feet out of the water. (They do this apparently to shake loose critters that attach to their skin.)
Next we rowed our kayaks to Cas Cay, a small island off the coast of St. Thomas.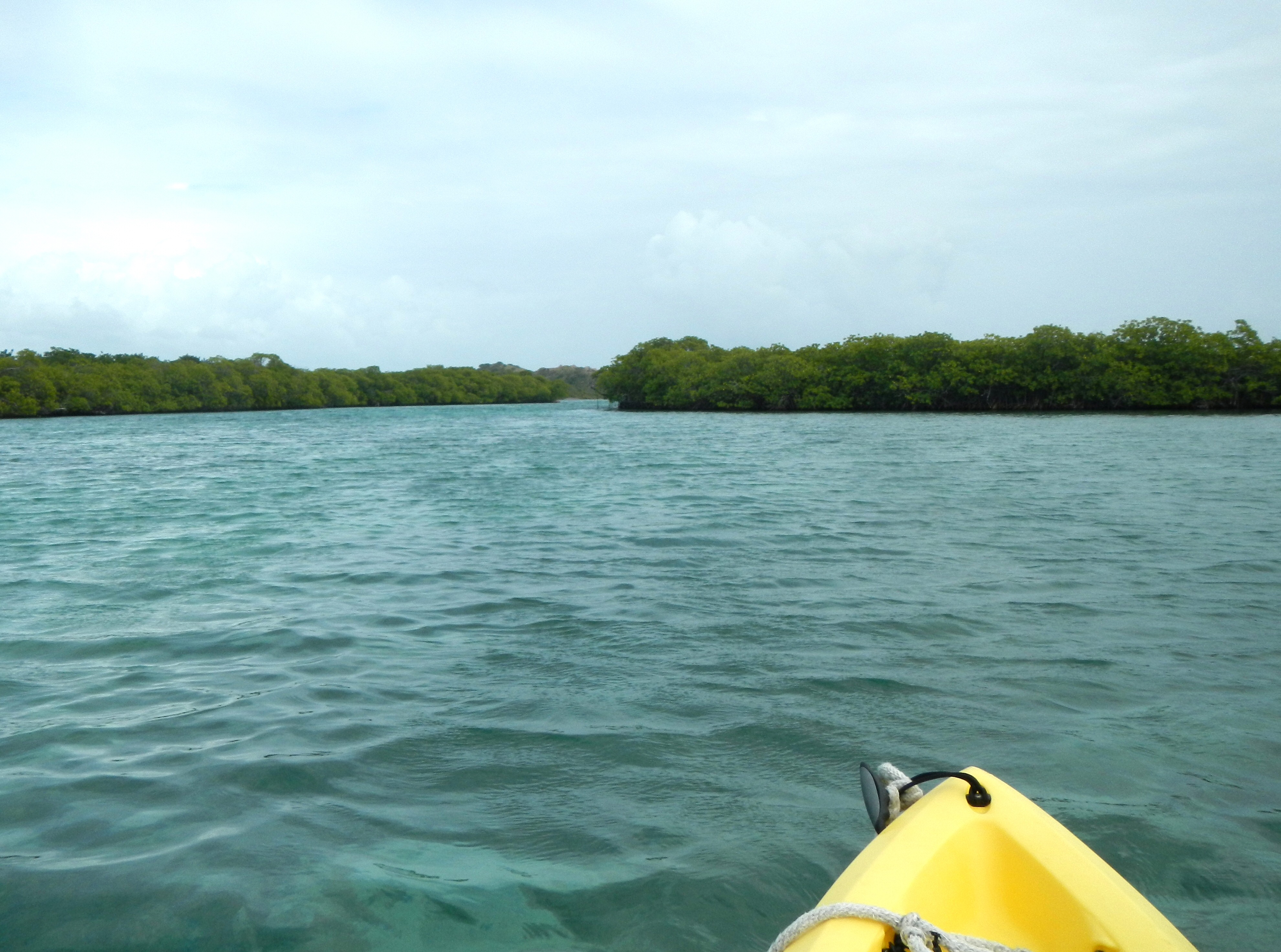 Hermit Crab Race on Cas Cay
Right where we docked our kayaks on Cas Cay, there was a small makeshift picnic ground that was literally crawling with hundreds of hermit crabs! Our family had never seen hermit crabs in the wild, much less hundreds of them! The kids thought it was really cool to see so many of them in their natural habitat.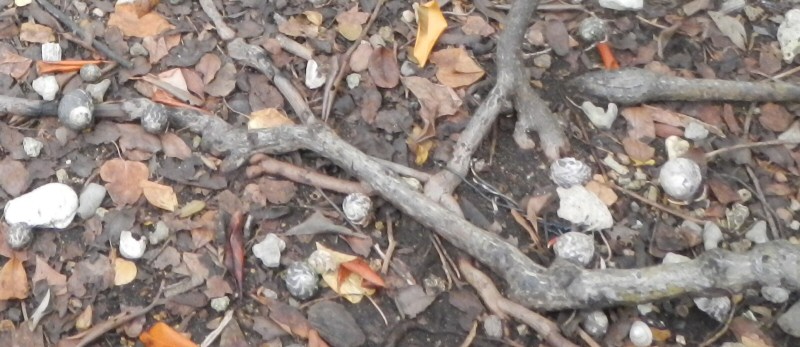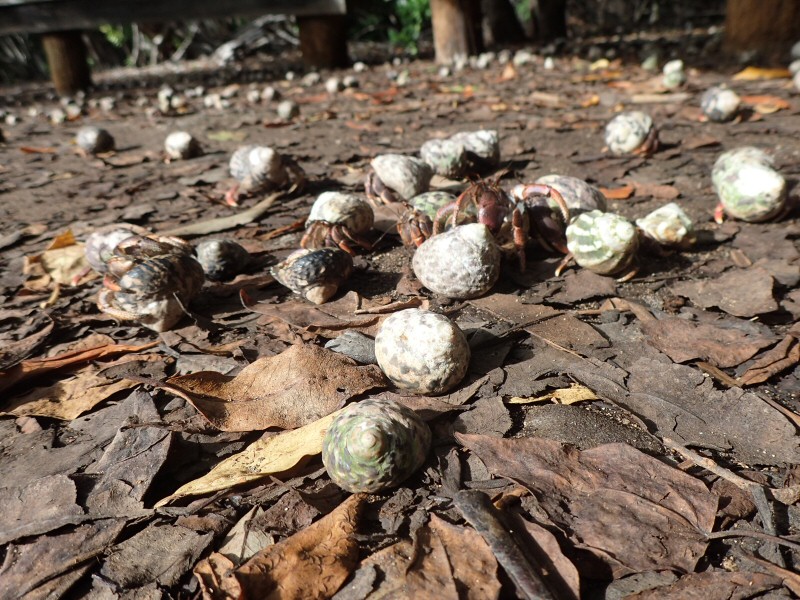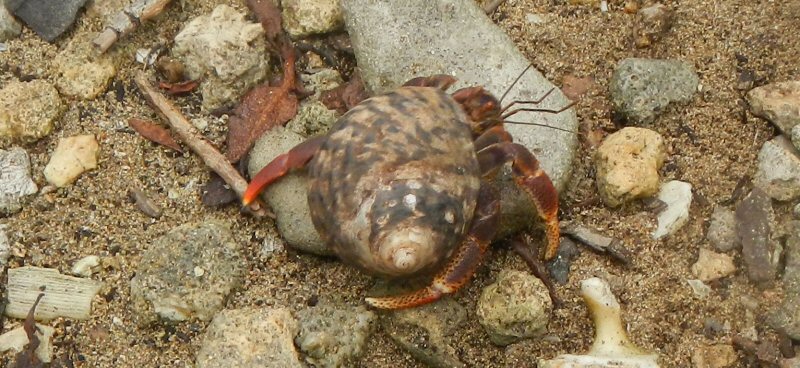 At the suggestion of our guide, each of the kids picked a crab for an impromptu crab race. Since L isn't much for critters, she didn't want to touch one, but her brothers came to the rescue, and after they each picked one of their own, they also picked out one for her.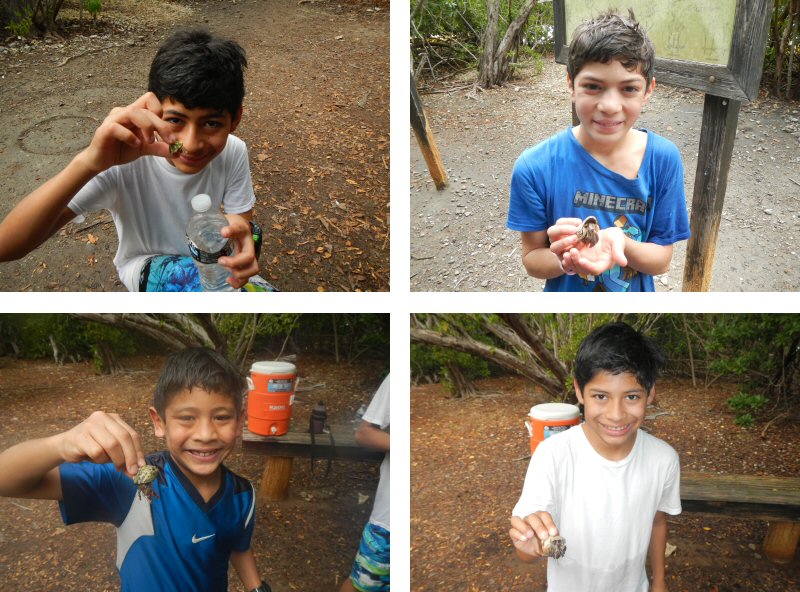 After arranging the crabs on the inner circle, they took off! Unfortunately I didn't get a picture of the winning crab, but the first race was taken by L's crab, who she named "Elsa."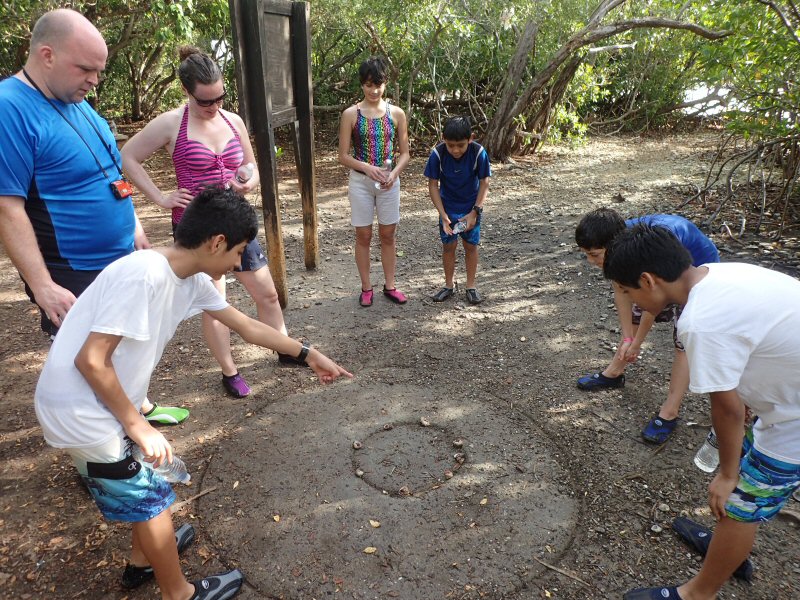 Hiking Cas Cay
After finishing up our hermit crab races, we started on a short hike through the Cas Cay Wildlife Sanctuary. Our guide pointed out a few notable trees and plants along the way, including the Manchineel tree in the next picture.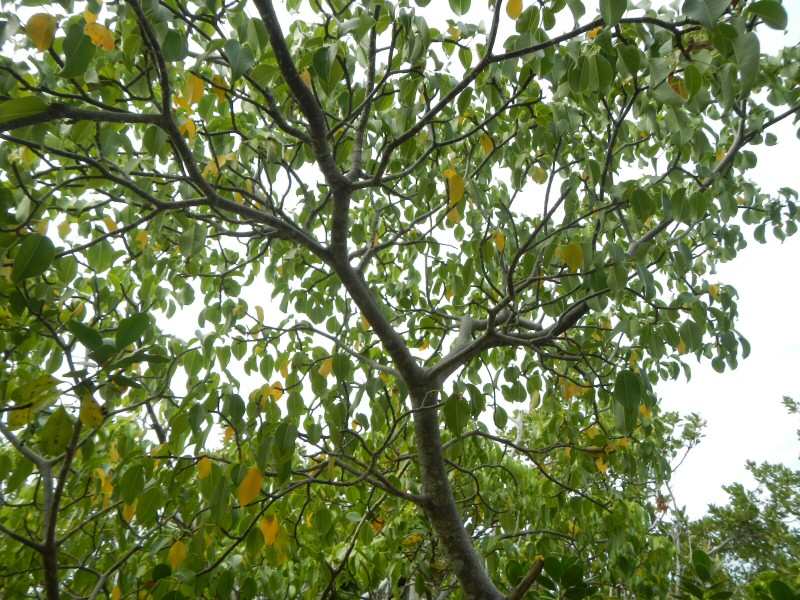 While the Manchineel looks innocent enough, our guide informed us that these trees are one of the most deadly on our planet. Their apple-like green fruit is poisonous if consumed, smoke from burning the tree's wood can kill you if you inhale it, and the sap is so strong that if it touches your skin it can leave burn marks!
On more populated islands, Manchineel trees are frequently marked with warning signs, but on Cas Cay, you'll have to recognize them by sight. They're characterized by their downward-facing green and yellow oval leaves and, in season, by small green fruits known as "beach apples."
Our guide followed up the Manchineel tree with a much more approachable plant, though we can't remember this one's name. This plant's leaves change color when you scratch them, which allows people (or pirates!) to leave messages for those coming after them. Our guide had each one of the kids scratch a message into a leaf, and when we returned some of those messages had started to become visible.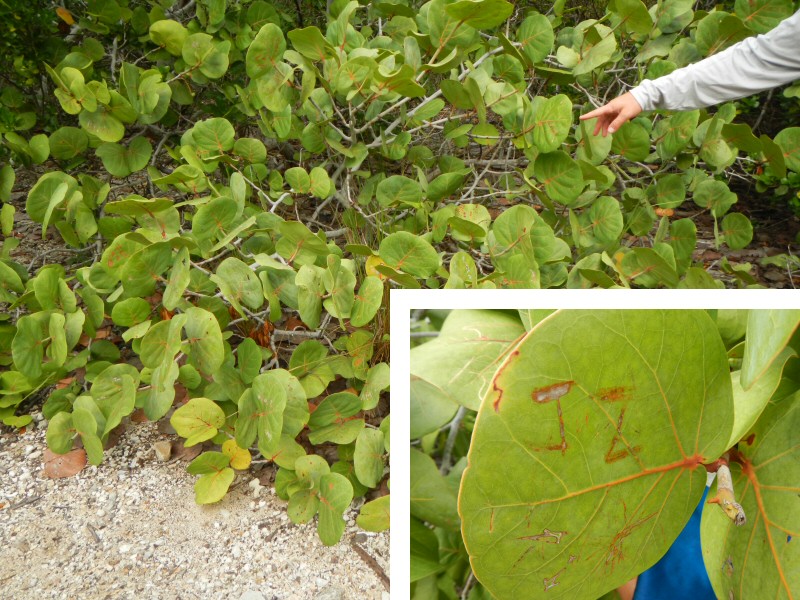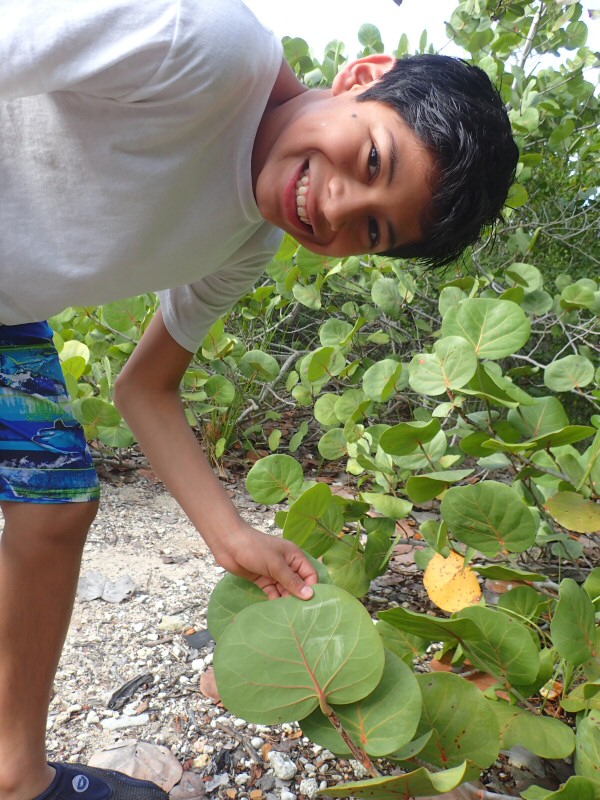 After our guide finished telling us about a few more trees on the island, we continued on our hike.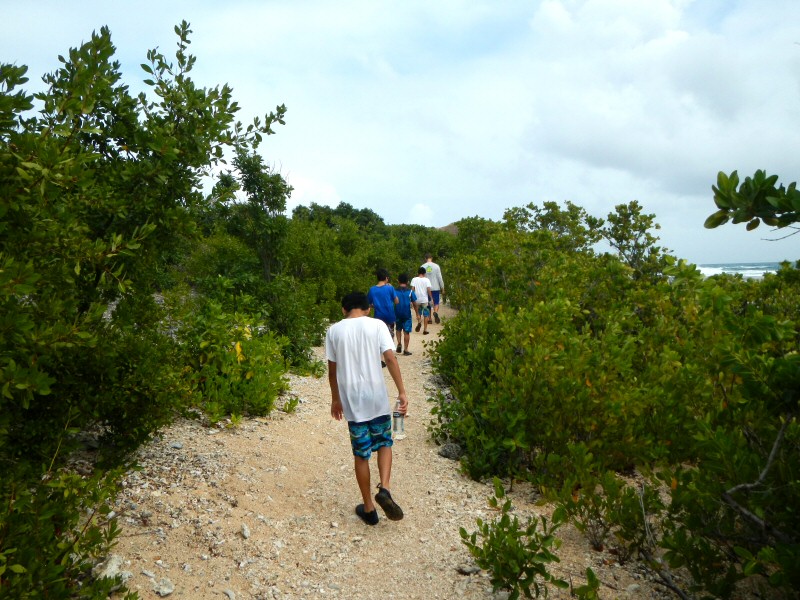 Looking for Sea Life on Cas Cay
After a while, we came to an outlet into shallow water and our guide had us look for critters in the water. Kim managed to find a sea star which everyone thought was really cool. We got to see about 1/2 dozen more sea animals that were new to us.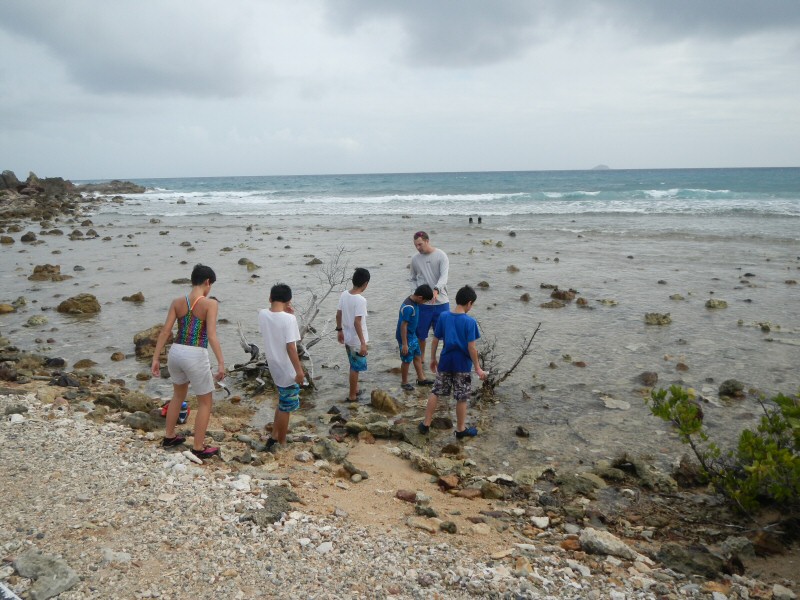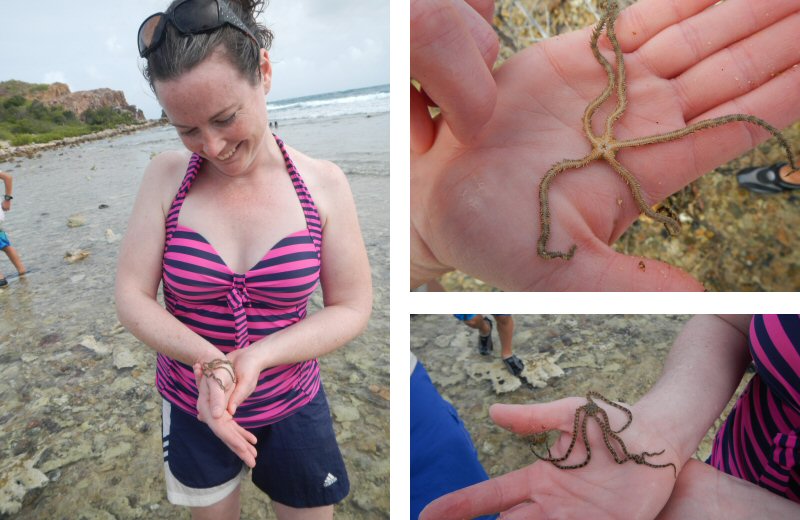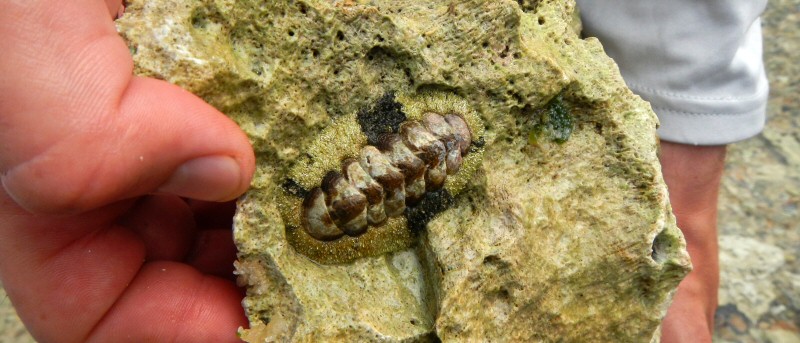 Rock Formations at Red Point
After we finished looking for sea creatures, we headed out to Red Point on the edge of Cas Cay. VI Eco Tours uses this spot for family pictures, but unfortunately we weren't able to get the whole family to look at the camera at the same time!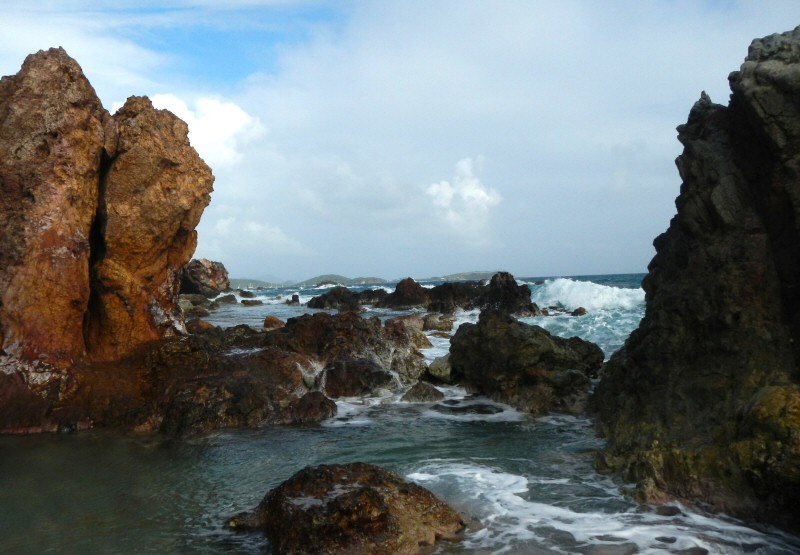 After several failed attempts to get pictures of the whole family, I just took one of Kim and then we started hiking back to where we had parked our kayaks!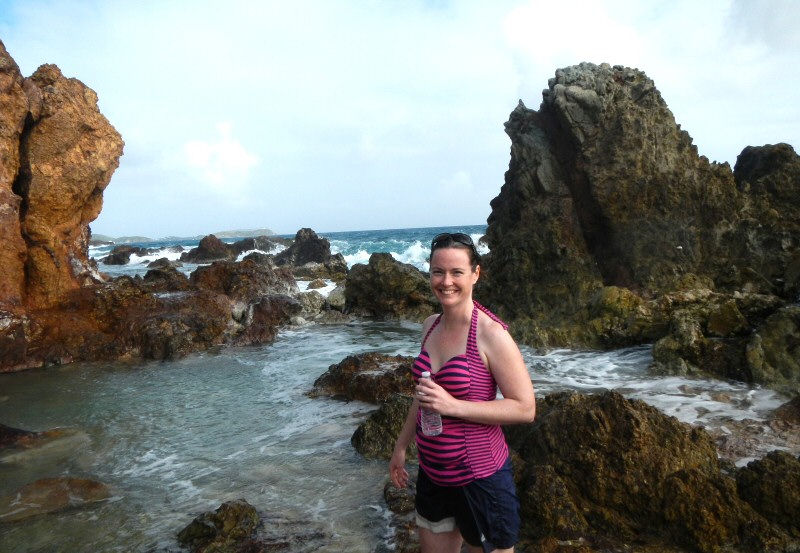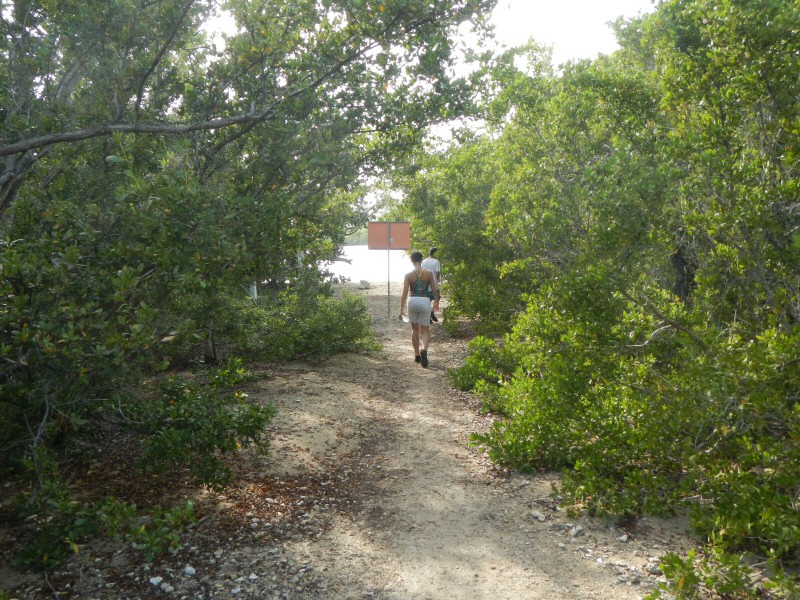 Snorkeling Cas Cay
After we reached the kayak dock, it was time to don our snorkeling gear! We swam out to a nearby reef in the lagoon with our guide. Unfortunately the currents were a bit strong and had whipped up a good bit of sediment, so the water was a little murky, but since this was our first time snorkeling, we still had a blast! (We snorkeled at four more places on our USVI trip, and this stop did turn out to be the worst for visibility… but since it was the kids' first time snorkeling we all still really enjoyed it.)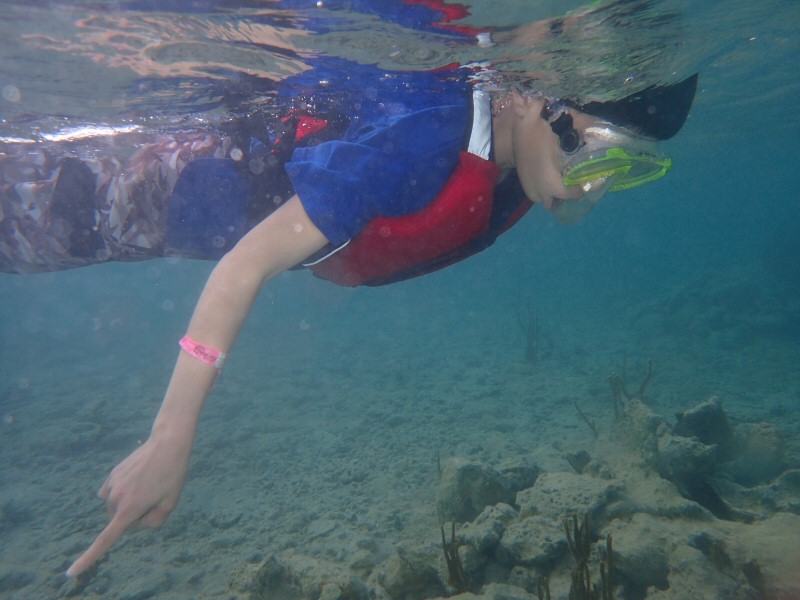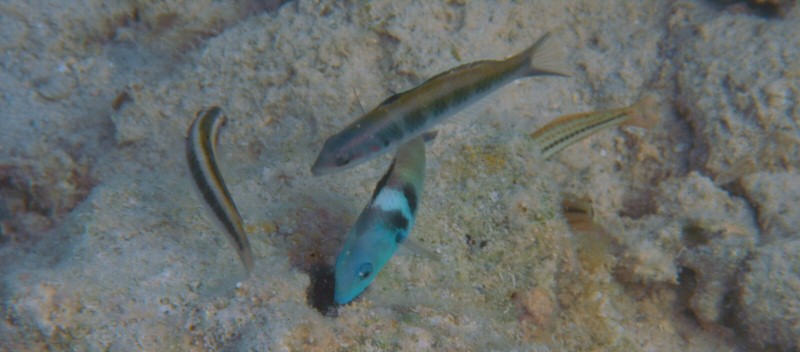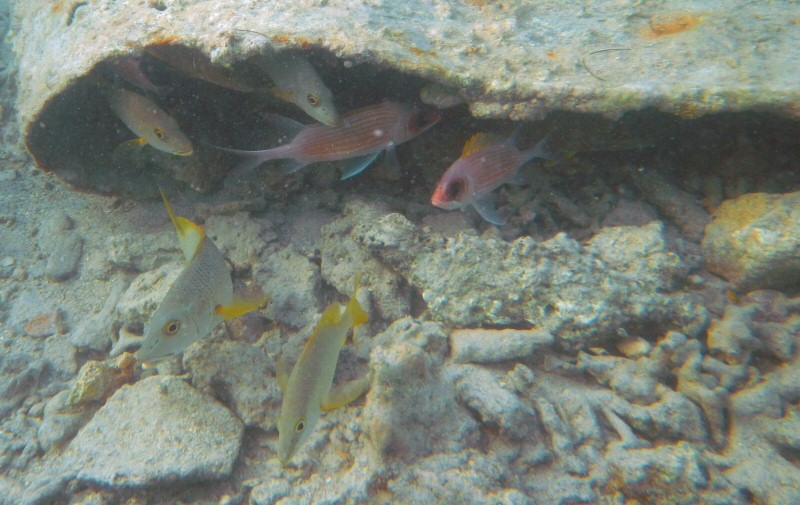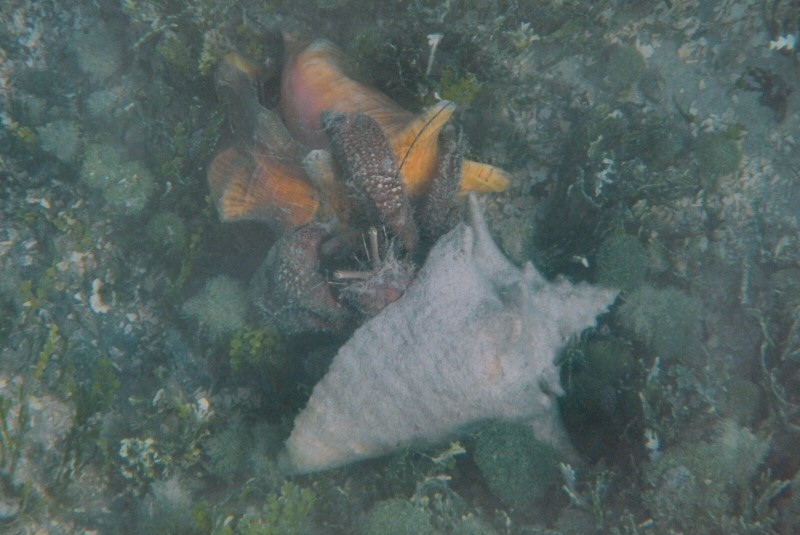 After about 45 minutes of snorkeling, we swam back to our kayaks, hopped in, and started paddling back to the dock.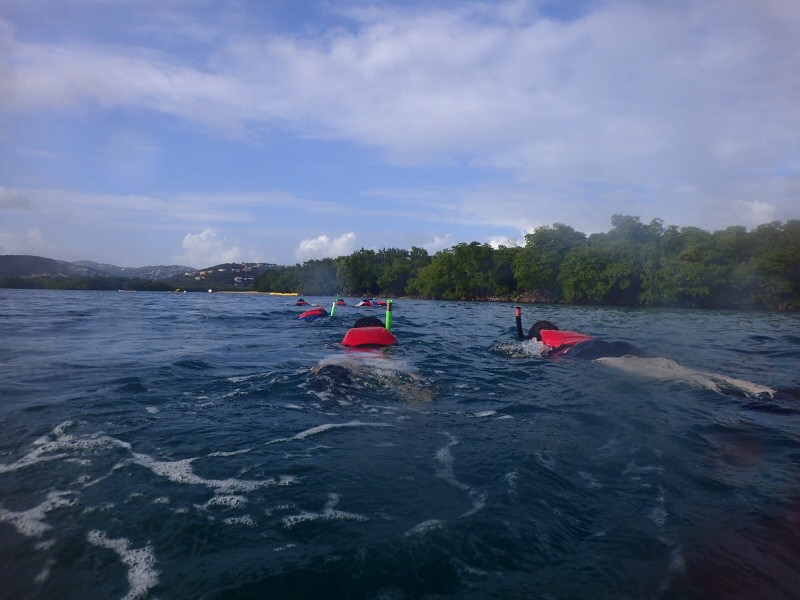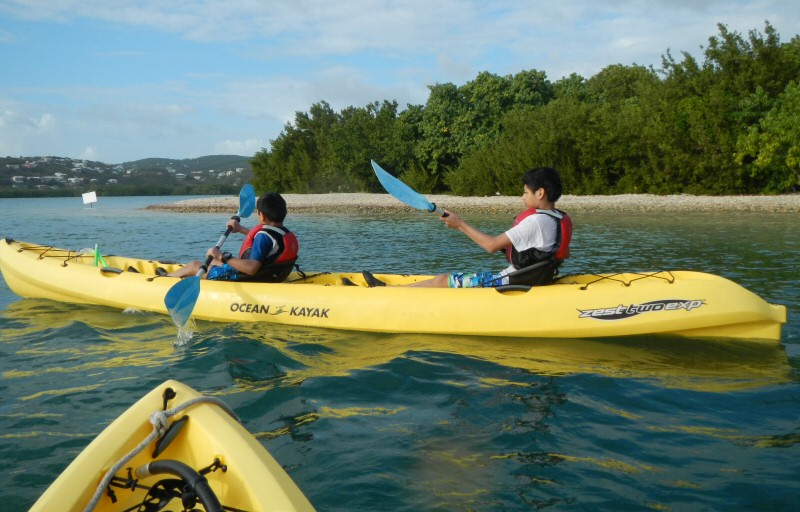 Overall Impressions of the Trip
We had a wonderful time on this tour, which combines three outdoor activities into one 3-hour trip. It was a really fun excursion and one that our kids will never forget–especially since this was their first time kayaking and snorkeling! Our tour guide, Lee, was incredibly personable and was really good with our kids.  While the format is the same each time out, he definitely tailored his talks and demonstrations to the kids while still answering our more in-depth questions knowledgeably. We highly recommend this tour!