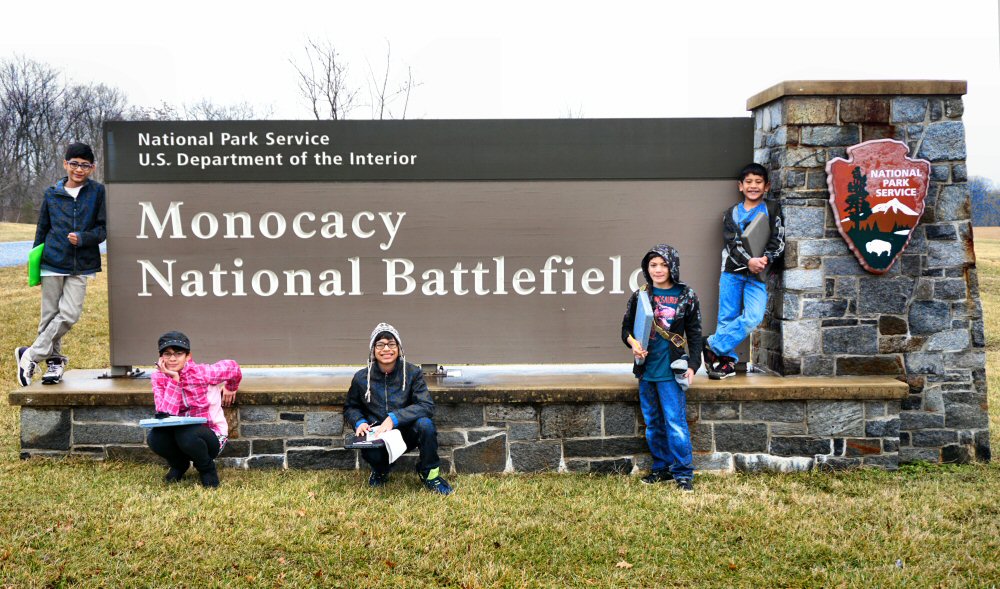 Monocacy at a Glance
Location: Frederick, Maryland
Stuff to Do: Explore the Battlefield, Visitor Center Museum, NPS Junior Ranger Program, Gift Shop
Famous for:  Stalling the Confederacy long enough for the Union to move defenses into place to protect Washington D.C. from siege.
Visit Time: Approx. 3 hours if you complete the Junior Ranger Program
Total Cost: Free.
Monocacy National Battlefield is located in Frederick, Maryland about an hour west of Baltimore and an hour north of Washington D.C. If your family likes wartime history (especially Civil War history) or if your kids enjoy the National Park Service's Junior Ranger program, you'll probably enjoy Monocacy.
Unlike many Civil War battlefields that lie in relatively rural areas, Monocacy is firmly planted in the suburbs of Frederick such that the whole site is just a stone's throw from half a dozen car dealerships and fast food joints. The site itself is divided into six areas — a main area with a visitor's center that includes a small museum, and five sites spread out over two miles that are accessed via a short driving tour.
What Age Kids Will Enjoy Monocacy?
Overall we think the battlefield is good for kids as young as late elementary school — especially those who enjoy doing the National Park Service's Junior Ranger booklets.
Younger kids will probably find the museum a bit boring and hard to follow. Unfortunately there's no playground, but there is plenty of space to run around and six hiking trails located around the site. (We didn't get to do the hikes on our visit.)
If you're planning to visit, you can print the junior ranger packet for Monocacy ahead of time. Our kids got started on the packet in the car which helped them prep for the site and also pass the miles on the way from Baltimore to Frederick.
Adults who enjoy Civil War history and museums will definitely appreciate the history of this place.
Why Monocacy Was Important in the Civil War
The Battle of Monocacy was fought on July 9, 1864, a year after General Lee's defeat in the famous Battle of Gettysburg and just nine months before Lee surrendered in April, 1965. At this point in the war, the South was on the defensive and Lee's northern army had been pushed back to Richmond. With few options remaining, Lee felt that the South needed to return to the offensive if they had any hope of winning the war. He ordered his top field commander, General Jubal Early, to march 15,000 troops from Richmond west into the Shenandoah Valley. Lee's goal was to secure the Shenandoah and then go northeast, cross the Potomac, and cut down through Maryland to threaten (or even better, capture) Washington D.C. Lee believed that by disrupting northern towns and capturing the Union capital, public sentiment might shift against the war and weaken the North's resolve.
Major General Lew Wallace, stationed in Maryland, led the Union's resistance. Wallace determined that Monocacy, with its two bridges across the Monocacy River — one carrying the road to Washington — was the most logical point to mount a defense against Early's army. Wallace deployed 2,500 men to Monocacy over July 3-4, 1864. He knew he was greatly outnumbered, but also knew that it was critical to stall Early's forces and give the north time to reposition troops.
The battle lasted only one day. Wallace's men were unsuccessful against Early's much larger army, losing 1,300 men in a single day and resulting in the Confederates northernmost victory of the war. But even in defeat, Wallace did succeed in killing 700-1000 of Early's men and stalling Early's march for a full day. This gave the north time to reposition regiments between Early and Washington at Fort Stevens. Early subsequently lost the battle at Fort Stevens and was driven back into Virginia.
As a result of Wallace's actions, Monocacy is known as The Battle that Saved Washington. Like Gettysburg, an alternative outcome at Monocacy could have reshaped history.
Also, fun trivia fact: General Wallace went on to later write Ben Hur.
For more detailed information, the NPS's Fact Sheet on Monocacy is a great place to start.
Day Trip w/ the Kids & Our Pictures
Unlike other Civil War sites that include forts or other interesting geological structures, Monocacy is mostly woods and farmland. Much like our recent Day Trip to Fort Washington, the weather wasn't very cooperative. Here's a shot from the deck on the visitor center:
The result is that apart from the visitor center bringing the battle to life, there's not all that much to see besides a few older buildings and one monument. Fortunately, the kids found the park's Junior Ranger program to be pretty engaging and that helped them learn the major players and significance of the battle.  Even so, three hours was more than enough time to hit the visitor center and each of the stops on the driving tour.
Here's a few pictures from our day at Monocacy.
This next picture is of the best exhibit in the Museum, an interactive battle map that helps you understand exactly what was happening in the days leading up to the battle and the day of the battle itself. The map lights up troop placements and movements to help visitors understand how the battle took shape.
Pictures from the Driving Tour
We stopped and took a few quick pictures on the driving tour. Here's one or two from each site.
Site 1 – Best Farm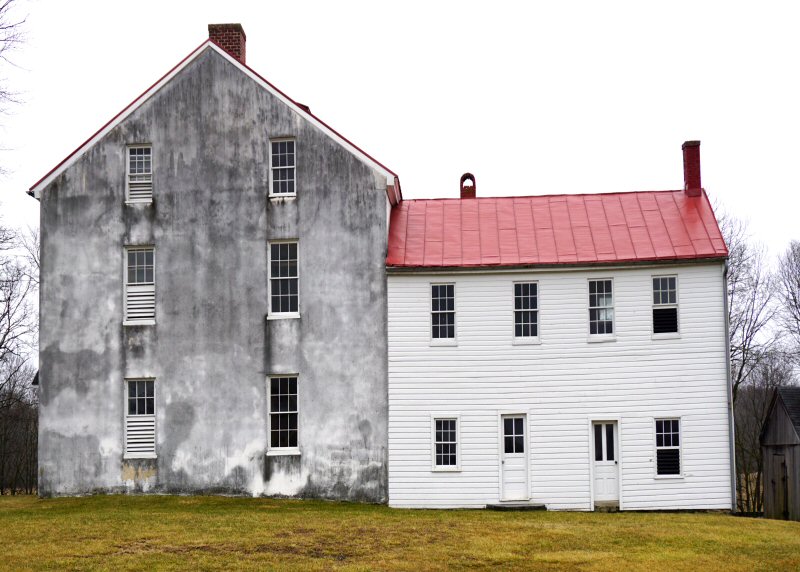 Site 2 – Monocacy Junction & 14th New Jersey Monument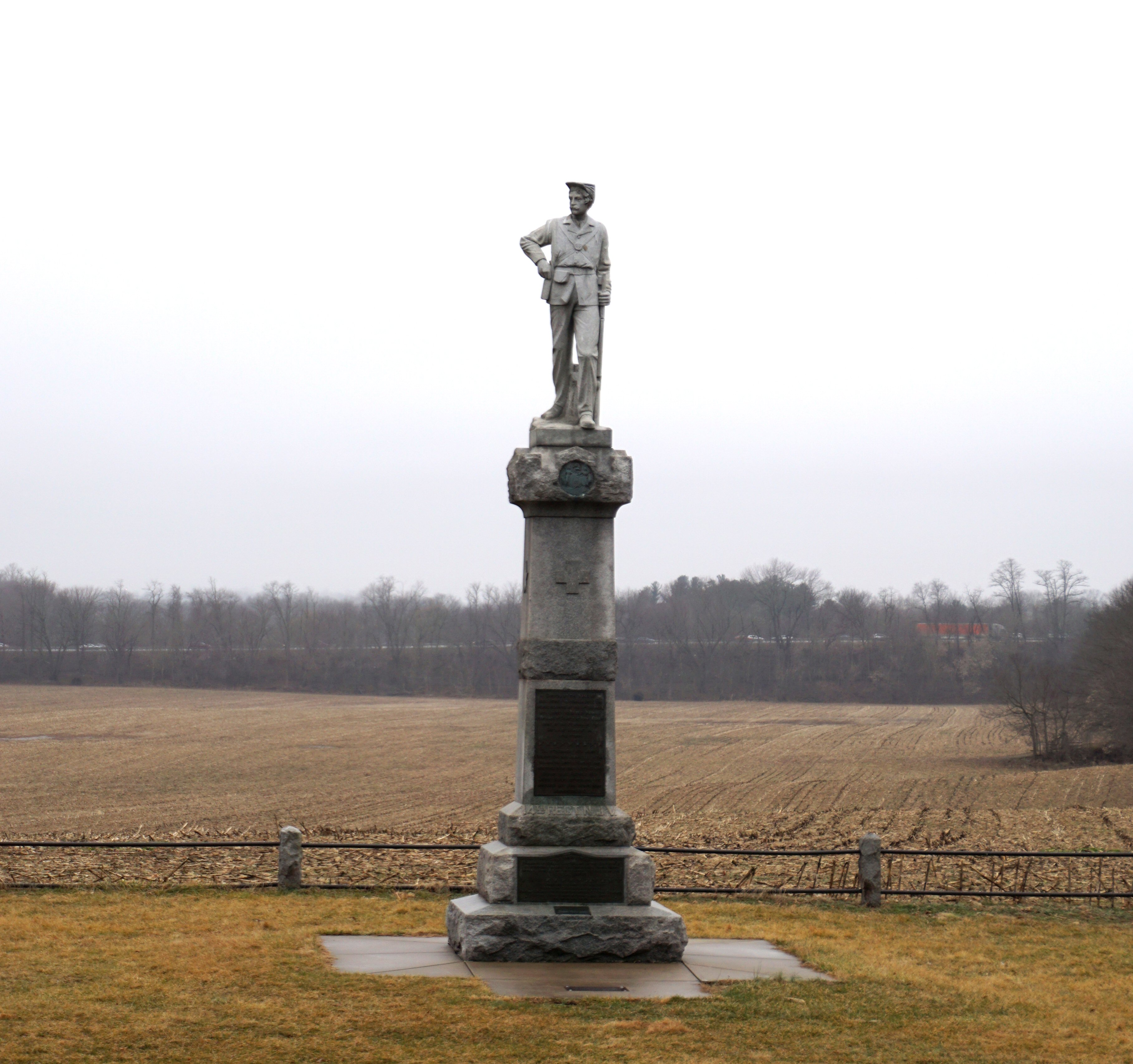 Site 3 – Worthington Farm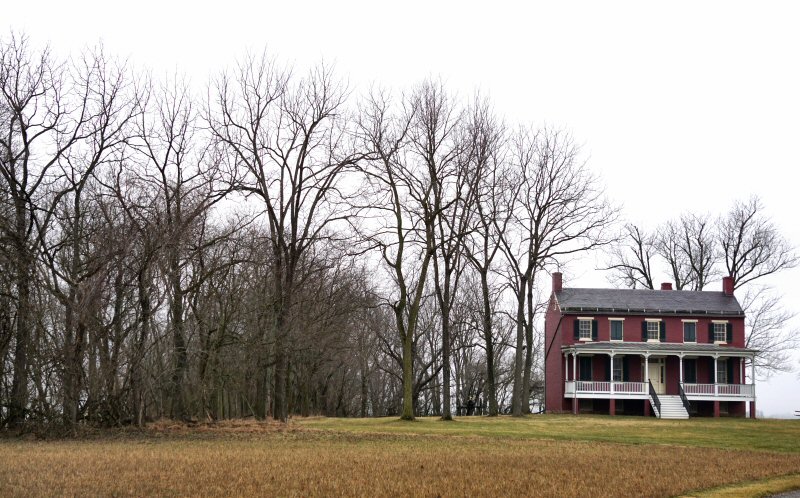 Site 4 – Thomas Farm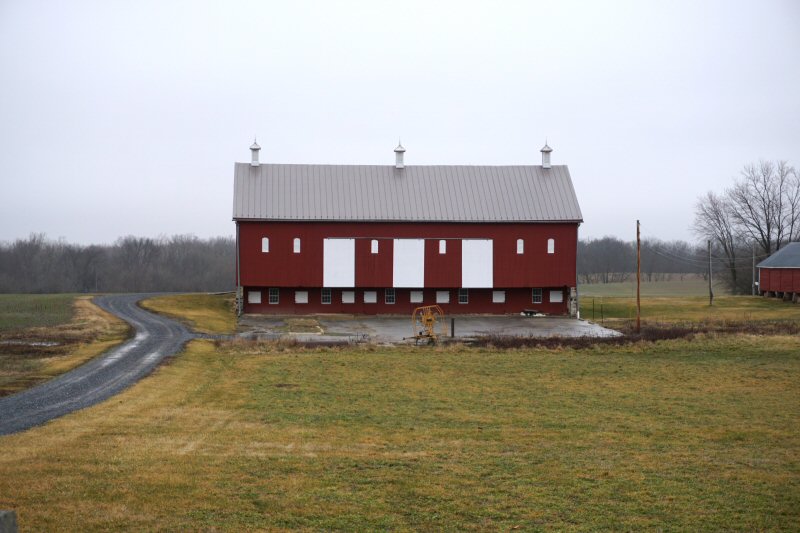 Site 5 – Gambrill Mill

After hitting the five sites on the driving tour, and with the sun setting on us, we decided to head home. All of us enjoyed this quick trip to Monocacy and crossing another National Monument off the list!