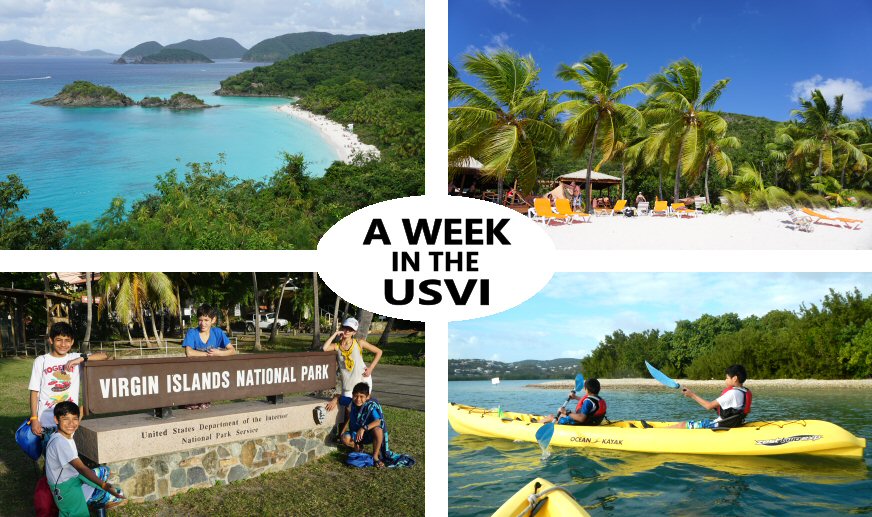 Itinerary Highlights
Location: United States Virgin Islands (STT and STJ)
Length: 1 Week (8 Days, 7 Nights)
Good For: Single Travelers, Couples, Familes
Main Locations Visited: St. Thomas & St. John
Additional Locations Visited: (USVI) Water Island, Cas Cay; (BVI) Virgin Gorda, Norman Island, Cooper Island, Jost Van Dyke
Things To Do: 

Coral World Ocean Park
VI Eco Tours' Mangrove Lagoon / Cas Cay Kayak, Hike, and Snorkel Tour
Bad Kitty British Virgin Islands All-Day Catamaran Tour
VI Eco Tours Honeymoon Beach Kayak, Paddle Board, and Snorkel Day Pass
Virgin Island National Park Reef Bay Hike
Water Island Golf Cart Self-guided Tour

Beaches Visited:

St. Thomas: Magens Bay, Coki Beach, Cowpet Bay Beach
St. John: Honeymoon Beach & Caneel Bay, Trunk Bay, Maho Beach;
Water Island: Honeymoon Beach
Jost Van Dyke: White Bay

Restaurants:

Mafolie's (Charlotte Amalie)
Sangria's Beachside Bistro (East End)
Sunset Grille (East End)
Sugar Bay Resort (near Coki Beach)
St. Thomas Yacht Club (East End)

Total Cost Per Person: For everything in this itinerary, plan on $1,200 – $1,500 per person.
After four months of research and planning, our family just took the most amazing trip to the US Virgin Islands (USVI) of St. Thomas (STT) and St. John (STJ). We packed eight spectacular days with swimming, snorkeling, kayaking, hiking, boating, beaching, eating, and sight seeing. We even managed to take a whole day trip to the nearby British Virgin Islands (BVI) including stops at Jost Van Dyke, Virgin Gorda, Norman Island, and Cooper Island!
We've documented this itinerary exactly the way we took the trip, including select pictures from the more than 1,000 we took over our eight days in the USVI.
We're working on complete posts to document each excursion we took on this trip. The first of those posts is complete: St. Thomas Mangrove Lagoon Kayak, Hike, and Snorkel Tour (VI Eco Tours). We took the Mangrove Lagoon Tour on Day 3 of this itinerary, and it turned out to be our kids' favorite — we highly recommend it for your trip!
We've received no compensation in any form for any tour or restaurant we mention here. We paid full retail prices for everything, so you can trust that our opinions are only our own.
We hope you find this itinerary helpful and will consider pinning it or it sharing it on Facebook or other social media with your friends. We thrive on social sharing; it's what helps us produce guides like this one!
Understanding USVI Geography & Where to Stay
Take a look at this NPS-provided map to get familiar with the layout of the Virgin Islands (both US and British are pictured). The USVI comprises the three major islands of St. Thomas, St. John, and St. Croix.
St. Croix has its own international airport and is far enough south (~50 miles) that we think it makes sense to do that island on a separate trip, so we don't discuss it in this guide. The BVI are very close to St. Thomas and St. John, and it's easy to do a day trip to the BVI from either island. (This plan includes a visit to the BVI on Day 4.)
There are also a number of outlying islands in the USVI. Most aren't populated, with the exception of Water Island in the harbor of Charlotte Amalie on St. Thomas. This Itinerary includes a visit to Water Island on Day 6. We enjoyed our day there.
Where to Stay: We chose to stay in East End on St. Thomas (marked in red on the map) because it's just a few minutes from the Red Hook port, which is where the ferry to St. John arrives and departs. On days we spent in St. John (Days 5 and 7 in this itinerary), we could get to the ferry quickly. For this itinerary you could stay anywhere on St. Thomas or St. John and make it work. The islands aren't that big and just about everything is within a one hour drive (plus ferry time). Depending on where you are you may need to plan more or less travel time for certain activities.  We also found it useful to check the port cruise ship schedules; heavy cruise days mean much more traffic and double or triple travel time.
We looked up available places on VRBO and Airbnb and compared prices. Since we're a big family, we needed to find something that can accommodate all seven of us, and hotels just don't work at a budget-friendly price. The specific unit we stayed in is in the Anchorage Condos and faces Cowpet Bay. The owners use this unit as their personal residence during some of the year, but if it's available when you're traveling, we highly recommend it. Here's the view of Cowpet Bay from the balcony of the unit we rented.
Getting Around – Cars, Taxis, & Ferries
Rental Cars/Vans: We rented a minivan and never regretted that decision. You can pick up and drop off rental cars at the airport on St. Thomas. Major brands including Budget and Avis do business on the island. So do a few local brands. Our host recommended that we rent from a big brand and call a few days in advance of travel to ensure that the specific type of car we reserved (in our case, a minivan) would be available. We followed her advice and it worked out well.
Taxis: You can also easily get around via taxis; they are everywhere. This itinerary is travel heavy, so taxis will add up if you've got a lot of travelers. Many taxis on the islands charge per person, as opposed to per mile. If you have a big family, you'll probably save money renting a vehicle. Also, any time you're switching islands you're going to have to pay for two taxis–one on each island–so keep that in mind when budgeting. The taxis on St. John seemed to charge $5 per person to take you most places on the island. Again, at 7 of us, that's $35 even if we only traveled two miles.  Uber has also started operating on the islands, but we didn't try hailing an Uber. Our family is typically too big to fit in one Uber car, anyway.
Driving on the Left: The USVI is the only US territory that drives on the left. It was our first time driving on the left and it does take a bit of getting used to. Our advice: If you're a reasonably confident driver, rent a car. You'll be able to quickly adapt to left-side driving and you'll have more freedom and flexibility moving around the islands. Most roads on the islands are two-lane anyway, so you just have to remember to hug the left side of the road.
Ferries: Passenger ferries run hourly between St. Thomas and St. John all day long. Car barges also run, and if you're family is big enough, it can actually be cheaper to take the car barge than the people mover. The car barges run about every hour and a half, but their departure and arrival times are not as consistent as the people ferries – that's something you should keep in mind if you have a deadline to meet up with a group on the other island. Leave plenty of time to get the car across. There are also ferries to the British Virgin Islands, nearby Virgin Islands, and other places.
Parking: We were worried about parking but actually never ended up having trouble finding a spot anywhere we went. The most popular beaches (Magens Bay on St. Thomas; Trunk Bay on St. John) have parking available. Magens has more than Trunk, but since we visited Trunk late we never had a problem. Usually you can find some solution for parking, even if it means walking a short distance.
Mountainous Terrain: Be warned: the islands have A LOT of hills. The USVI Government has no problem building roads with 30 degree angles up the sides of hills. We found the roads to be in moderate shape on St. Thomas and pretty good on St. John. As long as you're a reasonably confident and careful driver, you should be fine!
Before You Travel
If you follow this itinerary, here's everything you'll need to do before you travel.
Book Accommodations
Book Flights (we flew Spirit Airlines for $325 round trip per person from Baltimore, MD).
Make Reservations for all Tours Well in Advance. We used these companies:
Make Reservations for Any Transportation You Plan to Use:

Reserve golf cart(s) on Water Island if you plan to visit. (They run out, so make sure to reserve.)
(Note: The ferries and car barges between St. Thomas, St. John, and Water Island do not require reservations)

Get Passports

Americans don't need passports for the USVI, but if you go to the BVI for a day as we suggest, you need them.
Day 1: Travel, Check-in, and Dinner
Day 1 is all about flying into St. Thomas, getting setup with a rental car, buying groceries for the week (unless you plan to do all restaurants or bring food from home), and checking into your rental house/hotel. You'll probably be tired after traveling at the end of Day 1, so we recommend just hanging out around the rental property for the evening. We stayed at the Anchorage Condos which had private access to the beach on Cowpet Bay. The beach itself wasn't great, but the kids enjoyed being able to put their feet in the Caribbean on the first night and having a pool right on the property.
Details for Day 1:
Arrive in St. Thomas's Cyril E. King International Airport (located on the west side of St. Thomas).
Pick up the rental car at the airport and drive to your rental house or hotel. If you're staying on St. John, you'll drive to the car ferry in Red Hook. Check ferry times to ensure you'll have sufficient time to catch the ferry over on the day you arrive.

(Note: From the airport on the West side of St. Thomas to Red Hook / East End is about a 45 minute drive).

If you're staying in East End and you need to buy groceries for the week, you can hit the Cost-U-Less on your way to the rental house and pick up groceries. (Alternatively, if you're like us and you eat at restaurants on vacation, check out our restaurant pics at the end of this article.)

We got lucky and our host bought groceries for us ahead of our arrival and we reimbursed her for the cost.
Be aware that groceries are more expensive in the USVI because everything is imported.

Arrive at your rental house, eat or buy dinner, and chill out for the rest of the night.

The night we arrived we ate dinner at the St. Thomas Yacht Club. (We stayed at the Anchorage Condos and our host had made reservations for us at the Yacht club which is nearby.) The restaurant was certainly OK – but we picked it only because we didn't want to travel any further on our first day.
Day 2: Sugar Bay Resort, Coki Beach (or alternatively Magens Bay), Coral World, and Sangria's Beachside Bistro
On our trips we like to jump right in after a good night sleep, so Day 2 is about starting the adventure in northeast St. Thomas! Get up early and drive to the Sugar Bay Resort for a fantastic breakfast buffet including omelette bar, fruit bar, breakfast meats, and everything else you'd expect from an all-inclusive resort. Our host originally suggested that we get breakfast at the resort and then stay and use their pools, but the pools are technically for resort guests and we wanted to get to the beach anyway. When you get to the gate at Sugar Bay, just tell them you're going to the restaurant and they'll let you in to the lot. A golf cart takes you from the parking lot up to the restaurant. The views from the restaurant are stunning, overlooking Water Bay with vistas of Thatch Cay in the distance.
After the restaurant, head over to Coki Beach for the morning. Coki Beach is located close to Water Bay and right next to Coral World Ocean Park. It's one of St. Thomas' most popular beaches. If the cruise ships are in dock Day 2, you might consider going to Magens Bay as an alternate just because it's a much larger beach. (We ended up at Magens, but would have probably enjoyed Coki and regretted not hitting it since we hit Magens again on Day 3.) The advantage of going to Coki on Day 2 is that it's right next to Coral World, so you can park once and hit both for the day. Both Coki Beach and Magens Bay have a bar and food on property so you can eat lunch if you don't end up packing. (We ended up packing a light lunch for the kids on Day 2. Kim and I skipped because of the huge breakfast at Sugar Bay!).
After you hit the beach, head over to Coral World for the afternoon. Coral World is open until 4:00pm and they run "encounters" several times in the morning and afternoon (you'll need to make reservations before you travel for the encounters). You can see the bulk of the park in less than 2 hours and then hit whichever encounter you've chosen. We did the sea turtle encounter and really loved the opportunity to actually pet sea turtles. (In the wild, you aren't allowed to touch them!) They also have a Lorikeet Cage, but since we had just fed the Lorikeets at Bird Kingdom on our Niagara Falls trip, we didn't feel the need to do it for this one.
For dinner, we hit Sangria's Beachside Bistro on East End. The kids loved Sangria's because they run outdoor movies after dark so the parents can drink Sangria while the kids watch a movie on the beach!
Details for Day 2:
Day 3: Magens Bay, VI Eco Tours' Mangrove Lagoon Kayak, Hike, and Snorkel Tour, and Sunset Grille
On Day 3 we'll see more of St. Thomas! Head out to Magens Bay to spend the morning relaxing, swimming, and snorkeling. Magens is one of St. Thomas' most beautiful beaches. It's located inside a protected territory park that has plenty of parking available. The left side of the beach is much less populated than the right side, where taxis drop off cruise ship tourists. (The right side is shown in the first picture above.)
In the afternoon, head to Virgin Island Eco Tours' Mangrove Lagoon Kayak, Hike, and Snorkel Tour. VI Eco Tours offers a 2.5, 3, and 5 hour version of the tour. We found the 3 hour tour to be more than sufficient for our kids. Our guide was fantastic! This was the kids' first time snorkeling and kayaking and they loved every bit of it. The Mangrove Lagoon is one of the most beautiful and peaceful places on St. Thomas. We highly recommend this tour. Upon returning home, our kids still report it as one of the favorite things they did on the trip.
In the evening on Day 3 we take a quick stop back at the rental for showers and then head out to the Sunset Grill in East End for a delicious dinner. The kids really enjoyed Sunset and so did Kim and I. We highly recommend this place!
Detailed Plan for Day 3:
Eat breakfast in the rental and pack light lunches for the road.
Head to Magens Bay for the morning to swim, snorkel, and relax on one of St. Thomas' most beautiful beaches.

Tip: You'll enter the park on the right side of the beach. Drive as far left as you can if you want a quieter beach. Magens is a very long beach.

Eat the packed lunch at Magens or in the car.
Head over to the Mangrove Lagoon to do VI Eco Tours Kayak, Hike and Snorkel 3 hour Tour!

Remember to tip your guide! (A good tip is $10 / person).

Head Back to the rental to take showers before the evening.
Eat at Sunset Grille in East End for Dinner!
Day 4: British Virgin Islands Boat Tour: The Baths at Virgin Gorda, Snorkeling at Normal Island, Lunch on Cooper Island, and the Beach on Jost Van Dyke
On Day 4, we recommend touring the British Virgin Islands ("The BVI"). There are a number of tour operators that leave from both St. Thomas and St. John early in the morning (7:15 am) and return late afternoon (4:30). We booked about a month in advance with Bad Kitty / Calypso Charters and our tour was on the Bad Kitty 2 Catamaran (pictured in the upper left above). The best part of the tour is that you get to hit a lot of cool sites all in one day. Bad Kitty took us to Virgin Gorda to hike The Baths, to Norman Island for snorkeling, to Cooper Island for lunch, and to White Bay on Jost Van Dyke to shop and swim. Our kids loved that we were able to "go to a different country" and see so much in just one day on this already-amazing trip!
Interesting fact: The USVI and BVI are the place on earth where the United States and the United Kingdom are geographically closest. There are two minor outlying islands that are less than 1/2 mile apart! Even the big islands of St. John (USVI) and Tortola (BVI) are very close. (See the map at the top of this post for just how close.)
Bad Kitty includes breakfast (fruit & coffee cake), water, sodas and juice on the ship and open bar for adults after the snorkel stop on Norman island. You need to bring cash or credit for lunch on Cooper Island, and plan for a 15-20% tip for the crew at the end of the day.
We decided to eat dinner at the rental on Day 4. For one, the tour is expensive and we wanted to save some money by not hitting a restaurant. For two, you'll likely be tired. All of us were!
(Thanks to Cate @ Hulaland Blog for the suggestion to include the BVI trip!)
Detailed Plan for Day 4:
Wake up early, eat breakfast in, and head to Red Hook dock (St. Thomas) to catch the boat.

Make sure you have passports (required to board the boats!)
If you're a coffee drinker, grab some on the way to the boat.  They do not provide that!

Eat a light breakfast on the ship (provided for free by Bad Kitty).
Enjoy everything the BVI has to offer:

Hike "The Baths" at Virgin Gorda
Snorkel next to Normal Island
Eat Lunch on Copper Island
Swim, shop, and hit the Soggy Dollar Bar on Jost Van Dyke.

Drink a Painkiller or two and a Rum Punch while on board!
Head back to the rental and eat dinner in. (You'll be tired, so we recommend eating in!)
Day 5: St. John – Lind Point Trail Hike, Honeymoon Beach Day Pass, and Caneel Bay Resort Lunch
Day 5 is the first day on St. John! You can either take the car barge or the people ferry over from St. Thomas. If you take the people ferry, you can park in the lot at the Red Hook port on St. Thomas all day for relatively cheap. The people mover ferry docks in Cruz Bay on St. John close to the National Park Service's Visitor Center. (Two-thirds of St. John is Virgin Islands National Park – and the visitor center is a very short walk from where the ferry drops off). Right behind the Park's visitor center is trail called the Lind Point Trail that takes you through the forest to Honeymoon Beach, a less-populated beach on St. John.
Honeymoon Beach has a little shop operated by VI Eco Tours that sells day passes that include unlimited access to kayaks, paddle boards, snorkel gear, floats, and chairs for the day. Our kids loved having free rein to take out the kayaks and paddle boards into the bay and paddle around. Honeymoon beach also has two coral reefs (one on the left and one on the right side of the otherwise perfect sand beach). The left reef especially is a wonderful spot to snorkel.
Around lunch time, head up the trail from Honeymoon Beach to Caneel Bay to the Caneel Bay Beach Resort for Lunch. Caneel Bay is beautiful and the restaurant there serves great food. After lunch, head back down to Honeymoon, or if you prefer, head on over to Trunk Bay and spend the afternoon. Trunk Bay is St. John's most beautiful bay. We hit Maho Beach and Trunk Bay on Day 7 of our adventure, but many people love Trunk and would say it's the nicest beach in all of the VI. Our kids really enjoyed the "toys" at Honeymoon beach, and so we  have no regrets about staying there the whole day!
Detailed Plan for Day 5:
Head out early to St. John (either via car barge or people ferry from St. Thomas).
Go to the National Park Visitor Center, meet the rangers, and ask for the starting point of the Lind Point Trail.

The NPS Visitor Center is located close to where the ferries drop off.

Hike the Lind Point Trail to Honeymoon Beach (about 20-25 minutes / 1.5 miles).
Spend the Day at Honeymoon Beach. We recommend getting the VI Eco Tours Day Pass which gives you:

Kayaks
Paddle Boards
Snorkel Gear
Floats
Beach Chairs

Head up to Caneel Bay Beach Resort for Lunch (10 minute walk along the trail)
Head back to Honeymoon Beach for the rest of the day, or head back to your car and go to Trunk Bay for the afternoon.
At the end of the day, catch the people ferry or car barge back to St. Thomas.

We ate dinner in the rental, but you could also have gotten dinner at Fish Tails (in Redhook on St. Thomas) or High Tide (in Cruz Bay on St. John).
Day 6 – Charlotte Amalia Historic Tour, Fort Christian, Water Island, and (the other) Honeymoon Beach
On Day 6 we crafted a small self-guided walking tour through Charlotte Amalie to see the famous 99 Steps, The Governor's and Lieutenant Governor's offices, Fort Christian, Emancipation Park, and the Veteran's Memorial Park. If we're honest, this was probably our least favorite part of this trip and we might have skipped it, largely because Fort Christian is currently closed to the public for renovations and it was really hot the day we went.  Also the roads in Charlotte Amalie were not designed for cars, and some of them incredibly steep and narrow, with substantial ditches along the sides. So we'll leave it up to you to decide whether visiting these sites in the morning makes sense, or you jump straight to the afternoon plan. (It's worth noting that on Day 8 we propose going to Blackbeard's Castle for the end of your trip, which gives you access to some of the elevated sites we saw on this day, including the top of the 99 steps.)
For those of you who love souvenir shopping – we don't – here's where to fit that in.  Especially on days when there are large cruise ships in port, Charlotte Amalie's downtown is hopping with open air markets and various shops!
In the afternoon (or morning, if you skip the self-guided Charlotte Amalie tour), take the ferry from St. Thomas over to Water Island, a small island in the harbor of Charlotte Amalie. Water Island has a beach (coincidentally also named Honeymoon Beach) and an old partially-completed underground Fort named Fort Segarra. There's a small rental shop on the island called Rachel's Rentals that rents golf carts to visitors. With a golf cart you can see the whole island, including the fort, many vistas, and "the other" Honeymoon Beach which has two restaurants right on the beach. We really enjoyed our time at Water island and since most people don't get to see this little gem, we were happy we invested the time here.
In the evening, we headed back to Sangria's Beachside Bistro (the same place we ate on Day 2) because the kids loved it so much. Our Day 6 happened to be Super Bowl Sunday, so Sangria's was showing the Super Bowl on the Beach! You might also consider Fish Tails in Red Hook, which gets pretty good ratings.
Detailed Plan for Day 6:
Head into downtown Charlotte Amalie (St. Thomas' Capital) and find public parking. (There is a fairly good sized lot near the Veterans Memorial Park). Walk around to see many of the old Danish buildings and architecture in the area.
Hit the open-air markets and shopping district if you enjoy that.
Travel over to the Crown Bay Marina to pick up the Water Island Ferry. (Details are available here.)
Pick up a Water Island golf cart rental at Rachel's Rentals. (Right at the top of the hill as you get off the ferry.)
Golf cart down to (the other) Honeymoon Beach, eat lunch at Heidi's on the Beach, hang at the beach, and then explore Water Island including old Fort Segarra.
Catch the ferry back over to St. Thomas and head back to the rental or to a restaurant for dinner.
Day 7 – St. John Reef Bay Hike, Maho Beach and/or Trunk Bay
On Day 7, head back over to St. John for the National Park Service's Reef Bay Hike. The NPS offers two ranger-guided tours through the National Park on St. John and folks have told us that the Reef Bay Hike is a little nicer than the other. The tours are scheduled by Friends of the Virgin Islands National Park and you must reserve your slots well in advance of travel. The Reef Bay hike starts high up on the hills in St. John and ends at Reef Bay, where a boat takes you back to the Cruz Bay port, which is right next to the NPS Visitor Center. Make sure you arrive to the visitor center at least 15 minutes early. You can park on NPS property if you're taking one of their hikes. They'll give you a slip for your car in the Visitor Center.
After the hike, You'll have a few hours to hit some remaining sites on St. John in the National Park. (This is much easier if you've come over to St. John with a car.) Maho Beach is great if you'd like to see sea turtles. After about 30 feet of sand, grasses cover the beach and the sea turtles come right up to see you. The picture in the upper left above we took at Maho on our Day 7! (Our kids LOVED actually swimming with the sea turtles in "their habitat."
If you love great beaches, you should also stop at Trunk Bay, which is often rated among the top 20 beaches in the world. Trunk Bay is beautiful, and on the road in you'll have an opportunity to capture a photo of it like the one in the lower right above. We spent the evening (from about 3:30 – 5:00) at Trunk Bay and the kids loved it. There is an underwater snorkel trail at Trunk that is worth seeing, though the snorkeling at Honeymoon Beach is best.
Catch the car barge back to St. Thomas. Since this is the last day, we recommend getting dinner at Mafolie's in Charlotte Amalie. Mafolie's is a Hotel and Restaurant that has a unique view of the Charlotte Amalie harbor. It's seriously beautiful, and a great way to spend your last night in St. Thomas.
Detailed Plan for Day 7:
Catch the early car barge (8:00 or earlier) from St. Thomas to St. John.

Sometimes these leave as much as 30 minutes late and you'll want to have time to get to the National Park before it opens.  (Alternatively you could park in the Red Hook terminal and catch the people ferry to St. John, which is more reliable, but you won't have your car with you.)

Do the Reef Bay Hike from 9:30-2:30 with the National Park Service.
Spend the remainder of the day at one of the beaches in the National Park (Maho Beach, Trunk Bay, Cinnamon Bay)
Take the car barge back to St. Thomas at the end of the day.
Head back to your rental house for showers.
Head out to Mafolie's in Charlotte Amalie for a dinner overlooking the harbor!
Day 8: Blackbeard's Castle, the 99 Steps, and Traveling Home!
If you're staying for a week, Day 8 will be you're last day. Most flights from St. Thomas leave in the afternoon, so there's no need to waste a whole day! Get packed up early and head out to Blackbeard's Castle to take a tour of some museums and the grounds of Blackbeard's. Since you'll probably have to check out of your room by 11, Blackbeard's is a nice place to chill between 10:00 and 3:00 when your flights will likely leave. They have quite a bit to see and sit right at the top of the famous 99 steps. There are three pools to occupy the kids and a decent bar with vistas of Charlotte Amalie's beautiful harbor.
Blackbeard's is just about 15 minutes from the airport, so when it's time to get the car back to the rental return, you'll be ready to jump on a plane and head back to home!
Details for Day 8:
Check out of your rental house early.
Head to Blackbeard's Castle for the Day. (You'll need to make reservations before you travel!)
Make sure you see the 99 steps! (Bonus points if you walk and count them — there are more than 99!)
Make sure to get the rental car back to the airport on time and check out!
Additional Tips for Your Trip:
As you're planning your trip, keep a few things in mind:
Check the port load for St. Thomas to see how many cruisers will be in town on the days you're visiting. Saturday tends to be the least busy day on the island. You can use Cruise TT to look up the passenger load on any given day.
The people ferry between St. Thomas and St. John tends to run on schedule. The car barge is often late because loading cars takes time. Plan a lot of lag time if you're using the car barge.
Book all your excursions and trips well in advance. Depending on how many cruise ships are in the port, stuff fills up.
Plan to tip your guides on tours. 15-20% is the appropriate tip for a good guide.
Consider investing in an underwater camera if you like to snorkel!
Maho Beach (St. John) is one of the best places to see sea turtles in the wild.
Trunk Bay (St. John) and Magens Bay (St. Thomas) are the two most beautiful beaches on the islands (in our opinion).
Water Lemon Cay (not included in this itinerary) on St. John has the best snorkeling on the island. It's about a mile hike down a trail to get there.
Questions?
If you've got any questions about this itinerary, feel free to leave them in the comments and we will get back to you promptly! Thanks for reading and for sharing!