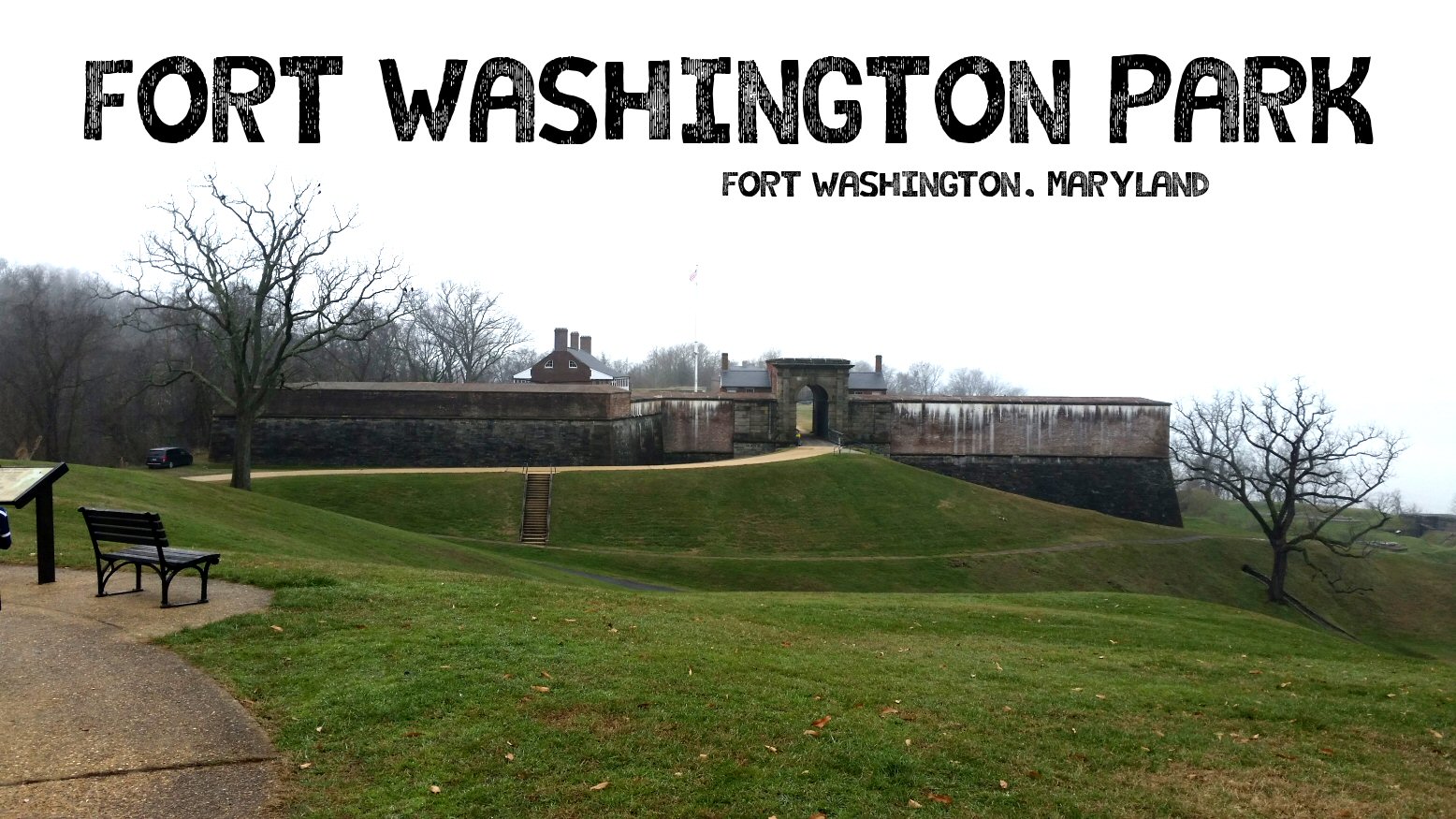 Fort Washington at a Glance
Location: 13551 Fort Washington Rd, Fort Washington, MD 20744
Stuff to Do: Explore the Fort, NPS Junior Ranger Program, Gift Shop
Famous for:  Being destroyed by its own garrison in 1812.
Visit Time: Approx. 2 hours if you complete the Junior Ranger Program
Total Cost: Free.
Every few months Kim heads out of town for a relaxing weekend away. On those weekends the kids and I try to find some local adventure that is either new to us or something we've enjoyed so much we want to do it again.
Fort Washington (official site) falls into the first category. None of us had ever been to this national historic site, despite it being located in southern Maryland less than two hours from our house.
View Fort Washington Park on Google Maps.
Why Fort Washington Park?
Our kids love the National Park Service's Junior Ranger Program. The NPS awards Junior Ranger badges to kids up to 13 years old who complete a learning booklet about a national park or national historic site they visit. Fort Washington is among the sites that has a Junior Ranger badge that none of our kids had collected. This is a win-win for our family since we homeschool our kids and can include the Junior Ranger packets in their classwork portfolios.
If you're planning to visit, you can print the Ft. Washington Junior Ranger booklet before you go.
History of the Fort
Fort Washington is located across the Potomac River from George Washington's Mount Vernon Estate. You can read all about the history of Fort Washington on Wikipedia. Here's some highlights that we found very interesting:
The fort was originally named Fort Warburton because it was built on the 1,200 acre Warburton Manor which was originally established by the Colonial Governor Edward Diggs. (Diggs' heirs were friends with George Washington.)
President Washington wanted a fort built on this site, but he wasn't able to accomplish it during his presidency. The fort was built in 1808 and 1809, several years after Washington's presidency had ended.
The fort was destroyed by its own garrison in 1812. (Imagine that! Probably shouldn't have put those cannons outside the walls on the Potomac River shore.)
The current fort was built in 1824 and extensively remodeled in 1840s and 1890s. It was turned over to the U.S. Department of the Interior in 1946. (It's worth noting that this fort was at least used by the United States, unlike Fort Knox, Maine which is about the same size as Fort Washington and was never used.)
Our Visit in 2016
We visited Fort Washington in January, 2016. The temperatures were unseasonably warm, but as you'll see from our pictures, the sky was overcast and so getting great shots of the place was difficult. We actually hope to go back sometime and get pictures with blue skies. After getting parked and swinging by the ranger station, we entered through the Fort's beautiful solid stone entrance.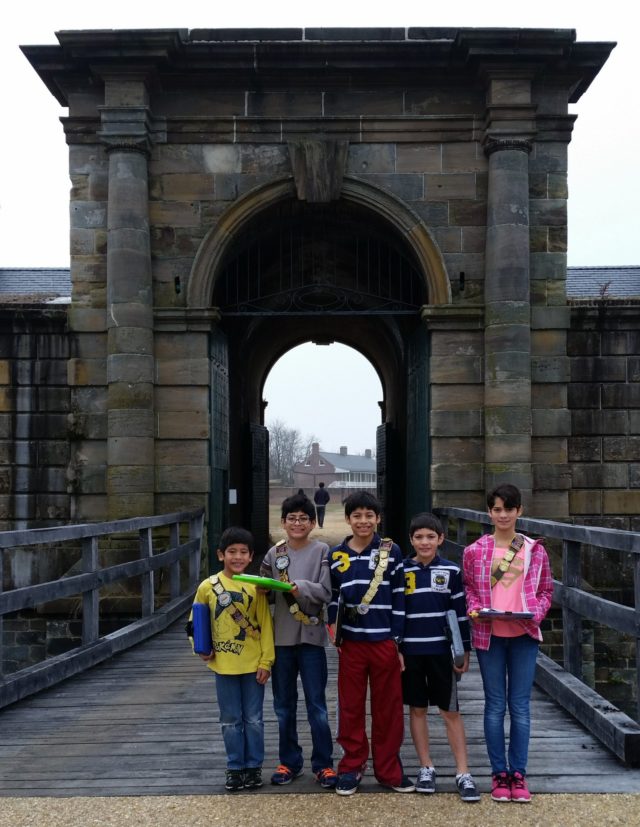 Just inside the fort's doors there was a small barracks. Our boys posed for this picture with the wood toy rifles. (So cute, right?) I'm glad they were still young enough to humor me.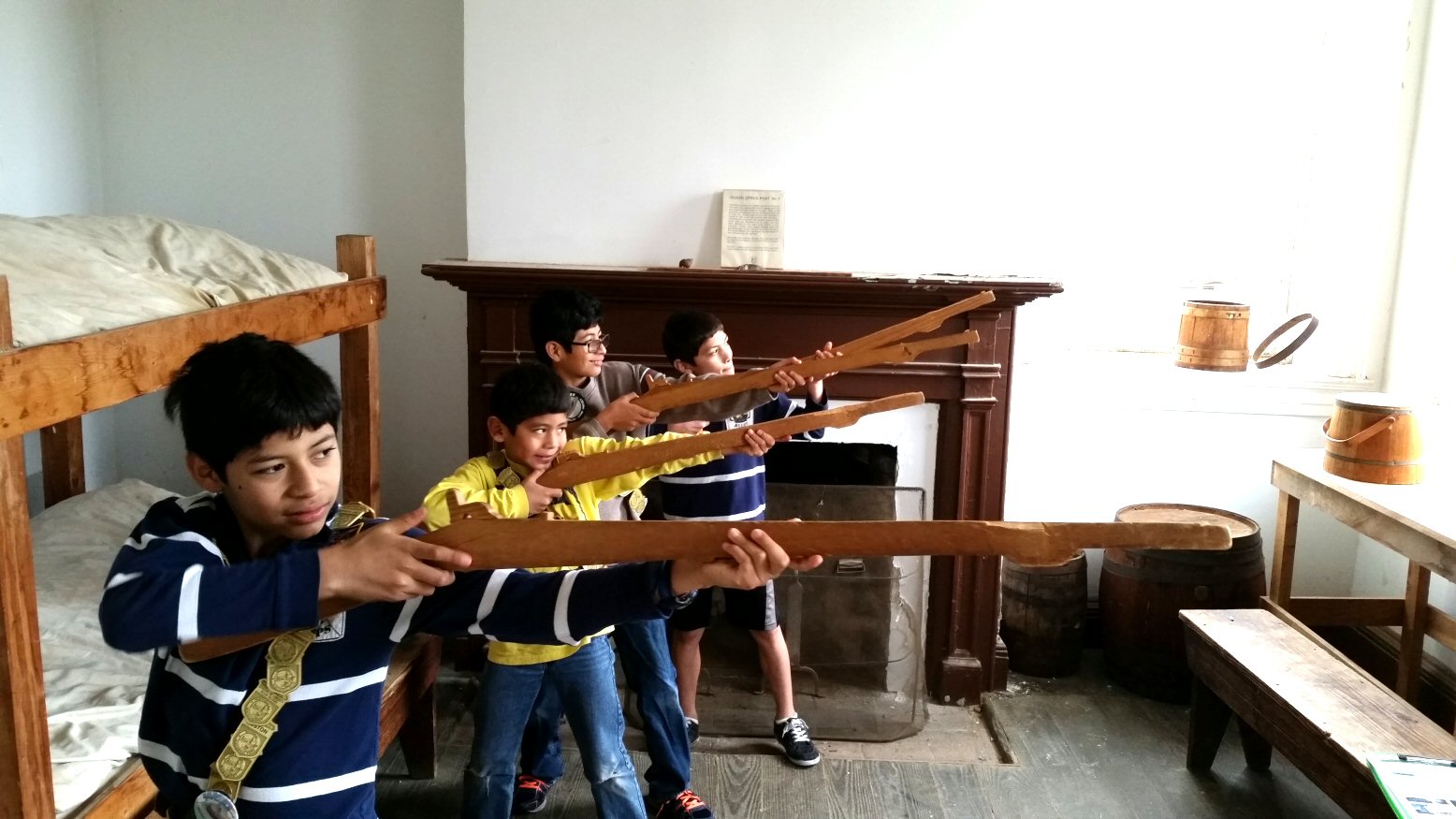 Just inside the fort, everyone was anxious to get up onto the Fort's wall, which is very impressive. Most of the canons have been removed from the Fort, but you can definitely picture what it must have been like in the early 1800s with large cannons every 25 feet inside the 20 foot wide walls.
It's here that I'll tell you that when the kids and I visit a historic site, we're not much for reading all the informational plaques. We really just enjoy seeing the place and wandering around. Because I do want the kids to learn the significance of sites we visit, we do the Junior Ranger packets and we also read a summary of the site before we travel. I've found that reading a summary really helps the kids when we're exploring. They pick up on things they might have otherwise missed, but the kids are able to move at their own pace through the site.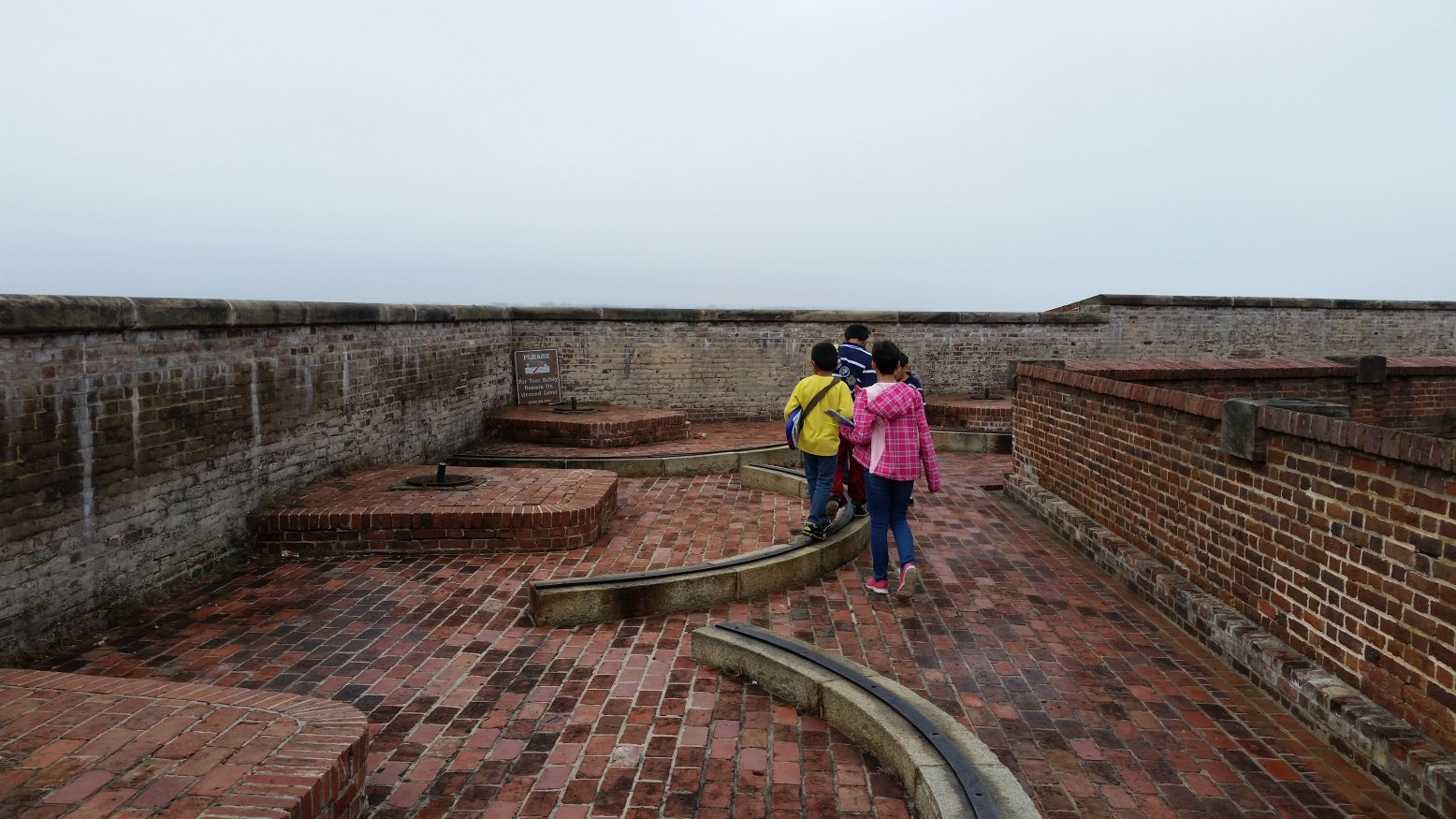 This one cannon was left and the kids thought we should get a shot of them in front of it.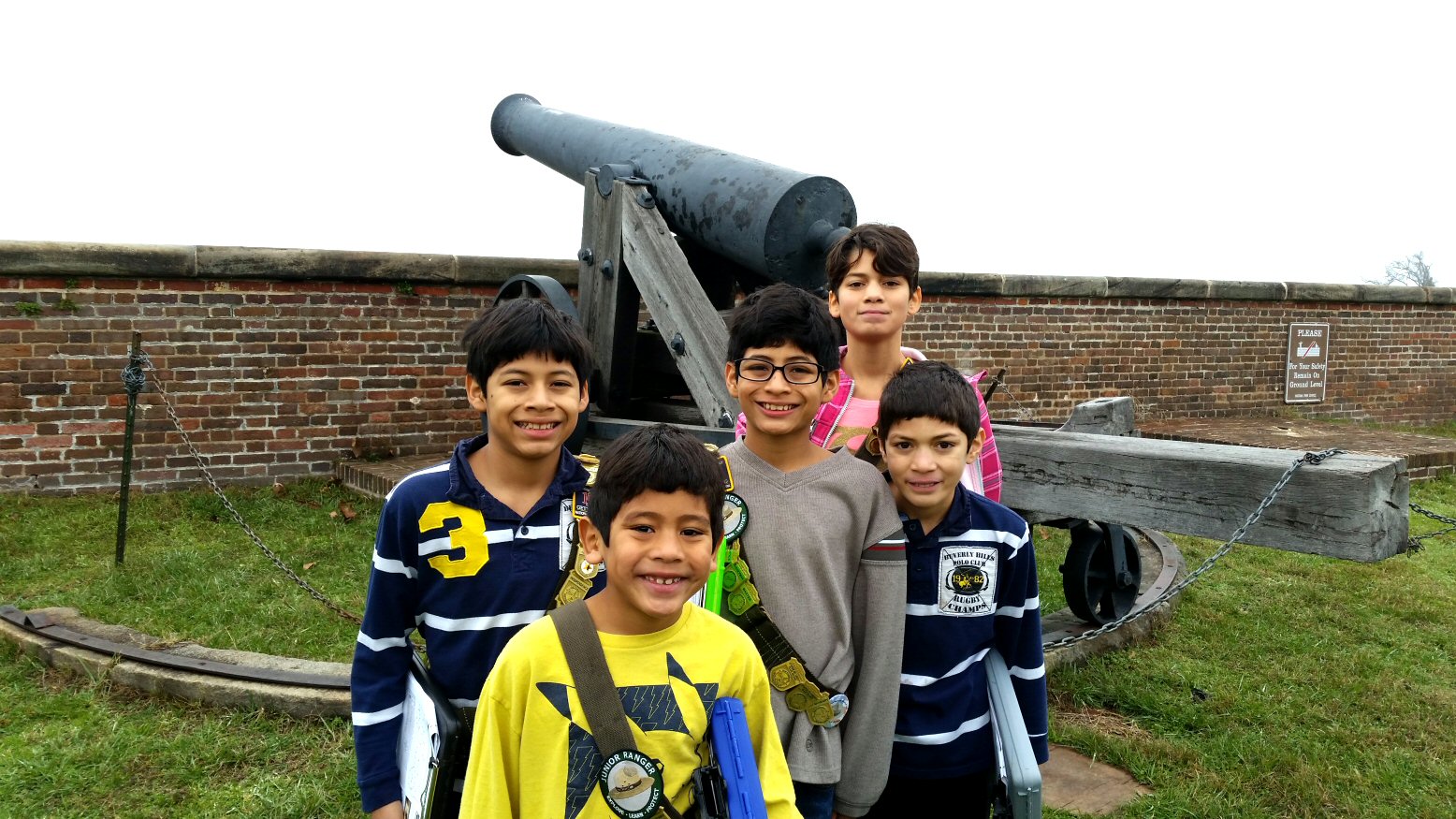 The inside of the fort is typical for the time period it was built. It's a large open space that provides flexible use and a training area for soldiers. Since we visited in August we were able to capture this view with no one else present. I imagine that in peak season the site gets a few more visitors.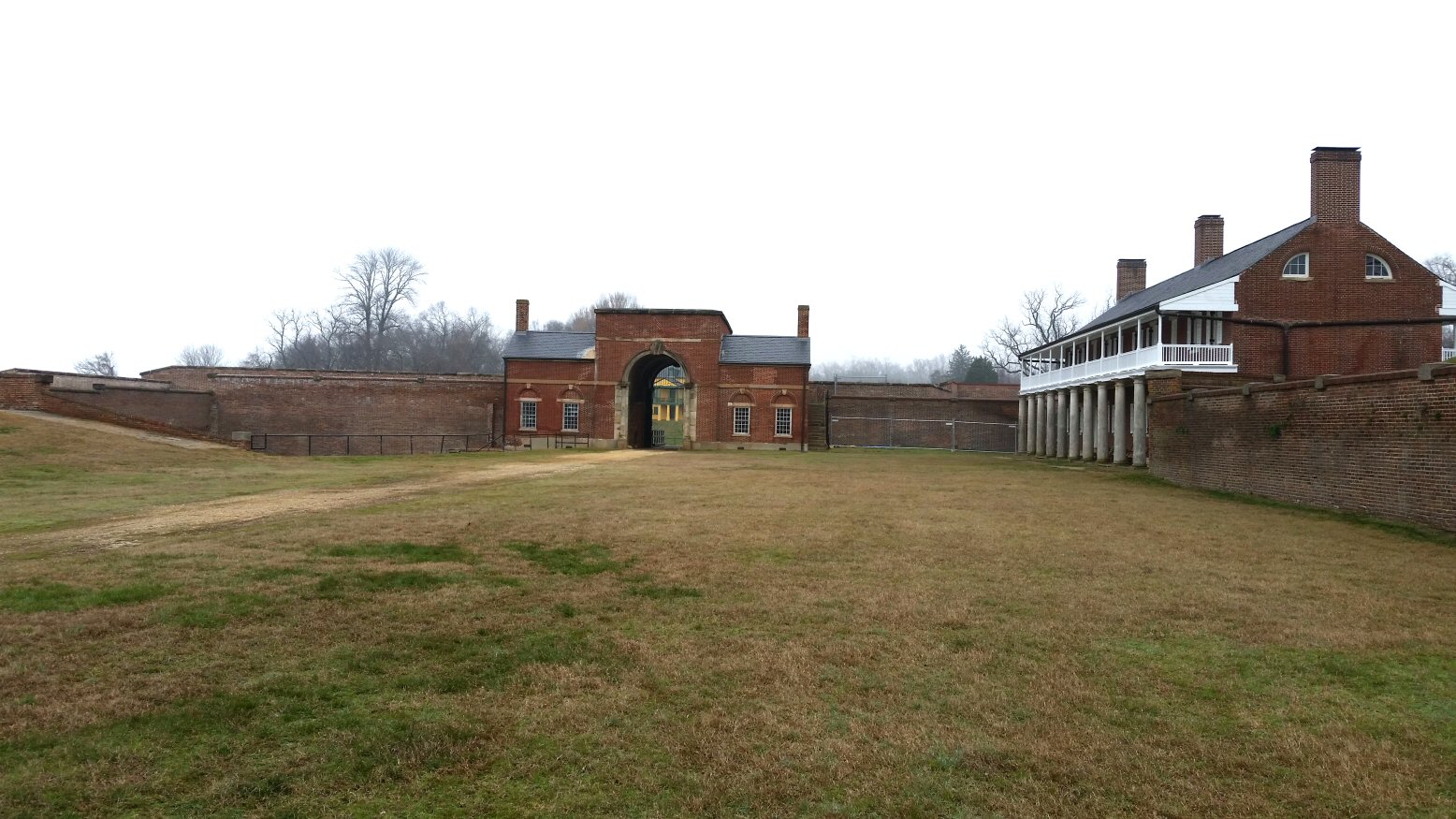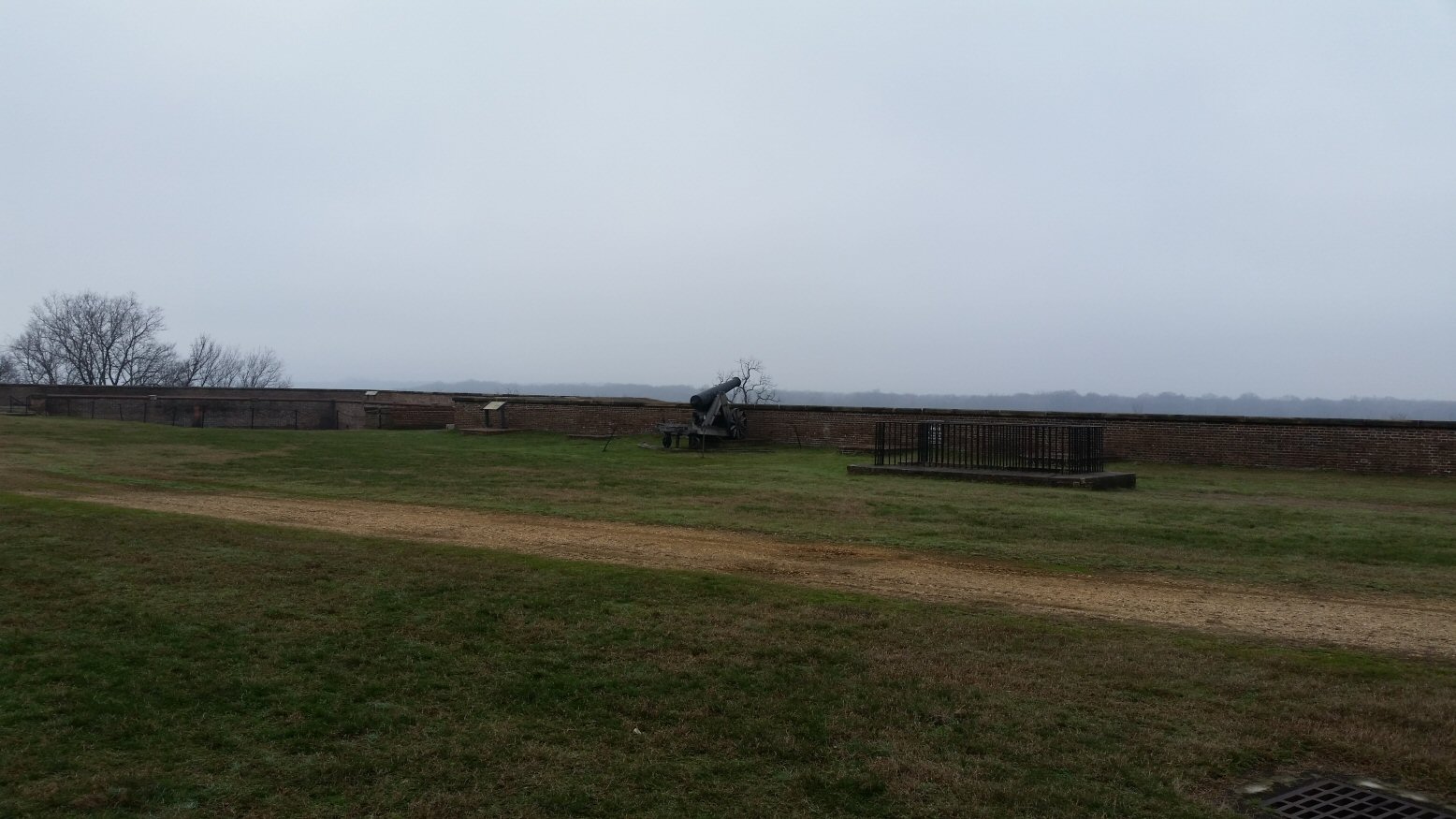 This next panorama shot is from the fort's wall looking across the Potomac River towards George Washington's Mount Vernon property. Unfortunately the overcast day limits the view here which would otherwise be pretty spectacular. The fort provides a grand view of the Potomac. It's easy to see why this was viewed as a strategic site in the 18th and 19th centuries.

Here's a panorama from the front garrison looking back at the fort. It's here that we really wish the day wasn't overcast.

This next picture was a sight that took us a little off guard. As we were wandering around inside the fort, we were passed by this couple in authentic colonial dress. It turned out that an early American dance troupe was meeting at the fort that day for their monthly rehearsal.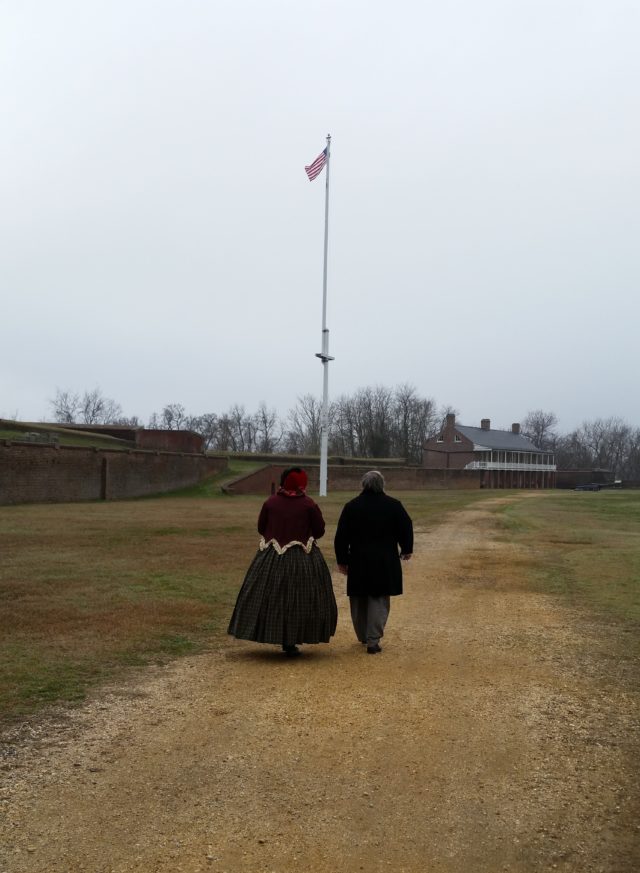 The troupe invited us in to watch them practice and even invited our family to join in. Unfortunately thee kids and I were all a little too shy to participate, especially since we were all wearing very 21st century jeans. But we did enjoy watching some dances that the Washingtons and Jeffersons had danced themselves 200 years ago.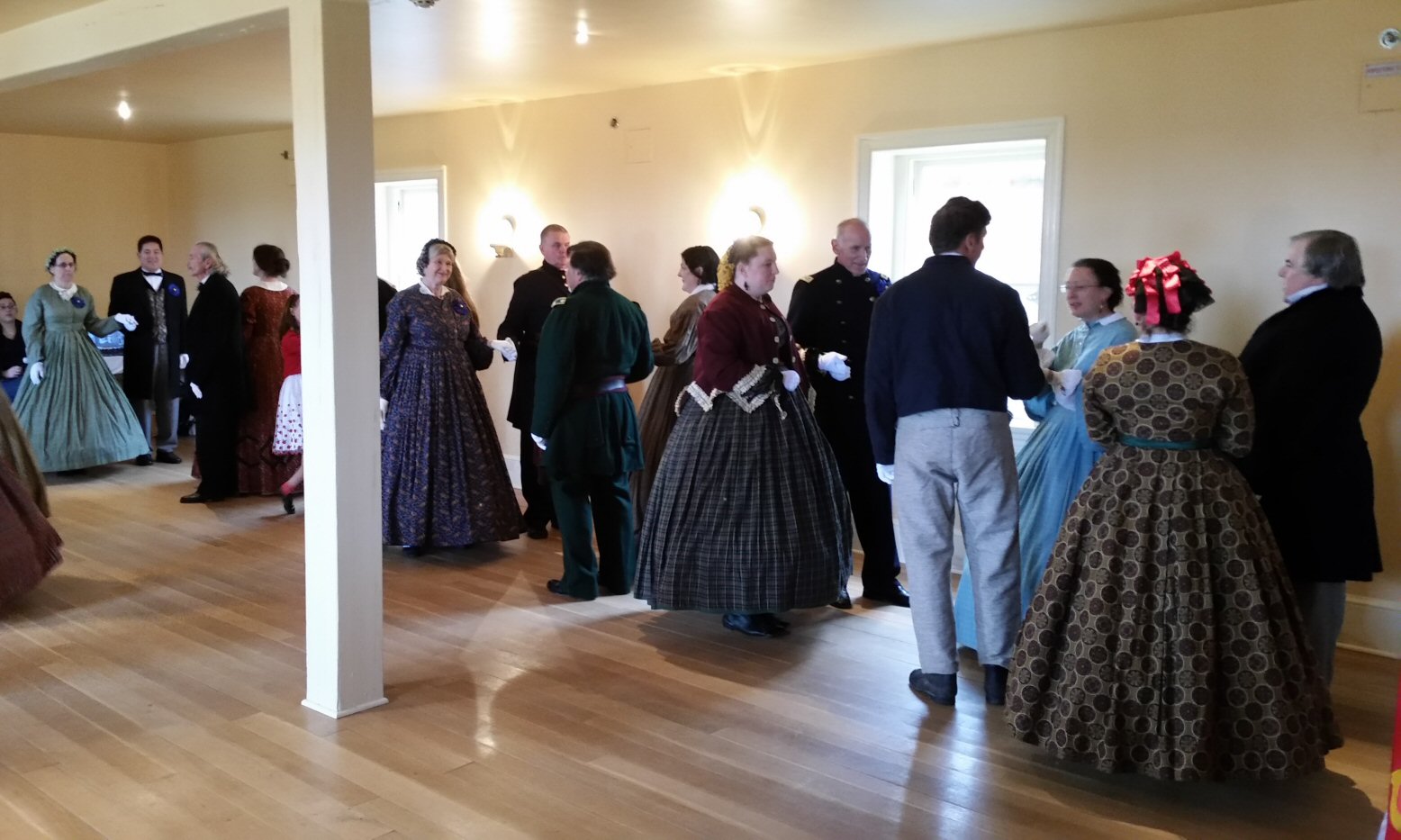 As we wrapped up our time at Ft. Washington, I snapped this picture of E on the way out. He said he had a blast.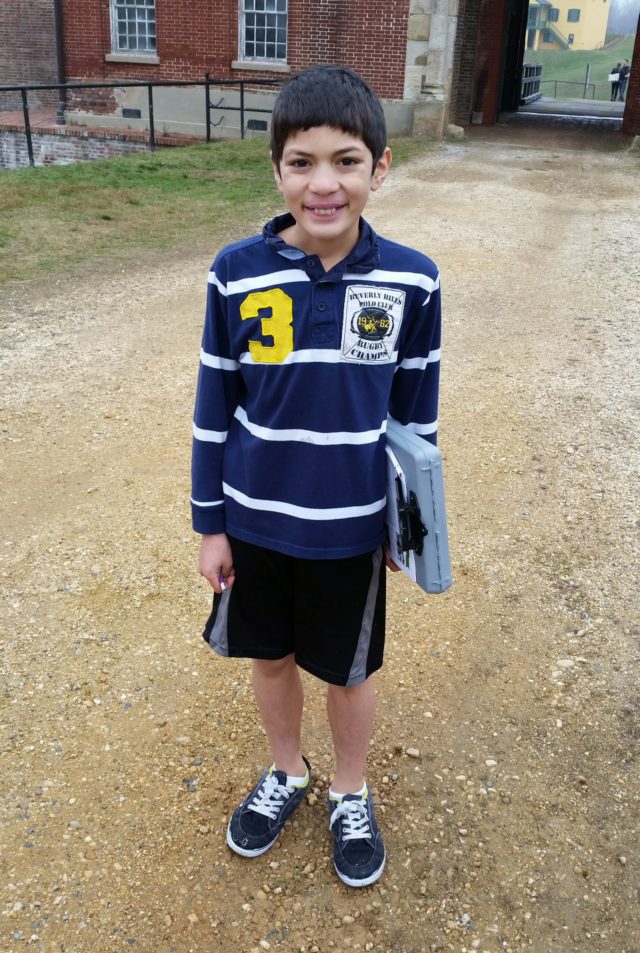 After we finished up in the fort, we headed back to the ranger station and the kids all turned in their completed junior ranger packets, earning junior ranger badges across the board.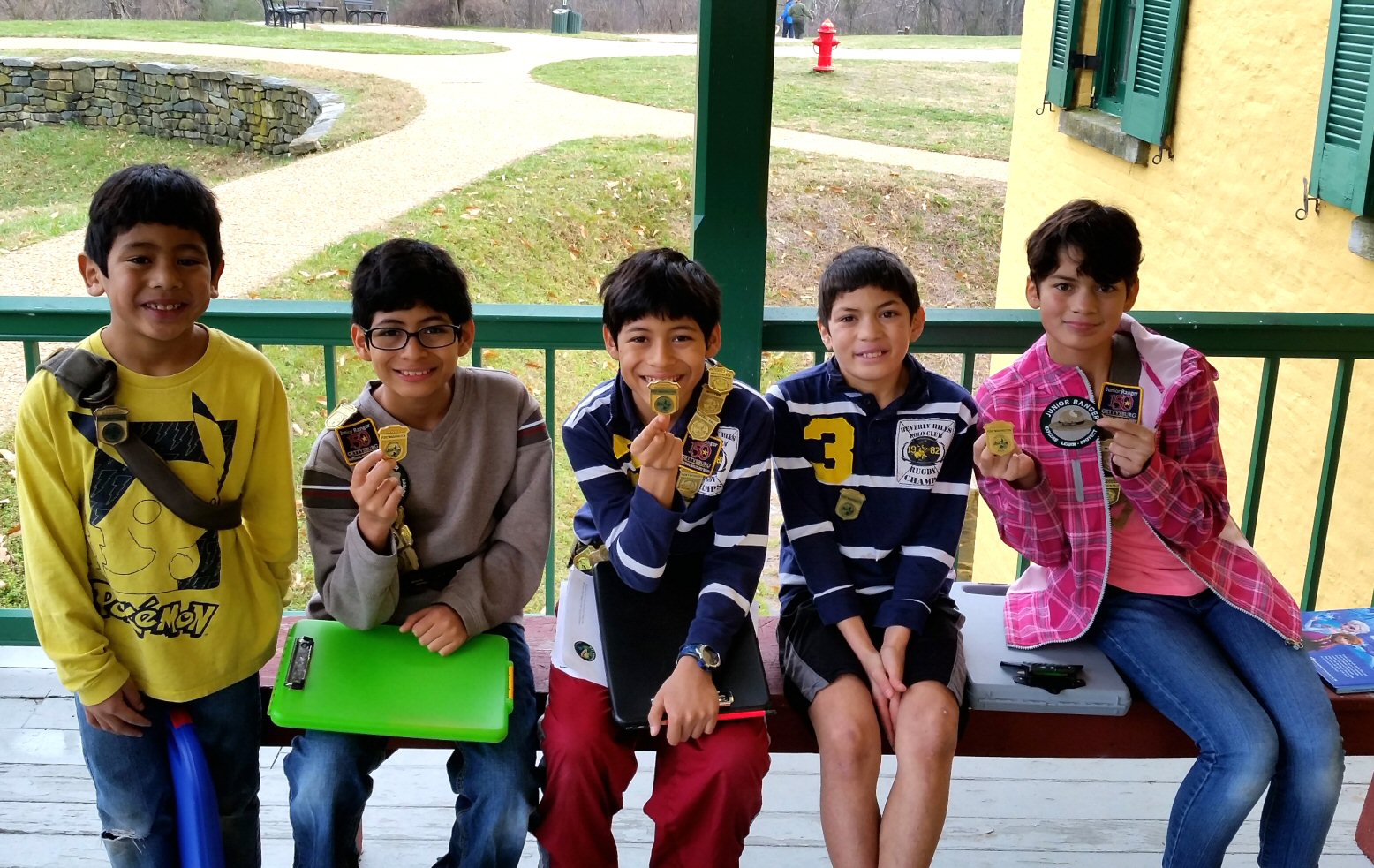 We really enjoy Ft. Washington Park. We spent about two hours exploring the area and that was enough time to get a real sense of the place. We definitely recommend a stop at this site if you enjoy national parks and live in the Maryland or Virginia area.